Sunday. 12.17.06 5:44 pm
This morning was so super busy. I got up at 5am to head out to the nearest gamestore to buy a Nintendo Wii for my boys. To my disappointment I was too late. They only had Wii's and I was number 10 in line. I hopped back into my car and then proceeded to the next nearest game store to wait there. It was 5:30 am and I was number 2 in line!!!! I was so excitted. My daughter came with me and I had her wait in the car because outside was too cold. I sat there with warm clothes on and a sleeping bag. It was still cold so then I wrapped a sweatshirt around my head and covered my nose and mouth with the sleeves. After waiting in the cold with no sun for 4 hours the manager came out to make an announcement. He said that they only have 6 Wiis and that was it. Alot of people were pissed. Not me! I was excitted. I got my number and was waiting to walk in then he said they opened at 10. That was another whole hour! My daughter has a hair appt. at 10am! I had to call the hair dresser at 9am to tell her that I needed to reschedule.
I am so happy that my patience and perseverence paid off. I got myself a WII!!! The boys are so happy with their christmas gift. As for my daughter, we went back to the game store and traded in her NINTENDO DS for $55. She then bought Sims 2 Holiday edition and I helped purchase the items pack. All three kids are happy this year with their christmas gifts and I am happy for that.
Christmas is about sacrifice. I traded in my DS LITE to make up the difference on the WII and also the difference on the SIMS item pack. I also sold back all of my games. Unlike some, I played with my DS often! Therefore, it WAS a sacrifice for me. But I am happy with my decision...
I cried, WII WII WII all the way home! :)
Comment! (1) | Recommend! | Categories: WII [t], Nintendo [t], christmas [t], DS LITE [t]
Homemade Christmas Gift #4
Sunday. 12.10.06 3:03 am
Rocky Road Caramel Apples

INGREDIENTS
* 6 Granny Smith apples
* 6 wooden sticks
* 1 (14 ounce) package individually wrapped caramels, unwrapped
* 2 tablespoons water
* 1/2 teaspoon vanilla extract
* 1 1/2 cups miniature marshmallows
* 1 1/2 cups chopped pecans, toasted
* 1 cup semisweet chocolate chips
DIRECTIONS
1. Insert wooden sticks 3/4 of the way into the stem end of each apple. Place apples on a cookie sheet covered with lightly greased aluminum foil.
2. Combine caramels and water in a saucepan over low heat. Cook, stirring often, until caramel melts and is smooth. Stir in the vanilla. Dip each apple into the caramel and gently run apples around insides of saucepan to scrape off some of the caramel. Scrape excess caramel from the apple bottoms using the side of the saucepan.
3. Combine the miniature marshmallows and pecans on a dinner plate. Roll the apples in the mixture to coat. Place on the aluminum foil and chill.
4. Put the chocolate chips in a microwave-safe bowl. Cook in the microwave for 30 second intervals, stirring between each, until melted and smooth. Drizzle over the apples and return them to the refrigerator until ready to serve.
Comment! (2) | Recommend! | Categories: christmas [t], gift [t], jmc [t], shannon [t]
Sunday. 12.3.06 1:19 am
Tonight we decorated the tree. I usually dont get a tree until the week of Christmas because I usually cant afford one. So last year I purchased a fake tree so that we can put it up every year on Dec. 1st. We assembled it yesterday and decorated it today. It was so nice to come home to the apartment with only the christmas tree lights on.
I do not like christmas. It is such a depressing time of year. But I have to admit, it is nice to see the tree.
Comment! (4) | Recommend! | Categories: Christmas [t], changbang [t], kirei [t], jmc [t]
Tuesday. 12.5.06 1:02 pm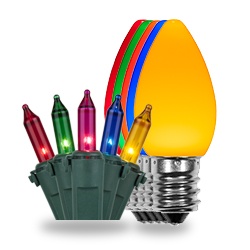 AirMagnet, a wirless lan monitoring vendor announced that holdiay decorations can decrease the signal strength of your wi-fi connection. Tests were conducted to test the strength of the signal in an office enviroment with and without christmas decorations.
IS THIS TRUE?
Joel Snyder, a senior partner at Opus One in Tucson, Arizona states,"Holiday decorations, like any change in the environment, can make wireless better or they can make it worse," Snyder says. "To try and instill fear into people, suggesting that they should be afraid to put up holiday decorations, is ridiculous. Worrying about such degradation (which, by the way, could be an improvement as well) is silly, and it's temporary, and it's slight."
MY OPINION
If this is true than you should point out floresant lighting, street lamps, and headlights from your car??
Comment! (2) | Recommend! | Categories: holiday [t], christmas [t], wifi [t], warning [t], [t]
Homemade Christmas Gift #5
Sunday. 12.10.06 3:00 pm
Christmas Walnut Toffee
INGREDIENTS
* 1 cup butter
* 1 cup white sugar
* 1 tablespoon corn syrup
* 3 tablespoons water
* 1 1/2 cups chopped walnuts, divided
* 1 (6 ounce) package chocolate chips
DIRECTIONS
1. Butter a 9 inch square baking dish, and set aside. Melt butter in a large saucepan over medium heat. Stir in the sugar and corn syrup until smooth. Heat to 290 degrees F (145 degrees C) using a candy thermometer.
2. When the temperature has been reached, stir in 1 cup of the walnuts, and cook for 3 more minutes, stirring constantly. Pour into the prepared pan, and allow to cool. When the toffee is cooled, remove from the pan, and place onto waxed paper. Melt chocolate chips in a metal bowl over a pan of simmering water, or in the microwave, stirring frequently until smooth.
3. Spread half of the melted chocolate onto one side of the toffee slab, and sprinkle with half of the remaining nuts. Allow to cool until set, then repeat with the other side. Break into bite size pieces when set.
Comment! (2) | Recommend! | Categories: christmas [t], toffee [t], [t]
Sunday. 12.3.06 2:51 pm
In the spirit of the Christmas Season, I would like to give 10 pps to anyone that visits my page and leaves a christmas message in my guest book between December 1st and December 25th. This offer is limited to one entry per person. Thank you and Merry Christmas!!!
PS. I can only process one transaction per day so if you do not receive your pps right away, don't worry it will get to you. ")
Comment! (7) | Recommend! | Categories: Christmas [t], kirei [t], changbang [t], jmc [t], lazypuppy [t], elessar257 [t], ikimashookie [t], silverdot [t], invisible [t], dave [t]
Saturday. 12.9.06 9:29 am
I want to dedicate the next few posts to homemade christmas gift ideas. I have been looking up some recipies and I would like to share them with the Nutang community.
Soda Cracker Chocolate Candy
This one looks yummy and simple.

Original recipe yield:
30 servings
PREP TIME 15 Min
COOK TIME 10 Min
READY IN 25 Min

INGREDIENTS
* 35 soda crackers
* 1 cup butter or margarine
* 1 cup packed brown sugar
* 1 1/2 cups semisweet chocolate chips
* 1 1/2 cups coarsely chopped walnuts
DIRECTIONS
1. Line a 15-in. x 10-in. x 1-in. baking pan with foil and coat with nonstick cooking spray. Place crackers in rows on foil. In a saucepan, melt butter; add the brown sugar and bring to a boil. Boil for 3 minutes. Pour over crackers and spread until completely covered. Bake at 350 degrees F for 5 minutes (crackers will float). Remove from the oven. Turn oven off. Sprinkle chocolate chips and walnuts over crackers. Return to the oven until chocolate is melted, about 3-5 minutes. Remove from the oven; using a greased spatula, press walnuts into chocolate. Cut into 1 in. squares while warm. Cool completely; remove candy from foil.
Comment! (1) | Recommend! | Categories: christmas [t], shopping [t], kirei [t], jmc [t], changbang [t]
Monday. 11.26.07 9:03 pm
I think there should be definite lines as to when thanksgivng ends and christmas begins. Why do stores have christmas music playing in november? When did they give thanks for all the money that they make from Black Friday and Christmas sales.
Merchants merge their holidays or just leave all the thanks out. Remember to give thanks.... :)
Comment! (6) | Recommend! | Categories: thanksgiving [t], christmas [t]