Tuesday. 12.19.06 11:27 am
Since we brought the WII home, I have been playing games a lot more often. You really get a work out.The boxing and the baseball are alot of fun and you cant help but to just get into the game. Both of my sons say that their arms are hurting. I wish I had a video camera of them on there. It is hillarious!!
Comment! (0) | Recommend!
Wednesday. 6.13.07 10:49 pm
Well, anyone that knows me will know that I get really tired of cell phones rather quickly. It was not too long ago that I got an upgrade on my cell phone. Well I am changing again. This is the one that I am getting through the mail from ebay.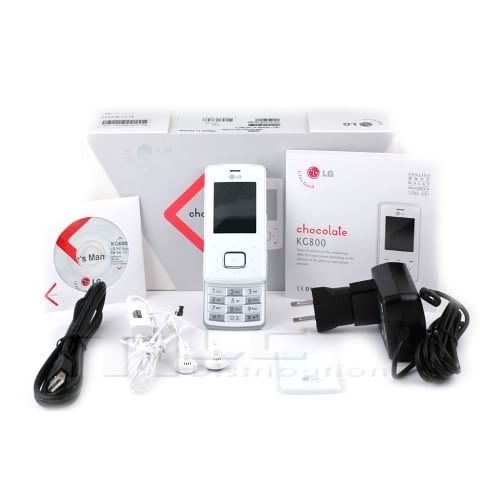 I think I only had my other phone for two months... what is WRONG with me???
Comment! (8) | Recommend! | Categories: ebay [t], LG [t], chocolate [t]
Tuesday. 11.28.06 2:12 am
Here is an article I found in the healthy living section of Life Script.
Carpal Tunnel: A Diabetes Warning Sign?
Monday, November 27, 2006
Coming down with carpal tunnel syndrome can be an early indicator of type 2 diabetes, a surprising new study finds. Published in the journal Diabetes Care, the study by British researchers finds that wrist nerve problems can predict the onset of diabetes by up to 10 years. Previous studies have linked type 2 diabetes to a host of nerve disorders. In the current study, researchers estimated that being diagnosed with carpal tunnel syndrome can raise the risk that a person will develop type 2 diabetes by about 36%. The facial paralysis disorder known as Bell's palsy was also identified as an additional diabetes risk factor.
Comment! (1) | Recommend! (1) | Categories: diabetes [t], carpal tunnel [t], Healthy living [t], health [t]
Rosie O'Donnel leaving The View?
Friday. 12.8.06 11:34 am
Rosie Odonnel has joined the View. I really like her. I think she is funny and she is a happy person. She has been on the View for the past 3 months and now rumors are spreading that she is going to leave the show.
During a commercial break O'Donnel said that she wanted to work on FX's Nip/Tuck when The View was on vacation during the summer. I am glad that she is not leaving. She really makes the show!
Comment! (1) | Recommend! | Categories: rosie odonnell [t], the view [t]
Friday. 12.8.06 11:47 am
New Hampshire First to Offer Free Cervical Cancer Vaccine
A new vaccine to prevent cervical cancer, the number 2 cause of cancer deaths in women, and other Human Papilloma Virus (HPV) diseases was approved by the FDA in June 2006. HPV, which is the main cause of cervical cancer, is also the most common sexually transmitted disease (STD) in the United States. It is estimated that 6.2 million people will become infected each year in the United States and that over half of all sexually active men and women will become infected with HPV at some point in their life. Gardasil, the vaccine used to prevent cervical cancer from HPV, has reported excellent results in its studies. Hopefully this act by New Hampshire to offer the free vaccine to girls will convince the other states to do the same.
Comment! (4) | Recommend! | Categories: cervical cancer [t], new hapmshire [t], cancer [t], HPV [t], STD [t]
Saturday. 12.9.06 2:30 am
Reducing Carbs can keep you looking young
Insulin has been labelled as the main culprit to invite ageing early. Eating too much of carbohydrates results in high insulin levels. Increased insulin levels tell the body to store carbohydrates as fat. They also tell it not to release any stored fat. It makes sure that you stay fat. Even worse, high insulin levels also suppress the growth hormone that is responsible for remaining young.
High levels of insulin can cause major health problems like diabetes, hypertension, obesity, high levels of cholesterol, heart disease, kidney disease, female infertility and neuro-degeneration. Greasy fast-food, nutrient-deprived processed foods and over-cooked vegetables are the junk food. Polished grains, sweets, soft drinks, and high-starch foods like potatoes, burgers and pizzas lead to overweight, and give you the looks and feeling of being older. If you are experiencing any of the following symptoms, chances are that the excess carbohydrates in your body are, in part or whole, to blame:
* Excess weight
* Fatigue and frequent sleepiness
* Depression
* Brain fogginess
* Bloating
* Low blood sugar and high blood pressure
* High triglycerides
One of the most important things you can do for preventing old age and its diseases is to decrease the intake of carbohydrates, especially those drawn from foods grown below the surface of earth.
Comment! (1) | Recommend! | Categories: diabetes [t], hypertension [t], obesity [t], cholesterol [t], heart disease [t], kidney disease [t], female infertility [t], fast-food [t], junk food [t], ageing [t], insulin [t], depression [t], bloating [t], low blood sugar [t], triglycerides [t], health [t], fitness [t]
Thursday. 11.30.06 4:40 pm
Sitting up straight, something many of us are taught from a very early age, is not good for your back, say researchers from Scotland and Canada. They found that sitting up straight strains your back unnecessarily. Ideally, you should lean slightly back, at an angle of about 135 degrees, they say.
So relax and sit back. Dont confuse this with slouching but just lounging and relieve the stress on your back. :)
Comment! (6) | Recommend! | Categories: posture [t], kirei [t], jmc [t]
Friday. 3.30.07 3:39 am
You know how when someone does something bad to you, you try to forgive them. But when they do it over and over again you just get so pissed. Well, I had a friend like that and I told her, "you are really pushing me to the limit and if you dont stop now, you may just lose me as a friend." I mean I was really understanding, patient and forgiving but she was being a persistant ASS. She pushed me so far that I try to avoid places that I know she will be and also I have not talked to her in over 4 years.
Just the other day I get phone call saying that she was in the hospital because she had a heart attack. I could not feel any remorse for her. The things she did to me were beyond unforgiveable. One of them was pulling out a gun and telling me if I turn around and walk out the door she would shoot me or herself. What a psycho, nut job!
I was brave enough at the time to turn around and walk out. I did not want any part of this psycho trip. She use to do drugs so I dont know if there was any brain damage done. What am I saying?? That behavior was NOT normal.
Comment! (6) | Recommend! | Categories: ranor [t], lostsoul [t], ikimasookie [t], kirei [t], zanzibar [t], mockkiller [t]