Becoming skillful at something you enjoy...
Friday. 11.3.06 4:35 pm
Becoming skillful at something you enjoy...
I think this is something that I always believed in. What is the whole sense of doing something if you dont enjoy it. I am really suffering through school right now but learning is something that I enjoy. Is it something that I am good at? NO. Does it have to be?
Learning is a never ending process. What is its geometrical shape I wonder? Maybe a circle. Imagine a learning wheel. We keep going around and around learning the same things over and over again until we get it right. We keep meeting the same types of people until we get that one right too. Does the wheel get bigger or smaller? No, I think it stays the same size we just get rid of what we learned to make room for new lessons in life. Kind of like deleting and adding. Kind of an interesting thought. Don't you think?
Learning to me means, reading books I enjoy, meeting new and excitting people, watching CSI (hee hee), going to school, learning to play a musical instrument (without music lessons), design and create a website from the bottom up without a manual... (that was a good one. I learned a lot and still learning)oh that site by the way is www.askca.org. These are things that I enjoy. Some people say that you should make money off of things that you enjoy. Yeah that would be ideal... maybe someday. Right now, I am still enjoying being the pupil. I taught hula and karate, also coached track and volleyball before. I liked it. But life got in the way. I need to finish my education and get a good job so that I can do those things that I enjoy for the rest of my lifetime.
Karate is a lifetime goal for me. I want it to be a constant part of my life till I can no longer breathe. :) Why is that? Because I enjoy it. I am talented, (thank you Lord) but not skillful. Someone said to me... "Wow you are already a black belt. So like why do you still take karate. " I smiled and simply said, "Because I want to become skillful at something I enjoy."
Comment! (2) | Recommend!
Friday. 11.3.06 2:12 pm
What I learned in College
I learned that people dont like to be held accountable and if you TRY to make them accountable they get mad at you and fight back. What is wrong with people today? How are leaders suppose to get ahead and get an organization running and up to speed if everyone does not accept change or want to be accountable for their own work?
We just finished our last class and my "team" evaluation scores were low. I attended all the meetings, I was there ON TIME for each one, I participated and I also used my resources to pull the final project together. Sure Josh did the editting but he is MY resource and I was the one that had to push him to get the project done. The only thing I see where I would have slipped or made a mistake was when I sent an email to everyone venting my frustration with not meeting our deadlines. I also said that there was an un-even distribution of weight. If that is the reason why people gave me low grades to bring my average down that really disappoints me. I have learned that no matter where you go, church, work, PTA, grad school.... people dont like to be held accountable and worse than that, they "stone" the person that forces them to be accountable.
Comment! (3) | Recommend!
Friday. 11.3.06 11:19 am
how to lose stored fat ....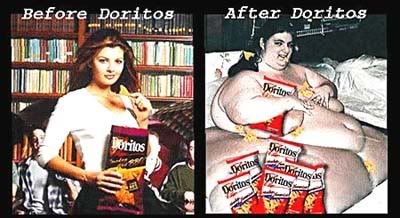 Here are some things I have noticed from people around me that are losing weight. Those who CHOOSE to follow these tips HAVE seen drastic results. A healthier lifestyle and a toned/fit body is up to you.
1. Food intake (energy/caloric intake).
bottom line. 60% of your success is the amount of calories/energy you take in. Rule of thumb, NEVER go under 1,200 and ... the average american will gain weight at 1,800 calories. Try to use these calories wisely ... taking in fruits, veggies, and the right percentages of carbs, protiens, and fats. This is the first battle.
2. Water consumption.
Drink enough water. Take the number of 1/2 your weight ... this is your number of oz. If you are active, 2/3rds of your weight is your new number. DRINK THAT WATER!
3. Burn those calories.
It really is that easy. If you burn the calories you take in ... exactly ... you will maintain your weight. If you take in more calories than you expend ... your body will store that energy (calories) ... "stored fat". Pinch your arms, belly, legs ... those are all the times you ate more than you expended.
I do meet people who say ... "but, i run 3 miles every single day and i'm not seeing any results!" Your body will adjust to movement done repetatively. So, change up your workout routine every couple of weeks.
Comment! (4) | Recommend! (4)
Thursday. 11.2.06 7:04 pm
I am new to this and I dont know the difference between an blog and a module. I dont know how to use the templates but I think I will like it here. It is much quieter than myspace.. this is just a whole new, different community.
Comment! (6) | Recommend!