Thursday. 7.12.07 3:35 pm
The flight over was brutal. My back was really hurting and it was difficult to sleep. We sat near the restrooms so you can imagine the smell. It just seemed thtat the last hour in flight everyone decided to take a CRAP. That was the most horrible part of the flight.
Getting here to the house was great. It is sooooo much cooler here than it is back in Los Angeles. Jordan and I got to our room and there was this HUGE breeze and it felt soooo good.
We got up this morning and went to the local 24 hour fitness gym to workout. When we got back my dad had breakfast all ready. Awww man! This is the life! This IS vacation!!
Comment! (1) | Recommend! | Categories: vacation [t], hawaii [t]
Saturday. 7.14.07 6:43 pm
I thought that the rehersal dinner was for everyone in the wedding party including the parents. Not in MY family! My brother had the wedding party and the immediate family. We met and ate at the Spagetti Factory at Ward Center .
The service was so bad. We waited 2 hours just to get our food. The little kids (3yrs and younger) were falling asleep. They did not even get to eat their food once it came because they were already sleeping.
Tonight is the actual wedding. I dont know why I am nervous. I am not even the one getting married.
Comment! (8) | Recommend!
Monday. 7.16.07 1:44 am
The wedding was beautiful. The chapel was near the beach. It was a beautiful glass chapel that allowed you to see the ocean. The time was close to sunset and the sun was shinning through the chapel creating an angelic scene over the young couple.
This is something that the two of them were looking forward too for the past 8 years. I am so happy that I was able to witness it.
The view from the chapel window: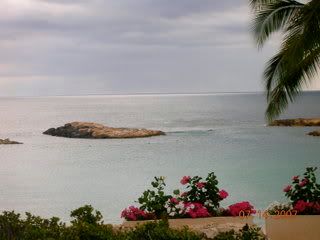 My brother and his happy wife and son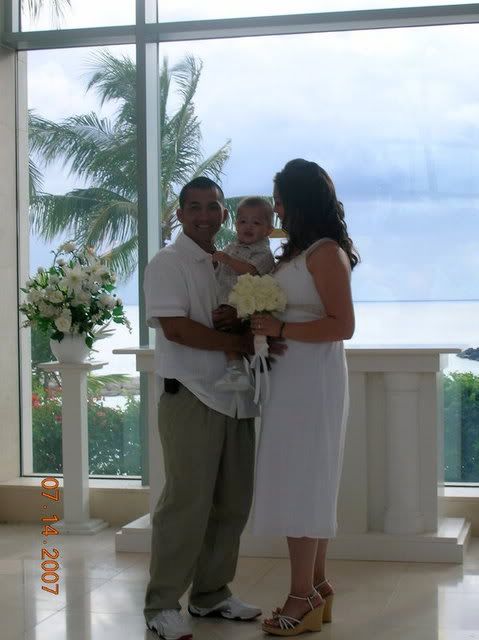 Here they are as the newly married couple: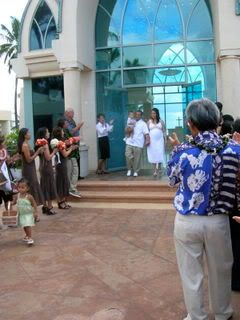 They are getting to leave in their new ride!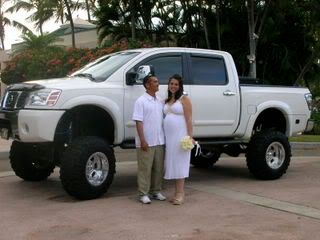 Comment! (4) | Recommend!
Monday. 7.23.07 1:58 pm



On the last day of our trip my mom made hawaiian food. Yum! That was good. I wish I took a picture of all the food but I didnt . Sorry...Anyhow there was one dish called Luau. Yes, it sounds like the word meaning the hawaiian show but Luau actually means feast. Anyhow luau is made with leaves from the taro root. My parents dont eat the taro because if they did they would not have any leaves left. They are so funny. The root is the best part of the plant.




Continuing on.... you have to boil the leaves long enough because undercooked leaves contain spiney fibers that scratch your throat. It is a very uncomfortable feeling. Sometimes the fibers get embedded in to the soft tissues of your mouth and throat and stay with you for hours. My mom made sure that she boiled them long enough. I think she had them in there for about 4 hours! I didnt care. The longer the better. I only ate a little of it but my sister had seconds.

Later that night my sister said, "look what I found in my luau." It was a little snail shell. I was like, "ooooo... a PRIZE!!" She said, "NO! this is from the back yard." I was like, "huh?" She said, "yeah, mom and dad grow their own leaves and pulled these from the back yard." "EWWW!!! If you show mom maybe she will tell you that you could keep it as a souveniour. ha ha." Well our mom, did not say such things. Instead she appoligized and was embarassed.

I told my sister... "I would not worry so much about the shell. I just wonder where the occupant went." When we got back to our homes (Maui and California) we both had the stomach flu. Hmm... I wonder what we could have eaten?


Comment! (13) | Recommend! | Categories: snail [t], hawaii [t], luau [t], changbang [t]
Tuesday. 7.24.07 1:30 pm
I am such a cell phone adict. I know it is a disease!!! I posted pictures of my last two cell phone purchases. I think I like the lastest one the best which was the white chocolate phone by LG. However, I have been learning that more and more people are using their phones to watch tv and text. In Japan people are watching youtube videos on their cell phones.
My friend has a cousin that stayed here in the states with her and her family for 2 months. His cell phone had tv, text messaging and other features. He said that they do not use their cell phones to make phone calls. I have never seen anyone that can text with one hand as fast as he can!!! I was like DAY-YUM!!! From what I understand they have shortened japanese words like we have lol,rotf and lmao. It is not abreviated like that but it serves the same purpose.
So far Just Japan and Korea have the tv broadcasting on cell phones. They are begining to open this market in
Indoesia this week
. So Indonesia, prepare yourself for the next wave of the future. I wonder if it will hit the states and if so, how soon?
Comment! (11) | Recommend! | Categories: asia [t], indonesia [t], japan [t], korea [t], mobile tv [t]
Thursday. 7.26.07 12:55 pm
I have been reading HP #6 because I cant remember everything from that book. I want to refresh myself before I begin reading HP #7. I dont want to know who dies in #7! Some dumb chick ruined it on youtube and I dont want to know!!!! I hate it when people do crap like that. I mean keep it to yourself. I dont BLAST the ending of every new flick that comes out in the theatre so keep your trap shut! ha ha.
Next I want to read the book Wicked witch and curse by Nancy Holder. It looks really interesting. She also made a Wicked 2 which I want to find to read after that.
Stephanie Meyer on the other hand has been the talk of the summer with her two books, "Twilight" and "New Moon". The third book should be released sometime next month. I think. I am interested in finding out what all the hype is about. When I went to the book store the other day I saw people pulling those books off the shelf as if it were the daily newspaper.
Comment! (6) | Recommend! | Categories: harry potter [t], wicked [t], new moon [t]
Thursday. 7.26.07 7:26 pm
These are so cute!!! I can't believe it. This is a pillow AND a pet. You unroll it to convert it into a pillow. I think I want the cow, or maybe the sheep. I was going to get me a Build a Bear. Can you believe it?? Well, I think I will get this instead because my Build a Bear is not a pillow!!!
Comment! (8) | Recommend! | Categories: zebra [t], pillow [t], pets [t]
My class is finally over!!!
Tuesday. 7.31.07 1:07 pm
This was the dreaded class from HELL!!! I could not BELIEVE how horrible it was.
These were the problems, just to name a few:
1. The syllabus was from another class, at another school with spring dates that did not match this calendar year.
2. He did NOT lecture. He just made announcements and had us work in groups for 2 hours then said we could go home.
3. There were no instructions on how to do our work, what was expected of us or what the grading criteria was.
4. He told us that our group presentations were to be 45 min. Once we got up to present, he rushed us and kept telling us to go faster. WTF!!??
5. On presentation day, he did not have any AV equipment reserved for our class, we had to request it for ourselves generally ahead of time so we had nothing in our room for that day. (He didnt tell us that WE had to make reservations for the stuff. That is usually the teachers job)
Basically he did not teach, he did not lecture and we do not know what kind of grade we have been earning the whole term. When it came time for his evaluation I could not help but to be honest. He did not get very many high marks. He actually tried to avoid his eval. He put the papers in his box and the office person walked in 1 hour class began, whispered into the teachers ear and told him that he needs to have the class complete these forms before we leave today. What a snake!!! He knows we are going to give him a bad review so he was going to make like he never got them.
Comment! (7) | Recommend!