I would just like to not be blamed
Saturday, October 9, 2010
Tyler is out of town in charleston this weekend. He is with the band playing a show at a bar down there. Its lonely without him (now i sound needy :p).
I was suppose to go with shan tonight to scarowinds. I talked to mom and she was like "you are spending your money on that?" and really made me feel guilty about wanting to go out tonight and enjoy myself. Its like she is constantly worrying about money and things that the moment I want to do something fun with my own money she gets mad.
These are the pics from our hiking trip :] we saw a double rainbow on the way home. In the pic you can only see the one rainbow bc the second one was really hard to see.
this is on top of the mountain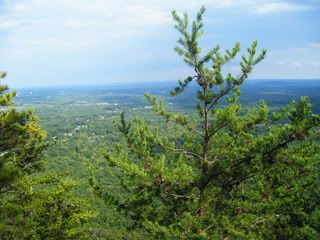 Tyler and I :]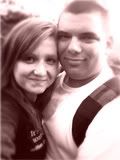 have a good weekend nutang.
Comment! (6) | Recommend!
Friday. 10.1.10 8:26 pm
My day has been a rather crappy one....
first day of october WOOT WOOT
the weather is great here. You can feel fall coming in the air. Its really nice
Tyler and I are going hiking on sunday again. Im supa excited!! its so nice to get out with him and just relax and have fun.
I have been talking to shannon (my friiiieeend) alot more lately. Its been really good to be able to talk to a girl and just get everything out. It was weird for a while there. Kinda felt like we where drifting apart a bit...... That will never happen with shan :]
so im going shooting with tylller tomorrow and I will try to take pics and upload :] bye nutangers!!
Comment! (2) | Recommend!
"you are going to wind up with nothing"
Tuesday. 9.21.10 4:05 pm
mom: "You are putting tyler before your family and everything else. You are putting finances before him. You are going to end up with nothing. He will dissapoint you. Tyler isnt asking you to do this you are just doing it on your own. Im not blaming him Ruby. I just think you have your priorities mixed up and your going to end up alone and I dont want to be there for it."
what am I suppose to say to that?
I mean okay tyler isnt working right now because he is taking wayyyy crazy hours in college. I still have my graduation money saved and i have been using it on gas and other things. Sure we have gone out to dinner a few times and I have paid. But what does that matter?
My mom has been married 4 times. Her main reason for them all ending is one thing....money. She makes sure hers and herself is taken care of first and she sees men as a way of doing that.
So in my relationship yes I have a fear of dating a guy for money. I dont want to be that person. So I guess in a way with Tyler I have made sure there is no motivation of that at all. As for having my priorities mixed up. He is part of my family. Maybe someday we will start a family. He is important to me and i love spending time with him. He makes me happy and not miserable like she does. With her I cant do anything right. Nothing is ever good enough. So Im not sorry that Im spending all my free time with him. And if you have a problem with my relationship keep it to yourself. This is between Tyler and I. If you where actually trying to look out for me that would be a different thing. But i dont appreciate you trying to hurt me and my relationship with him.
Comment! (3) | Recommend!
Tuesday. 9.14.10 3:39 pm
I have gone a little crazy o-0... I play jedi mind tricks with my teachers to get them not to give me homework.... sadly I am not using the force very well /sighs/.
what i dont understand is how a teacher expects you to do homework, a paper, study for a test, and read 2 chapters all in 2 days......
grumbles
okay moving on. Im having a good day so far todayyy tyler came and hung out with me after i got out of class and he had a break between his. Today is seven months for us (which may not seem like alot but its a record for me hehe). Love him alot :]
different subject.. My grandfather passed away. My dad called me one night when we where having dinner. It was really a tough thing for my family up in NY. Grandpa was sick with cancer. He actually beat it but him being so stubborn he didnt go back for his regular check ups and it came back. http://www.sireporter.com/news-articles/2748/2748-Stanley-A.-Lenox-Jr.%E2%80%A9-David-Scudder%E2%80%A9.html
So that was difficult to deal with on top of starting school and tyler and i having problems. Its been a crazy month.
Not to mention all the problems i have been having with my mom. She is getting another divorce and this time there is ALOT of drama going along with it. She has been acting crazy 98 percent of the time. And the things that he has done to her and she has done to him is ridiculous. So much for a marriage. Its sad to see people abuse such a beautiful and wonderful thing and use it for personal gain and selfish reasons.
Then again its wonderful to see people like tylers parents who have been together since they where 18 and 22 and still be happy together and best friends also.
I guess its not the marriage concept itself... but the people making the committment...or not making it.
peace out nutang!
Comment! (4) | Recommend!
love college hate the homework
Monday. 8.23.10 5:35 pm
Well I have figured a few things out about what is going to happen with my college years
1. The professors are going to give you so much homework for one of these two reasons.... i have a feeling its the first
1 They want to fill all your minutes until their next class
with enough math problems that you do one a minute
until the next class day.
2 They are evil people who are smiling at laughing at you as
you get pencil blisters or typing sores.
2. You may not know where you are going.......at least know the room number...
(made the mistake this morning of trying to find my Sociology class and
instead walked in on a psychology class where the teacher was in the middle
of a very heated lecture.)
3. Students are not good drivers!!!!! beware!
4. If they say read it...... there will be a quiz/test/discussion or something to that extent that will be graded
5. Books are very heavy
6. Being an adult is not all its cracked up to be
<3 byes!
Comment! (2) | Recommend!
Thursday. 7.29.10 10:40 pm
SOOO things are moving pretty fast around here.....
College is coming up and i start in about three weeks..... way scary
and then me and tyler have our six months right around the corner....... didnt we just start dating yesterday??!?!
other than that there are so many little things starting to stress me and things i know i have to take care of asap uggghhh... you ever get that feeling that things are just stacking up on top of each other and eventually they will spill over and suffocate you with their weight??
oh i got a car :] its a 2002 ford taures sel
its very pretty and perfect for me :] i wuv it
much love nutang!! and thanks for not getting mad at me for dissapearing for a while..... im so good at it i should become a magician (corny i know :p )
Comment! (0) | Recommend!