I guess we're not getting married after all
Wednesday. 1.23.08 10:27 am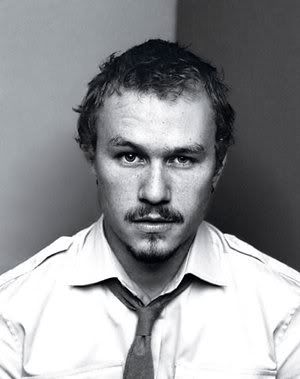 Don't tell T
2
this, but I always thought I would marry Heath Ledger. I secretly celebrated when he broke up with Michelle Williams and contemplated the varied and devious ways I could weasel my way into his heart (Step One-- Move to NY...). But now, it looks as though all my plans are all for naught, Heath... is dead.
I'm completely in denial. Heath Ledger, love of my life? fire of my loins? dead? No, it must be some horrible joke. I fully expect him to come skipping out of his closet sometime Thursday afternoon chanting "I fooled you! I fooled you! You guys sooooo thought I was dead!" in an annoying sing-song voice as forensic investigators jump out of their skin before chiding the ever-beaming aussie ("OMG Heath that was so not cool...").
*sigh*
I guess it will dawn on me someday.
Comment! (1) | Recommend!
Total Eclipse of the Brain
Tuesday. 1.15.08 5:36 pm
You have to hand it to The Chemical Brothers-- they sure know how to get a song so obstinately stuck in your head that you can think of nothing else. Real entry to come soon, I hope.
Comment! (3) | Recommend!
I am obsessed with his earring
Monday. 1.7.08 6:12 pm
We listened to this song repeatedly in my French class on Friday, so it's pretty much been stuck in my head ever since. Turn your volume up, and please admire this early ninties jem.
Also, this is a pretty cool song that samples the above. Not a translation.
Comment! (2) | Recommend!
Wow... I completely misjudged THAT one
Tuesday. 1.1.08 10:42 pm
Happy New Year folks!
I hope you've all given 2008 a fantastic start. I, for one, am very happy to report that this year I did not wake up hungover, or engage in any questionable hook-ups.
Actually, today
could
have been perfect, and it would have been, if my brain hadn't decided to take a vacation around 7pm, PST.
You see, I dropped the "L" bomb on my boyfriend.
I have no idea why. Everything was going great. The little voice in the back of my head that had been screaming "RUUUUUUUUNNN" ever since our first date was finally beginning to fade. I was happy; honestly, genuinely,
really
happy. The kind of happy that babies feel when they're next to mommy. The kind of happy that reminds you that happiness isn't just an idea.
Then, as we snuggled up to take a nap, I said it. Then he said "are you being serious?" and I affirmed.
And then... silence.
Silence.
Less awkward than a stuttered "I love you too," less cheesy than
"ditto,"
and much preferable to insincerity, but so, so painful.
I have never wanted to be that girl. I was positive that this was the right time, and I could not have been more wrong. Three minutes later, he was snoring.
Fuck it. I guess that's just something I'll have to get over.
Comment! (3) | Recommend!
Saturday. 12.29.07 10:35 pm
This afternoon, my family and I completed our final Christmas tradition-- brunch (this year it was actually late lunch, but whatever) with my dad's side of the family. Usually, I dread this event, but this year, I actually had a really good time.
In fact, the whole holiday season has been pretty good this year, largely thanks to my boyfriend. Pretty ironic when you consider that Muslims aren't too big on Christmas.
Some things I learned:
1. Online shopping, while it may seem like a cop-out, makes much more sense when you want a good deal on holiday gifts, as long as you know what you're looking for.
2. Sex is
the
most excellent stress reducer.
3. "Spoons" is the ultimate holiday game; you can teach it to anyone.
4. Green bean casserole keeps me from overeating.
5. After Christmas sales are a great time to stock up on clothing basics (like plain jeans, slacks, socks, etc.), but you can't expect to find fashion pieces that will work past New Years).
6. People generally have enough shit. You really don't have to buy something for everyone you come in contact with on a weekly basis.
We made it another year guys, pat yourselves on the back.
Comment! (1) | Recommend!
As if my abandonment issues weren't bad enough...
Sunday. 12.23.07 1:56 pm
I can't believe I haven't posted anything in over a month. There is a little Word document filled with things I wanted to post when NuTang came back, but they all seem so insignificant now. I just kind of want to lovingly stare at my computer screen for a few more moments before continuing to chatter on about my life.
Ok, I'm ready to move forward now. Welcome back everyone!!
Comment! (2) | Recommend!