Saturday. 8.16.08 2:00 am
mood:
touched
listening to:
Taylor Swift - Stay Beautiful
My friend Jimmy emailed me and told me last week he was sending me something Today I got my package from him I got a red glass rose and a blue cross necklace :) That was so sweet of him to send me those gifts! he got them from the state fair I will post pics soon! But for right now these Glitter-Graphics will just have to do! I'm gonna go email Jimmy and thank him for my gifts. I will update soon with pics.
Much Love,
Shan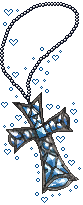 Comment! (4) | Recommend! | Categories: Blue Cross Necklace [t], Glass Red Rose [t], Gifts [t], Glitter Graphics [t], Jimmy [t], Pics [t]