I get the feeling that lately nothing ever really lasts
Friday. 7.13.07 7:00 am
Sunday. 2.25.07 5:00 am
Saturday. 3.17.07 7:00 am
Sunday. 4.22.07 2:00 am
Saturday. 8.16.08 2:00 am
mood:
touched
listening to:
Taylor Swift - Stay Beautiful
My friend Jimmy emailed me and told me last week he was sending me something Today I got my package from him I got a red glass rose and a blue cross necklace :) That was so sweet of him to send me those gifts! he got them from the state fair I will post pics soon! But for right now these Glitter-Graphics will just have to do! I'm gonna go email Jimmy and thank him for my gifts. I will update soon with pics.
Much Love,
Shan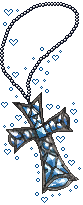 Comment! (4) | Recommend! | Categories: Blue Cross Necklace [t], Glass Red Rose [t], Gifts [t], Glitter Graphics [t], Jimmy [t], Pics [t]
Sunday. 12.30.07 3:30 am
mood:
bored
listening to:
Blake Lewis - Break Anotha
Comment! (0) | Recommend! | Categories: 25th Birthday Pics [t]
When I dream I can't sleep When I miss I miss you
Monday. 6.23.08 2:00 am
mood:
drained
listening to:
Ferras - Don't Give Up
Hey Everyone! I haven't made a real update in forever my life has been super busy But first I should let everyone know that my Dad is doing better now thank God :) he still has a lot of weight he needs to gain...But he hasn't had anymore seizures! So, that's the best news! Thanks again for everyone who has said a prayer for Dad keep on praying for him and us, and I'll keep you all updated on how he's doing ok? My Aunt Sue and Uncle Johnny are here so are my cousin's Patti and Jamie and all of my other cousin's I can't even name them all there's so many! I didn't get to see them But once while they were here But they were busy and we have been busy! Friday Mawmaw Graham and Aunt Arba came up to visit Arba said my cousin Angie has been sick said she almost had a stroke it was because of her Asthma medicine I have been so worried about her she's doing better But keep her in your prayers. Saturday Pawpaw and Diane came up with her sister Jane and Jane's husband Jim we sit outside and had a fire and I gave Pawpaw his B-Day stuff his B-Day is today he's 65 Happy B-Day, Pawpaw! Love ya! anyway I plan on calling him later on today to wish him a Happy B-Day! he hasn't been feeling good lately I have been worried the drs think he might have a blockage somewhere so please say a prayer for him. Sunday I didn't do anything, it was a rainy day and I slept most of the day *yawns* me and Sissy sit outside and me, her, and Mom went to Moe's and got Milkshakes when we came back me and Sissy rode around the park and told my cousin Jacob bye and I'd see him next time next summer he's only 9 years old But he's so sweet too bad we didn't get to spend that much time together there's always next year. Today is Monday, like I said I don't have anything planned besides calling Pawpaw! we took some new pics and I plan on posting those *sometime* in the near future other than that, there's been nothing else going on... like I posted the 16th made 2 years since Ron died! :( and Ron's Aunt Livie passed away my great great Aunt :( But once good thing has happenend my cousin Jerri is having a baby I'm so happy. I ended up calling Pawpaw and wishing him a Happy B-Day! he said he had a party! I told him I'd love to have some cake But me and Sissy was gonna go and go to the store and we couldn't come over (I told a little white lie I wanted to surprize him) So, we went over there and Jane and Jimmy was there and Diane we all ate cake and Pawpaw was so happy to see me! I'm really happy we went over to see him! :) he gave me a bracelet, some rings, and a pair of sunglasses, he's always so sweet! and Diane and Jimmy bought me some candy...from a girl that was selling stuff for her school that was so sweet of them :) before that Sissy bought me a drink from Taco Bell it has real Strawberries in it I could live on Stawberry flavored stuff haha Sissy is so sweet to me too, we always have fun with eachother when we got out I wish we could have stayed longer But it was late and Sissy had to stop at Riteaid and to get water, after that we came home it was almost 9:30 when we got home we ate dinner and Aunt Sue and Patty came over and they stayed for alittle while I just added a little bit to this entry I didn't want to retype another journal entry. Again sorry for not updating like I used to But my life stays busy I don't have time I do read everything you all post tho I hope everyone is doing well and life is good I'll try to update again soon But my soon is months from now you all know that lol! One more thing check out Ferras and Katy Perry they're amazing 2 of my favorites! and for everyone on Live Journal, Insane Journal, and NuTang I just wanted to let everyone know that I got a new account on melodramatic.com and deviantart my name is myyourheart So, if anyone has accounts at those sites add me ok? thanks! leave me some comments I'd love to hear how everyone's summer has been so far? Anyway, I'm gonna go listen to music and finish posting those new pics I promised.
Much Love,
Bee
Comment! (0) | Recommend! | Categories: Aunt Arba [t], Aunt Sue [t], Aunt Livie [t], Angie [t], Cousins [t], Dad [t], Diane [t], Family [t], Ferras [t], Jerri [t], Jamie [t], Jane [t], Jacob [t], Jimmy [t], Katy Perry [t], Mawmaw Graham [t], Mom [t], Music [t], Milkshakes [t], Pawpaw [t], Pawpaw\'s Birthday [t], Pics [t], Patty [t], Prayers [t], Ron [t], Rain [t], Sissy [t], Summer [t], Uncle Johnny [t], Upd [t]
Monday. 6.23.08 2:30 am