Wednesday. 6.27.07 11:15 pm
After a hard day's work, there is absolutely nothing better than to assume a fetal position and soak in the bathtub. You'd assume I'd be sick of being wet, since I marinate in chemical baths (or pools, as some people like to call them) for a living, but there is something totally different about natural water. Be it fresh or salty, I can't get enough.
It's the kind of feeling that make you want to believe the
Aquatic Ape Theory
. Or not.
If you haven't done so yet this summer, get to an ocean, lake, river, stream, or chemical bath (if you must) and enjoy it the way you were meant to!
PS: Did I mention I'm teaching a kid named
Trent
? Too bad he's like 5.
Comment! (0) | Recommend! | Categories: About Me [t]
Tuesday. 6.26.07 4:47 pm
Have you ever had to corral five pre-schoolers out of a pool with a fire alarm going off? Well, today, I had to do just that. I know. I rock.
Right as lessons were ending, that panic-inducing electric screech filled the entire building. We trooped, cold, wet, and grumpy, into to lobby, to wait for the fire department. Everything out ok, but we have no idea what triggered the system. Strange.
In other news, things are really weird between me and a co-worker friend (we shall call him Hasselhoff), and I can't figure out why. Hasselhoff and I worked the same all-day Saturday shift for about a year and a half. It sucked, but we had fun reading magazines to each other and debating politics, and sometimes we would swim together or hang out outside of work.
Well, he left for school in DC last August, and none of our breaks really matched up, so we only spoke a few times until I got out of school three weeks ago. Anyway, he seems super chill with all of our other work friends, but I feel like there is a super tenseness between us. Not an upset tenseness, we just both become totally silent in each other's presence. It feels soooo weird. I would almost rather turn around and skip work when I see his Volvo in the parking lot, just to avoid it.
Whatever. It'll work itself out. It's just strange. It's all a little strange.
Comment! (1) | Recommend! | Categories: Work [t], life [t]
Monday. 6.25.07 10:29 pm
Today was an interesting day. I was scheduled for 2.5 hours, and I ended up working 9. How do these things happen?
I'll tell you.
My boss asks, and I say yes.
I don't know what my freaking problem is! It's not like my bosses are mean or intimidating, they're actually quite nice and attentive. For some reason, though, I cannot tell them I won't work extra shifts/awkward timeslots/tough lessons, unless I absolutely, physically cannot. Does anyone else have this problem?
It wouldn't bother me so much except: A) It pisses off my mom and dad, B) I don't have a car [see A], C] I am the only one they seem to be able to play like this.
Net result: I work seven days a week and two sets of swimming lessons to come home to a pissed-off family, but I also make bank and I'm up for a promotion.
Maybe I should use said income to buy a car and get my own place. Ha. Right. If I get the promotion, maybe.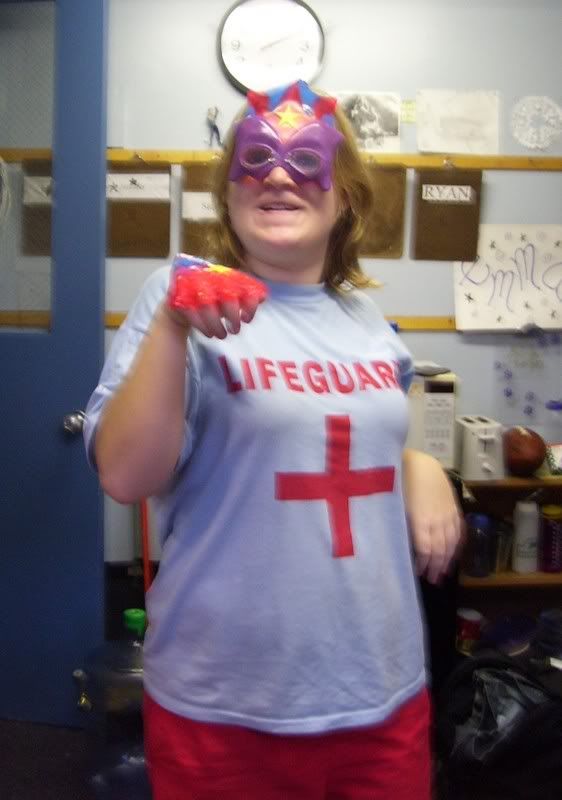 Comment! (0) | Recommend! | Categories: Life [t], About Me [t], Work [t]
Sunday. 6.24.07 12:01 am
And so, NuTangers, it has come to this. I cannot find my camera. It has been missing for almost a week now.
I am distraught. I am inconsolable. There is an empty feeling in my heart where photography usually lives.
What am I to do? How am I supposed to show the world the fabulous make-up job I did last night? Or the new arrangement of books on my shelf? Or my dog wearing a wig?
Thankfully, I know it has to be somewhere in my house. Unless some devious criminal broke into my room, bypassed my laptop, stereo, designer shoes, and television and went straight for what they new would really hurt. No, it's probably somewhere in the chaos that is my newly re-filled room at home.
Still, that's really just as hopeless.
If I find you again, camera, I will hug you and kiss you, then upload those photos of my dog.
Comment! (1) | Recommend! | Categories: Life [t]
There's only one girl in the world for you, but she probably lives in Tahiti
Saturday. 6.23.07 3:35 am
I am always surprised at how totally fine everything I worry about turns out. Wait... does that make sense? Should I diagram that sentence? I don't know how to diagram sentences... can someone show me?
Anyway...
You can tell I'm tired because I'm rambling...
After lunch, I had a staff inservice. If you never attend a staff inservice in your life (especially at a pool) you are very lucky. Wait... I know there are tense issues there... ignore them. Ahhh! See what writing tutoring does to you? I keep interrupting myself.
Well, I expected it to really such but it didn't... it was actually *gasp* enjoyable. Sort of. Ok, it was at least bearable. And I got to meet a lot of the new staff, which was good. And I found out that a co-worker of mine is obsessed with the IRI too. Wow. So cool.
Vexing ex's party went exceedingly well, too. Flakey best friend brought her boyfriend, so we talked most of the time, while she talked with all our other friends who like her better anyway. Vexing ex and I barely spoke, and he certainly didn't drag me off into any side room like I feared he would. Wow, I think I flatter myself too much.
Oh! And I got my head scratched! Yay! I love getting my head scratched.
Yay for life.
Goodnight.
Comment! (1) | Recommend! | Categories: Work [t], Life [t], Exes [t]
Wednesday. 6.20.07 2:55 pm
I got my work schedule for the summer yesterday. Guess what? It's going to suck! I'm working seven days a week, five of which are teaching days.
Oh well, it's a lot better than being bored. I hate being bored more than anything else.
I work at a community pool, by the way.
Vexing Ex's birthday party is on Friday. I'm teaming up with Flakey Best Friend, so if it get's bad, we'll just go do something else. Like guy bash.
As you can see, I've been working on this page a little. The colors are a little different, I started adding catagories, and I put some pictures in my gallery. You might want to check those out.
Comment! (1) | Recommend! | Categories: Life [t], Work [t]