Monday. 6.9.08 11:07 am
Subject: Resignation
To whom it may concern:
I am hereby officially tendering my resignation as an adult.
I have decided I would like to accept the responsibilities of a 5 year old again.
I want to go to McDonald's and think that it's a four star restaurant.
I want to sail sticks across a fresh mud puddle and make ripples in a pond with rocks.
I want to think M&Ms are better than money because you can eat them.
I want to lie under a big oak tree and watch the ants march up its trunk.
I want to run a lemonade stand with my friends on a hot summer's day.
I want to think a quarter is worth more than a dollar bill cause it's prettier and weighs more.
I want to go fishing and care more about catching the minnows along the shore than the big bass in the lake.
I want to return to a time when life was simple. When all you knew were colors, multiplication tables, and nursery rhymes. When I didn't know what I know now. When all I knew was to be happy because I was blissfully unaware of all the things that should make me worried.
I want to think the world is fair.
I want to think that everyone is honest and good. I want to believe that anything is possible.
I want to be oblivious to the complexities of life and be overly excited by the little things again.
I don't want my day to consist of computer crashes, mountains of paperwork, depressing news, how to survive more days in the month than there is money in the bank, doctor bills, gossip, illness, and the loss of loved ones.
I want to believe in the power of smiles, hugs, a kind word, truth, dreams, the imagination, Santa, the Tooth Fairy, a kiss that makes a boo-boo go away, making angels in the snow and that my dad and Superman are the strongest people in the world.
So......here's my checkbook and my car-keys, my credit cards and the bills too, my 401K statements, my stocks & bonds, my collections, my insurance premiums, my job, my house and the payments too, my e-mail address pager,cell phone, computer, and watch. I am officially resigning from adulthood. And if you want to discuss this with me further, you'll have to catch me first, cause,
"Tag!"...
"You're it!"
Comment! (2) | Recommend!
Thursday. 6.5.08 1:42 pm
This is just a pun-in-cheek parody prayer which has been "fine-tuned" into McDonald's style. Hope this doesn't offend anyone here though. And for the rest of you, please enjoy and keep smiling.

Oh oily Father

Who art in Playland

Happy be thy Meal.

Thin sesame bun, Apple pie with cinnamon

For breakfast or lunch after 11:30.

Give us this day a fish fillet

And supersize our extra value meal

As we supervise the homeless people that eat around us

For thine if the beef and chicken

And whatever is in a chicken McNugget

Da da, Da da da

I'm loving it.


Comment! (4) | Recommend! (3)
Tuesday. 6.3.08 4:08 pm
»
POSITIVE: Item shipped quickly, have been having erotic dreams about seller. Thanks!
»
POSITIVE: Thanks for great Rainbow Brite lunchbox. Should shrunken head be inside?
»
NEUTRAL: Excellent communication, but should've poked holes in box before shipping the kitten. Refunded.
»
NEGATIVE: Despite indication in listing, I could not fit item into any of my body cavities.
»
NEGATIVE: Honda R-Type sticker did not add horsepower as advertised.
»
NEUTRAL: Item shipped promptly and in good condition, but I should not have to bid on birthday presents from my parents.
»
POSITIVE: I don't really remember what I ordered. But I've been sitting in the box it came in all day, and it's great!
»
NEGATIVE: Product didn't work, possibly broken. I woke up this morning and was disappointed to find I still believe in Jesus Christ our Savior. :(
»
POSITIVE: Excellent Buyer. A++++++. Thrilled by the quartz movement of the "Rolex". HIGHLY RECOMMENDED.
»
NEGATIVE: Should have been clearer that seller only accepts payment in Bhats via Eastern Union Moneygram.
»
POSITIVE: Plain brown packaging seemed to fool my wife. Thanks!
»
NEGATIVE: The dog won't hunt.
»
NEGATIVE: Very nice monkey mascot costume, but it's a size 34, not a 63 as advertised.
»
NEGATIVE: Lederhosen not as pink as the picture led me to believe.
»
POSITIVE: A+++++. Items are exactly as described. Best case of kalashnikovs I've ever bought. Allah Akbar!
»
NEGATIVE: This is clearly the ninth, NOT THE SIXTH, repackaging of Mad Super Special #24.
»
POSITIVE: One of the scents mixed in with the packing peanuts remind me of a passionate weekend in Rio... was that you?
»
POSITIVE: The way you wrote my zip-code makes me weak in the knees. Such smooth strokes. A+!
»
NEGATIVE: Though you did nothing wrong, I am giving you this negative feedback to teach you that the universe is arbitrary and unfair.
»
NEGATIVE: Buying this Space 1999 Lunchbox did not fill the void in my empty life for as long as I'd hoped.
Comment! (5) | Recommend! (4)
Saturday. 5.31.08 10:33 am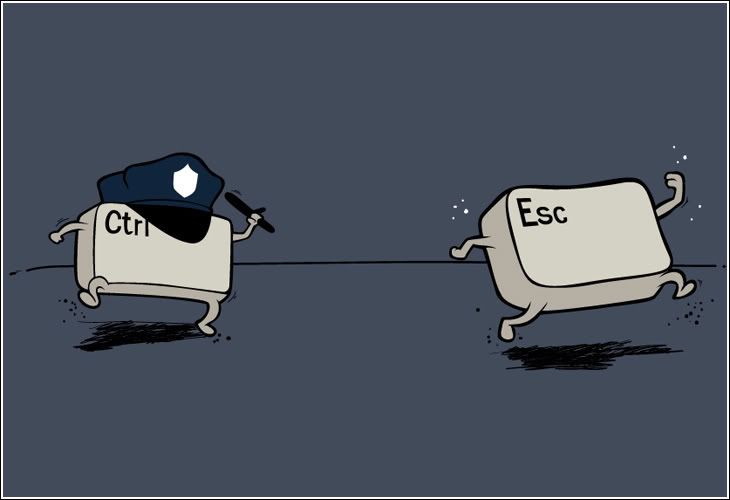 Hmm, that figures....
Comment! (3) | Recommend!
Friday. 5.30.08 7:11 am
If you are a lover of cats and cartoons, you are definitely going to love this one too! Watch and enjoy!!
Comment! (0) | Recommend!
So you think that's scary???
Wednesday. 5.21.08 12:41 pm
So speak the truth, I never really like horror movies. Not that I hated it or anything, it just gives me the creeps that horror movies nowadays are sometimes so well done that you thought it was for real. Take Ghost Doll Hanako that I watched a couple of years back. It really freaked me out so much that I couldn't sleep in peace at all for one whole week. There's this particular scene in which the two protagonists (girls) were in a room writing some sort of protection incantation and repeating "I don't want to die. I want to live!" over and over again. And every completed written incantation was pasted all over the room, sort of like forming a protection barrier around the room, and not letting that creepy scary ghost doll come anywhere near them. As if that wasn't bad enough, the protection seal that was previously pastered on the glass window started to smudge and became "useless" and suddenly, the ghost doll plastered itself against the window, right exactly where the protection seal was previously pasted at.
Bad part?
My bed is right beside a window too... So, that sort of gives me the creeps whenever I heard or feel some sort of presence near the window. But still, ultimately, nothing beats this video I found of Saw. Just watch it to believe it for yourself. And last but not least, make sure you're not eating or drinking when you are watching this video or esle you'll regret doing so...
Comment! (2) | Recommend!
Beijing 2008 Olympic Logo....
Sunday. 5.11.08 10:40 am
You mean, that's how they got the logo for the Beijing Olympics 2008??
It was normal standard procedure...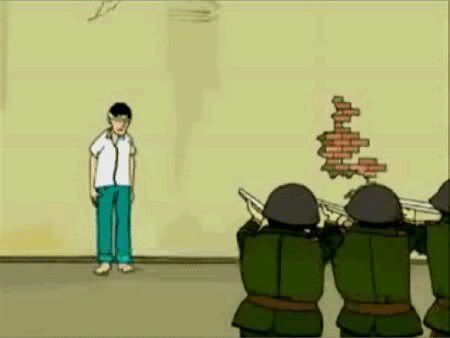 Ready, aim!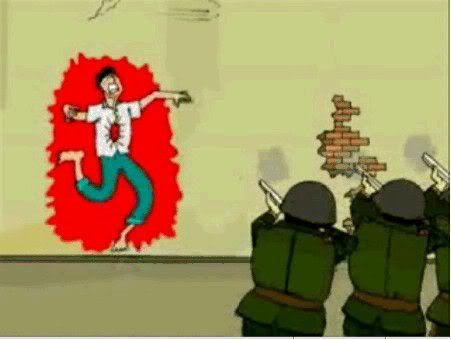 Hmm, maybe we can still make use of it, somehow...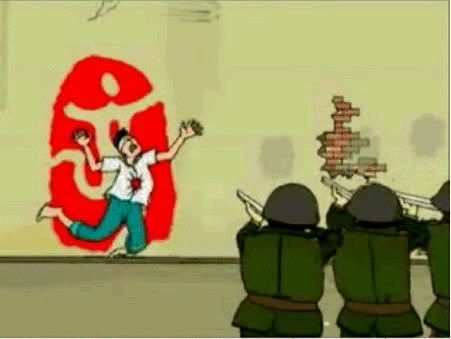 Okay, that looks great. But we're missing something.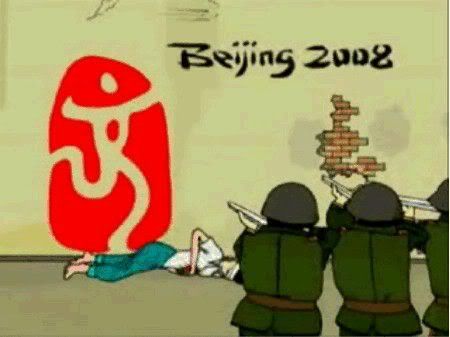 Quick, let the world know about this logo!!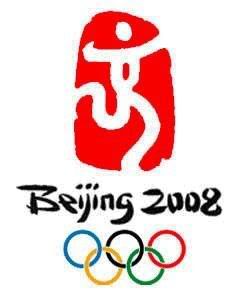 Comment! (2) | Recommend!
Multi-National Cow-porations (MNCs)
Saturday. 5.3.08 8:58 am
Got this in my email and I absolutely had to share it no matter what. Don't take offence, just enjoy ~.~
THE TRADITIONAL CORPORATION
You have two cows.
You sell one and buy a bull.
Your herd multiplies and the economy grows.
You sell them and retire on the income.
AN AMERICAN CORPORATION
You have two cows.
You sell one and force the other to produce the milk of four cows.
You are surprised when the cow drops dead.
A FRENCH CORPORATION
You have two cows.
You go on strike because you want three cows.
A JAPANESE CORPORATION
You have two cows.
You redesign them so that they are one-tenth the size of an ordinary cow and produce 20 times the milk.
You then create clever cow cartoon images called 'Cowkemon' and market them worldwide.
A GERMAN CORPORATION
You have two cows.
You re-engineer them so they live for 100 years, eat once a month, and milk themselves.
A BRITISH CORPORATION
You have two cows.
Both are mad.
AN ITALIAN CORPORATION
You have two cows, but you don't know where they are.
You break for lunch.
A SWISS CORPORATION
You have 5000 cows and none of which belong to you.
You charge others for storing them.
A CHINESE CORPORATION
You have two cows.
You have 300 people milking them.
You claim full employment and high bovine productivity.
You have the newsman who reported on the numbers arrested.
AN INDIAN CORPORATION
You have two cows.
You worship them.
A MALAYSIAN CORPORATION
You have two cows.
You signed a 40-year contract to supply milk at RM$0.06 per litre.
Then midway through, you raised the price to RM$0.60 or you cut the> supply.
When the buyer agrees to the new price, you change your mind again.
Now you want RM$1.20. The buyer then decides you can keep the milk.
They look for milk that comes from recycled cows or the cow urine instead.
Your two cows retire together with the Prime Minister.
A SINGAPOREAN CORPORATION
You have two cows.
One "cow-peh" and one "cow-bu".
Comment! (3) | Recommend!