Wednesday. 5.2.07 8:54 pm
And this is why losing for the third year in a row at the Single Spark awards isn't nearly as crushing as it was before...
I was asked several months ago to put together a banner, featuring Tifa, for FF7Citadel for the month of May! I think it's quite appropriate that Tifa makes her appearance in May, as May 3rd is her birthday!
I'm so glad I got to do this... not only because it's an incredible opportunity but also because Tifa is really my favorite character from FF7. Which is odd, considering the majority of my artwork and stories are about Aeris. But there it is, I like Tifa, mostly because she's a lot like me. Quiet, a bit awkward when it comes to emotional stuff, and not quite as strong as she acts. When I first played the game, it always made me a little sad that Aeris and Cloud seemed meant to be, leaving Tifa by the wayside -- twiddling her thumbs. I remember at the time complaining -- inwardly -- that Tifa and Cloud belonged together, which lead to the inevitable question of who Aeris would end up with, because I never bore any ill will towards Aeris. I like her as well, because I have some of her qualities too... but I always tend to side with the dark horse. So in my little mind argument, I had jokingly come up with the answer to that question: Sephiroth. And then I chuckled darkly, and moved on with my life. Little did I know that passing thought might lead to me actually writing Aeris/Seph.
Freaky old world, innit?
Where was I....?
Oh, yeah, banner.
So I made a banner for the lovely folks at FF7Citadel and it's up! RIGHT NOW! So hop on over and take a look see, and while you're there, stay awhile. It's a nice, comfy website... full to the brim with vitamins, minerals and all sorts of fun FF7 related stuff!
GO! NOW! NOACAT COMMANDS!! OOOOOOOBEEEEEEEEEEEEEEEEEEEEEEEEEEEEEY!!
TAKE ME TO FF7CITADEL!
Click. You know you want to...
Comment! (2) | Recommend! (1)
ALL ABOARD FOR ROAD PITAS!!
Saturday. 3.31.07 8:45 pm
watching:
Mythbusters
listening to:
TMBG--No One Knows My Plan
mood:
FUNK YEAH!
Okay. Feeling better now. Had a slightly better day today.
Work was still the wrong side of hellish. But when isn't it, really?
Me mum came in like a knight on a horse or something and paid the bill for the brakes. I'm really grateful, if a bit embarrassed at being bailed out like a kid or something. But she really wanted me to have a great vacation. She knows I haven't had one in awhile and what with the loss of my husband's gram last year (the anniversary of her death is coming up...) we needed something like this big time.
So, vacation is saved.
We're leaving tomorrow for god knows where. The thing I'm most excited about... we're gonna have road pitas. That's right. We're having pitas... ON THE ROAD! Okay, that sounds gross. We're having pitas while driving on the road which is at least forty percent less fun to say than road pitas. FYI.
Anyway, I'm glad things are better. I'm also glad I have this nice little journal space all to myself (for the most part) where I can vent and not really tick anyone off or worry them or whatever. I mean, the whole venting with the words thing... that's really what journals are built for, imho.
So, I'm gonna go shave now. I wanna stay at a hotel with a pool! WOOT!
Comment! (0) | Recommend! | Categories: Road Pitas [t]
Friday. 3.30.07 11:02 pm
...Today sucked.
Bad day at work. Super busy. Super dumb ass customers.
Took car in for simple break job. Has turned into nightmare... a nightmare where my car is in pieces and what should have cost $80, will now cost at least... AT LEAST FOUR HUNDRED FUCKING DOLLARS! THAT'S RIGHT! FOUR HUNDRED DOLLARS THAT ARE FUCKING EACH OTHER LIKE LITTLE JACK-RABBITS WHILE THOSE FUCKING JACKASSES FROM MIENKE WATCH! Bastards. FUCKING RAT BASTARD SONUVABITCH BASTARD MOTHER FUCKING COCK SUCKING ANAL RAPING PUMA ASS LICKING FUCKING FUCKING GUTTER WHORE ROTTEN SWOLLEN SCROTAL SAC FULL OF PUSS AND CHIVES AND FUCKING GOD DAMMIT BASTARD ASS FACES FROM THE VERY DEPTHS OF HELL! Fuckers.
'Kay. So that was depressing enough, yeah? Get this.
Locked myself out of my apartment. Gave the keys to the Mienke guys. I didn't think they'd keep my car overnight. Didn't think that inspecting it involved gutting it like a fucking buffalo on the open plain. It did. They closed before I could get my keys. Thanks Mienke. Your customer service is tops. I hope you all burn in hell.
So I had to call my apartment's emergency service line. Maintenance guy comes. Tries every god damned key on his fucking key ring and not a one works. He has to go back to the office for another set! HA!
HA HA HA!
A-HAHAHAHAHAHAHAHAHAHAHAHAHAHAHAAAAAAAAAAAAAAA!!!
He finally finds the right key and I get into my apartment.
But I still have to pay $400 for brakes. Oh, and though I am on vacation, I can now go exactly NOWHERE! Because the money I saved for that purpose... going to fix the brakes.
Fate or the gods or whatever you call it totally fucked me up the ass.
Thanks god/fate/whatever you call it. You suck.
Comment! (3) | Recommend!
Blue cough syrup tastes like blue...
Thursday. 3.29.07 11:40 pm
Freaking ass. I think I have some kind of horrible virus or something. I have a fever.
Scott made me drink some Tylenol nite-time cough medicine. It was blue and it tasted exactly how I think the color blue would taste.
I think it's kind of funny that I randomly update the many journals I maintain. The only one I've been even remotely consistent with is the one I have at livejournal. I just got a facebook account. It's kind of fun. I like the whole poking thing they have over there.
It's a thing, where you can poke a user and then they poke you back. It's fun! I found my sister on that site. Of course, we immediately began to abuse the poke feature.
Bleh.
Um. What's new for this year? I have an MP3 player which I got for Xmas. Now I can bring my
Nyquil Driver
with me! It's been nice because I've been going to the gym more and stuff. So I can listen to whatever crazy ass music I feel like whilst sweating it out on the elliptical machine.
I don't remember whether or not I mentioned my medical scare. The one where I was diagnosed as being Pre-Diabetic. This means I don't have Diabetes yet, but I could develop it unless I change my lifestyle.
Well, I have. I'm not supposed to have any sugar. I haven't been completely faithful to that one. But to my credit, I don't cheat often. And really, eating one tiny little chocolate every once in a great while really isn't going to kill you, imho. I don't drink pop anymore. And once I stopped, I noticed that I lost three to four pounds right away. There's some nasty stuff in pop. *nodnod*
I also don't eat out much anymore. Home cooked meals almost every night. My husband is a wonderful cook. It's made it easy to want to avoid McDonald's.
To date I've lost about seventeen pounds! Pretty awesome! I want to lose another fourteen before the year's out, but I don't know how realistic my goal is. I'll have to work much harder.
This week has been bad because I'm not really feeling very well. This fever thing is killing me. My throat is all dry too. That blue shit isn't helping anything. Stupid blue shit.
I'll ramble on and on about other random things later...
Perhaps even mention my dangerous obsession with Jem and the Holograms...
Now I'm gonna go pass out and look forward to my vacation!
It starts on Saturday and lasts a whole week! Plus, totally going up North! Land of yoopers, moose and junk yards full of heaps of rusty old cars! WAHOO!!
Comment! (2) | Recommend!
Cats stuck in my head. Full report at 11:00.
Thursday. 3.29.07 8:54 pm
I freaking have Cats stuck in my head. NO, NO, NO! NOT CATS!!
CATS!!
Specifically, I have Skimbleshanks the Railway Cat stuck in my head.
Fuckin' Cats.
Comment! (1) | Recommend!
I LIKE HERONS! Randomness!
Wednesday. 9.27.06 7:04 pm
listening to:
Brian Setzer
mood:
Mreh
Dudes...people.
Seriously.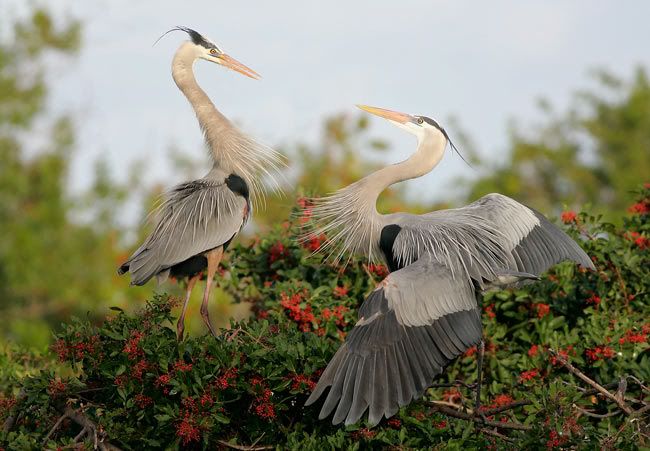 I like herons!
Comment! (5) | Recommend!