Tuesday. 11.12.13 8:43 am
I removed the make-up and safely placed the glitter eye shadow on my mineral face powder. Otherwise, I will be gloated since we got no extra resources…
And I decided to wash my face since I'm particular of maintaining a wrinkle-free face.
Our sponsor gave us some personal skincare and I took the biggest bottle out of its box and carried into the toilet.
I removed its cap and poured out its content onto my palm. The solution was creamy and I have never seen any facial wash that creamy but nonetheless I spread it over my face.
… W… T… H…
It's a moisturizer!
ARGH!!!!!
Tidbits:
I didn't tell anyone because it's too embarrassing to mention the blunder.
Comment! (0) | Recommend!
Tuesday. 11.12.13 8:40 am
I ran back to the dorm – still wearing the costume – to grab my laundry.
I slipped into my slippers and ran down 6 flights of stairs at god speed.
Mother and friend were already at the entrance. They were about to leave.
Luckily, I caught them in the nick of time!
I passed them my bag of laundry. Mother was silent at the size. It was friend who broke the silence as she gaped at the weight and the size of the bag! It weight more than 5 kg – that included my toiletries and a week of laundry…
Mother exchanged the laundry with my little hand carriage that contained… FOOD!
Tidbits:
If only the staircase were a pole, I would slide like those firemen in movies… And yes… I gave friend all my toiletries because I was not going to shower that night.
I was just – not – kidding.
Comment! (0) | Recommend!
Tuesday. 11.12.13 8:36 am
I was behind the stage contemplating if I should change out of my costume before returning to our gathering venue.
As I was trying to wriggle out of my costume, my female member was helping out and suddenly a male member said "Come... let me help you pull out your top."
"WHAT?!" we said in unison with bulging eyes.
I then decided to retreat to the dorm to change.
Don't wanna receive similar offer from another male member!
Comment! (0) | Recommend!
Tuesday. 11.12.13 8:19 am
The end…
The performance ended so fast!
I was happy that it finally ended!!!
I saw mother brimming with pride and all the seniors were cheering for us!!!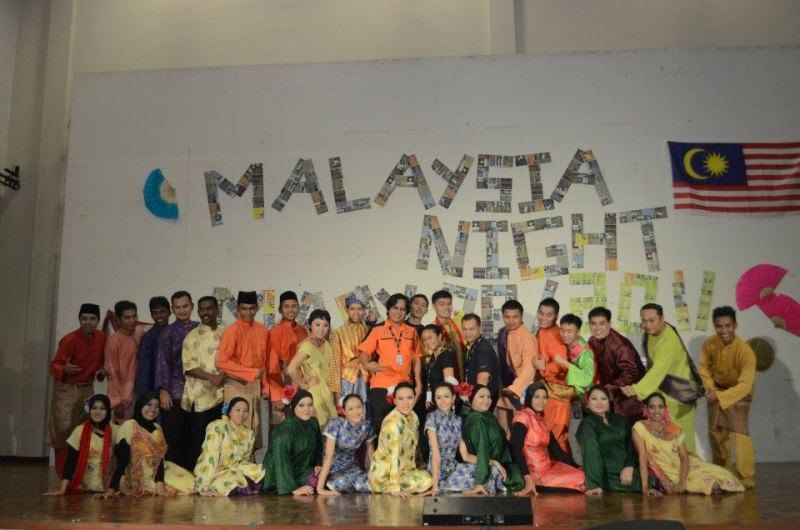 I'm glad mother was proud of me. My sister should have come and see my performance! Although ours cannot compared to hers…
Tidbits:
My sister is a Malay dance performer and she takes charge of her team. She has performed in countless events both for the ministry and the public.
If you are wondering about my background… my family members including myself have performed countless of times and we usually performed in front of thousands of spectators. I have even been told that I have the best smile during performance. =)
But my last major performance in 2000 seriously took a toll on me and somewhat made me decided to have a break from performing. I didn't expect I will take an eleven year break and still want more!
Performing is in my blood I guess. I can never run away from it.
Comment! (0) | Recommend!
Sunday. 9.8.13 10:26 am
Ah!!!
We have to get our assignment submitted to the facilitator by tomorrow night.
Everyone is in frenzy mood – all laptops were dominated and everyone was discussing their assignment answers with their mates.
I finished mine long time ago so I lazed around because members from my environmental discussion group are still working on theirs. I decided to peek theirs from behind from where I was sitting.
My jaw dropped. My heart stopped beating. My hands started to shiver.
What. What. What. WHAT?!
Why is their document so long!!! Why so many pages?! My answer is just printed on one page!
Guys… guys… stop scrolling!!!
Snapshot:
It freaked me out. I kept reviewing my answer and kept assuring myself that I just KISS-ed the assignment. In the end, I just added some sentences and yet the answer is still short.
KISS – keep it short and sweet. =)
Comment! (1) | Recommend!
Sunday. 9.8.13 10:20 am
On 20 October 2011...
Hmm…
A dull pain started to surface on my left gum.
I could feel it every time I swallow my saliva.
But I distracted myself with the dance practices and the chores I had in hand…
Pain, pain go away…
But it didn't. In turn, I developed fever and I recalled that this pain was so familiar like I had before in 1999. I thought I was thinking too much – my AYL responsibilities could have just heightened up my sensitivity in everything since I'm such a perfectionist freak.
I knew it's not right since the pain became more pronounced. I had a hard time in swallowing.
ARGH! This was exactly like in 1999!!!
Are you telling me my wisdom tooth is growing out now?! God, no! I'm going to Japan! Am I gonna be pulled out?!
And a lot of dark thoughts ran in my head …
I could not keep quiet about the surging fever so I informed the head program coordinator about the need to see a dentist.
At first, I was being denied because he would be breaking the rules for taking me out… and he just took the YL to a dentist!
I didn't back down. I implored and finally got him to take me to the dentist that YL went. But the dentist was too busy to attend to me! So I immediately called the dentist I visited before the quarantine and luckily he was available to see me.
The program coordinator immediately drove me and another member (who accompanied me due to my fever) to Sunway Pyramid. The dentist attended to me but panic overwhelmed me and I immediately blurted "OMG… is my wisdom tooth growing now?! Pls… NO NO!! I need to go to Japan next week!!".
It's a hot and sunny afternoon and the dentist must be irritated to see a super hyper patient but he was very patient and told me to "Please open your mouth so I could inspect before making a conclusion."
*Face palm* I just did what he asked. I calmed myself while praying hard to… God.
Later, he turned to me and reported gently that there was just a bruise on my gum which led to infection hence fever. He assured me I will be alright after eating panadol and some antibiotic.
I was instantly relieved. What a drama I must have caused!
Tidbits
: I recovered fully after eating twice the medicine. Thank you, Dr and XX!
On another note, I felt so good walking around in a shopping complex after being quarantined for several days. Oh… I could smell subway!!! Actually I bought a sandwich and a cookie. I felt so gooood to be back in 'civilisation'.
God… can I live without McDonald?!
Comment! (0) | Recommend!