Wednesday, July 18, 2007
I actually thought of many things to write on this blog, but I decided to post something to ponder for all of us.
It's simple. No rapport means no sales. Got it? No?
If you are a salesperson and you didn't build any rapport with your prospect, you lose business because you simply cannot identify their needs and wants. It's actually more to that. This doesn't only apply to salesperson but many of us because whatever we do in our daily life, it involves sales and marketing indirectly. Don't you think so? If you have eaten at a great restaurant and you wanted to tell this good news to your friends, you are indirectly selling the idea to your friend to go there to eat. And mum was telling me how this applies to doctors as well. You got no rapport with your patients, you got no sales in the coming month.
Simple as that.
But my brain always like to think of something else. I was just thinking if that was so simple and simply captivating, why isn't so many politicians not doing the same thing? Easy, you listen to the people and cater to their needs and people will love you for good. You do the opposite, we make you go down and be forgotten for good. Easy as ABC but yet indigestible.
Never mind the politicians. What about businesses? H.A.H.A. Same thing and worse. It's the game of the survival of the fittest. You don't listen to feedback and improve, you lose customers forever until you see a yellow tape crossed on your doorstep.
Simple but why isn't some people listening to it?
Comment! (2) | Recommend!
Saturday, July 14, 2007
My mum and I were enjoying our simple dinner meal until we were abrupted by an unexpected call. My mum became fidgeted and ended the call briskly. I guess someone died but not to throw that curt joke in front of my dad, I decided to put on a wild guess: somebody has been robbed. Aiya ... mana tau [without realising], I hit bullseye. And the victim was my mum's friend in my next door apartment.
The victim was not really in a panic form but I could see she was busy making some calls. Mum was asking her for some details while I looked around her neighbours. My heart was caught in the throat without realisation... That's because the sight of her neighbours were pathetic and I felt sad for the victim.
None of the neighbours came to the victim's solace. It was only my mum and I. Her opposite neighbour look disinterested. Never even bothered to join in our conversation. In fact, they closed the door at our face. What a sad sight. Later, they came out of the house without even glancing our direction.
I let out a sad nod and asked the victim if she knows her neighbours. It took her more than 2 minutes to answer my question. Clearly, this shows how our urbanhood has decayed in terms of being a community or simply a society. Do empathy, compassion and unity still exist in the dictionary of urbanites? Or 'individualistic' is the new jargon worshipped by urbans?
I'm thankful that I know my neighbours. It won't take me even a minute to answer who are my neighbours and what are their names. The sight of the victim's situation extremely saddens me to see how selfish humans can be.
I'm sure these people will only learn their lesson the hard way by being a victim without receiving any assistance or comfort from the people in their closest environment.
Comment! (9) | Recommend!
Sunday, July 8, 2007
I went to see a doctor, correction a doctor not a shrink, today because i was sick for a week: flu and dry throat and higher body temperature last week and my right head is stuff with mucus.
The doctor is killing me. I explained what is wrong with me ... and he kept on asking me what IS wrong with me...
Case 1
Me: I can't open my mouth because I got muscle spasm in my jaw...
Dr. Please open your mouth bigger ... [he puts in an ice cream stick into my mouth]
Case 2
Me: My temperature went a little higher last Thursday or Friday ...
Dr: Do you have any fever?
Case 3
Me: My head is stuff with mucus for the whole morning ...
Dr. You have any flu?
Geez... Correction: I need to see a shrink.
Comment! (5) | Recommend!
Spider spins a dream for ...
Friday, July 6, 2007
My workmate asked me to interpret her dream in Chinese terms... I mean like if you see a black cat jumping on a coffin it means the dead will be risen something like that.
She said her hand was bitten off by a spider and her hand regenerated. She didn't feel pain but was horrified. After telling me this, she asked if I know any significance of these signs. You know what I told her?
YOU SHOULD BUY EMPAT EKOR [Lotto/ 4 digits]
Well you know the Chinese always like buying those 4 digits at those shoddy shops after spotting car number plates that are involved in some accidents ... Well who knows if she was meant to buy 4 D and she could strike but she won't because she's a Malay. I told her she could always count on me to buy. XD.
I was of course just joking.
I even told her that she should think of lengchai [handsome guy] kissing her instead thinking of bugs ...
Well I have dreamed of a shark biting me, as if bugs would hurt me.
Comment! (3) | Recommend!
Thursday. 7.5.07 8:53 am
Yesterday was Heroes Finale in Malaysia. Yea the long awaited finale ...
Guess what? The future caused by Peter exploding has been changed to Nathan taking Peter to explode in outer space. It was sad. Claire was about to shoot Peter but Nathan came in the nick of time and stopped Claire.
Nathan: The future can be changed ... I Love You, Peter
Peter: I Love You too ...
And off they flew. Err ... the I Love U really sound gayish in these 2 guys conversation ...
But I would love to know who is scarier than Sylar. Molly Walker, Linderman's tracker, said there is only one person she cannot track because he doesn't want to be seen. In fact, Molly is afraid of him when she said "He can see me".
Woah .. that blew me off. Imagine someone looking at your direction when you are trying to peep on that person. Oh reminded me of Johan from Monster anime.
Sylar was really stabbed by Hiro just like that: Hiro running into him with a katana and tada he was stabbed and lying on the floor. Huh? But poor Hiro. He got himself travelled to Kensei era??
In short ... When is the second season goin to air in Malaysia???
Oh, I have a few book reviews in my writings section. Haven't really sought it out but feel free to browse.
Comment! (5) | Recommend!
Naruto Spoiler Ch. 360: DIE! SASUKE!!! DIE DIE DIE!!!
Monday. 7.2.07 11:37 am
I was mad all morning. No idea why. Maybe it's because I didn't have a good night sleep. All night long I could hear my stomach rumbling. No idea why. Maybe ate too much ice cream yesterday.
But you know what? I got almost so happy when reading Naruto chapter 360, where Deidara is showing his best artwork. And I almost went BANZAI in the office because I seriously want to see Sasuke dies and then I somehow read a part where Sasuke's being dissolved like iodine evaporating ...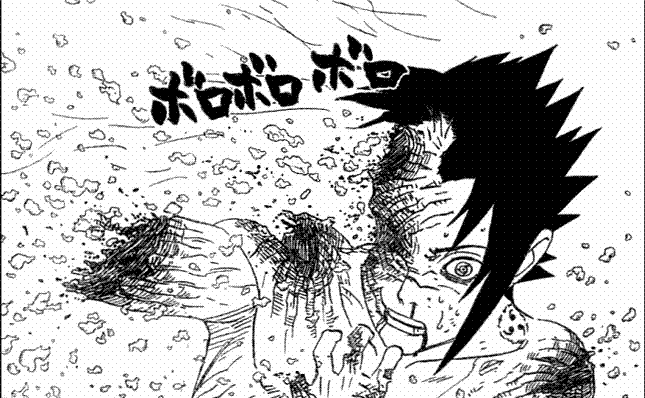 And I went YES YES YES with my right hand in a ball of fist and repeating Yes Yes in my head and heart. Deep inside my heart, it says "Don't be happy too soon" ...
Right how true it is. When Deidara went "HAHAHA... Victory is Mine" the cocky kid appeared behind Deidara ... my heart went on a roller coaster. In this fight, I really want to see Deidara winning. I really thought Deidara is going to be busted for good this time ...
and then TADA ... Deidara is alive!!!!!! Yes yes yes .... YES YES YES!!!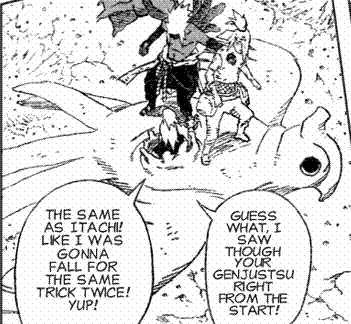 DEIDARA !!! GO AND KICK SASUKE'S A** FOR GOOD!!!!!
Comment! (2) | Recommend!