Saturday. 2.18.17 9:03 am
I now remember why I was so crazy about a Hong Kong movie called the Duel. I was so crazy about Andy Lau's cool character. It's like he was the coolest guy (based on a movie) in 2000. Just look at him in the picture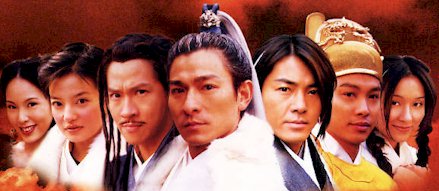 So cool, right? And in the movie, he was a fabulous fighter. He moved so fluidly. Well, which girl doesn't fall for a bad guy?
Ugh. Andy Lau is good looking. I can't deny that.
Aarif Rahman is also handsome. Ahhh....
I think I can have a harem of handsome guys.
Comment! (0) | Recommend!
Sunday. 2.5.17 9:50 am
My heart suddenly became frenzy when I read the Whatsapp message about my friend explaining how he would contend with his life working in the think tank or a research centre and then follow by opening a martial arts centre.
My heart suddenly threw me with an urge to have a life goal like this friend followed by the number of my age. And I could feel how I can't breathe when I compare myself to any other friends about my achievements.
Despite that I can feel my body is telling me we are not like that. My heart being a rebel replied back with fear 'why not?' The replied I heard was 'That's not our life path.' And immediately I am back to normal.
It's not my life path. This is a very powerful reply.
If you think about it, we all have our path and yet it is, sometimes, so hard to follow our life path because it is discriminated by our society or we don't have the courage to answer the calling. Or whatever reasons known to you only.
What's my life path? I think I can feel but I don't have the courage to follow yet because I have something else to settle before embracing.
Comment! (0) | Recommend!
Monday. 1.30.17 6:29 am
Well it's been a month since I updated here. Well nothing much interesting happened other than someone stole my limelight during an audition yesterday.
Anyways, I didn't let it bother me somehow. I was happy to receive a huge red packet from my tarot teacher which was unexpected. Perhaps he sympathises me when I did mentioned that many of my friends are not giving me red packets with the reason 'you are my friend.' I don't see the difference of that sentence with 'I don't want to give you." It's funny how we are so obliged to come up with a reason. I no longer come up with a reason for that because I am not obliged to owe anyone a reason. I am nowadays pretty frank. I got better things to do.
I am year older. That's right but I never thought much of my age except of my appearance. Haha.. I could never escape from the fear of having wrinkles!!
Happy Chinese New Year humans, by the way!
Comment! (1) | Recommend!
Thursday. 12.22.16 10:16 am
Monday. 12.19.16 8:22 am
Wednesday. 12.14.16 10:08 am
This is a topic which I don't like very much.
I first heard about it was about 10 years ago when a collegemate got rejected by my closed friend who was also my collegemate. We were all friends la, put it that way. At the beginning, this rejected person and I always chat on FB just to catch up with each other but not anymore after I put a stop to his insult on the friend who rejected him. I understand that there are girls out there who has or work hard to get the ability to make any guys to fall onto their knees. Whether or not this friend of mine uses this method I seriously don't care because I know she works hard to achieve the things she wants. I know this friend of mine somewhat has the ability to make guys fall for her. And I know how much this rejected guy asked me to learn the art of seduction from this friend. He said it's the best way to be rich - yea by seducing rich old man. The reason why I stopped talking to him is he was so bitter that he got rejected that every word he said about our friend was full with menace. The last straw was commenting that she seduced people to fall for her that they are her play thing. No, darling. True or not, you don't judge her like that. Leave that to god.
10 years later, I am hearing this again from a new friend. He managed to get hold of a 5-year old picture which I got no idea how. Thanks google. My privacy somehow got exposed. Now I understand why my Singaporean girlfriend was so crazy into changing here and there to prevent her profile to be not accessible. Anyways, I see myself as normal in that picture but he was so captivated with that photo that he was telling everyone that this is a hot babe photo. We laughed and we teased him for being my stalker. But I was totally uneasy. Because I have already said at the beginning 'that I can't give you what you wanted.' Don't play hide and seek with a psychic, boy. I can absorb compliments but what he said later were something I don't wish to hear.
Again. I have the cut and look to make any guy fall for me. Even if I do, I don't wish to do so. This is not me. It's not who I am.
Another question why only I involved in something new like what I have been exploring since August? I have other goals which I prioritised. And now I can feel I am bringing back all of those goals which were buried in my heart long time ago with more urgency. Are we going down? Don't know it's just feel right to do so.
I sometimes ask myself if it's too late to start something new. The answer I always receive is I am wherever I am meant to be.
He asked why I didn't join any beauty pageant because I can win. I know. Do you know that when I was 6 years old my dream occupation was to be Miss World? My teacher went gag. But I caught a glimpse of myself on the stage at that age.
But I chose a different goal in later life.
Whatever it is, it's giving me goosebumps when this friend is telling me to learn the art of seduction especially in bed. I don't like it. I don't like this kind of power. And I don't see myself wielding this kind of power.
No. I shall use my own way to achieve what I want. Otherwise, just be single on the dance floor!
Comment! (3) | Recommend!