Friday. 8.7.09 11:37 pm
As the title says it all: I've been loved. Haha. Via my blog and xjion89 believes my blog rocks!
Thank you xjion89
for the awards!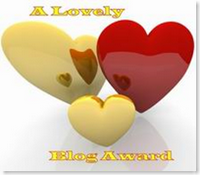 The rules of these awards are:
1. To accept the award, post it on your blog together with the name of the person who has granted the award and his/her blog link.
2. Pass the award to 15 other blogs that you've discovered and think are great! Remember to contact the bloggers to let them know they have been chosen for this award.
Continuing the tradition, I will pass it to:
1.
synch-ro-ni-zing
2.
Jolenesiah
3.
Shuffle and Repeat
4.
The Doodle Blog
5.
Sdovelly
6.
Self magic
7.
Petite Lass
8.
Manglish, please!
9.
Serene's Silent Secrets
10.
-beats in my head-
11.
Pan-Pan Panda
12.
Publish or Die
13.
Sirei/Rei
14.
Life as I Know it-Ng Ju Ann
15. Marcus Teng << waiting for him to renew his domain site. Please do!
Bomb kiss!
Comment! (8) | Recommend!
One of the students that I worked closely with is diagnosed with H1N1 today. Her classmates have been sent home. And I had sterilised my room because one of her group mates was in my room yesterday.
My friend who is an expert in public health advised me to practice self-quarantine which I'm going to do.
This is my second time being quarantined.
Comment! (5) | Recommend!
Wednesday. 8.5.09 10:20 am
damaged nest -
the hummingbirds flew off
to collect new materials
Jolenesiah
has been reporting to me about the hummingbird nest incident via MSN messenger. I felt it was cruel for the office ladies to sweep off the nest as if it was a cobweb. And I began to think if a pair of hummibngbirds built a nest in my balcony. I believe my mother would have done the same thing too because she will have no where else to hang my clothes.
below
the nest
a broom and an akimbo
My sister and I would think it would be nice to accomodate the pair of bird to have their home here but surely my mother would be screaming her head off because of their poo on my balcony. My sister will probably remove the nest because of hygiene reasons.
H1N1 -
all bird pets
have to go
I will be sad to see the birds losing their home but I have no choice but to follow the decision of majority.
departing chants
of happiness and safety
the birds missed it
Or maybe I would just try to support the nest weight with a halve plastic bottle and sling it around the balcony bars.
evening
the birds return
to find a new home
Comment! (3) | Recommend! | Categories: Haiku [t]
This is not a good sign.
Either there's something wrong with my eyes or my 'sight' is back. Recently, I noticed I have been seeing dark shadows passing by in front of me like a rat moving swiftly into the darkness or any hideout available. It's quite frequent. Sometimes when I'm in front of my computer, I could see the shadow running across the keyboard or my bags or up the wall. And then disappeared.
Or... is it early signs of cataract? Or any eyesigh problem?
I just hope it's neither. I don't want to see spirits anymore and I just want to have healthy eyesights.
Comment! (3) | Recommend!