Bellobration and some political nuggets to chew on
Tuesday. 9.16.08 9:39 pm
AW! I'm no longer the Nutang Anti-Christ! I have a interest rating of 7 now!!
Not sure if that's good or bad.
As the French say: C'est la vie!
On another note. Found out some disturbing shit. Please pass this along if you feel like it.
10 Things You Didn't Know About McCain
NOTE:
I don't want to turn this into a whole thing. If you're interested, go there. If not. DON'T. Because the last thing I want is a total politics nut-fest in my journal. It gives me headaches. But if you're voting and you like to read up on all sides of the issue... like me... then this'll be quite edifying.
In other news... I'm totally over Bellobration.
See the circus came to town.
They keep advertising BELLOBRATION!!! It's some kind of circus thing -- some freak show prop comedy / magician / daredevil person who wears a stupid wig and launches himself out of cannons, all for the delight of the circus's patrons. All day, it's Bello this and Bello that and IT'S A FREAKING BELLOBRATION!! Who the hell is Bello anyway? They talk about him like it's a big deal. Come and see fricking Bello! You know you want to!
Well,
I DON'T
. I don't want to see Bello. If it was a choice between living a long life having seen Bello, I would choose inevitable, shit-stained doom. Because I don't think I could live all my years knowing I saw some weenie in a freaking Kid n' Play wig (I'd say Kid or Play, but I forgot which one had the stupid huge ass fade) gamboling around on playground equipment. I just can't do it. It's bad enough the commercial for Barnum & Bailey's Bellobration plays nearly every other minute.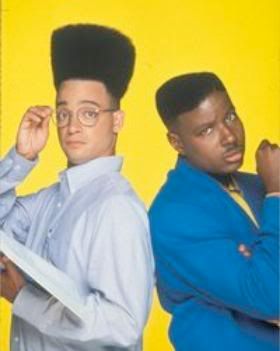 Original Image
VS
Original Image
Seriously... it's horrifying.
And it's driving me insane.
Weasels rip my flesh. THEY RIP MY FLESH!!!
Also, I'm totally obsessed with Rihanna's
Disturbia
. It may require an intervention.
[EDIT]
Who d'ya think would win in a fight? Bello or Kid? I'm not really sure. From the commercials, that Bello looks pretty wily. He is white and therefore THE MAN. And THE MAN is very wily and mysterious in his ways. However, Kid is funky... He also has Play, who looks like he could rip Bello's hair off and feed it to Rick Astley -- to increase the Astley's power of the ROLL.
Of course, the REAL question I'm asking here is which of them is more irrelevant. But don' t answer. It might make me sad.
Sorry, you do not have permission to comment.
If you are a member, try logging in again or accessing this page here.