Friday. 5.9.08 1:44 pm
hello wonderful people,
just caught this great movie "what happens in Vegas" with the cliques.
its been long since i hang out with them.
due to my mid-year exams which i totally screwed the whole papers.
well back to the show,
its totally my kind of movie. heh love it.
Cameron Diaz is so god damn funny. like totally.
the movie is bout two people discover they've gotten married following a night of debauchery in Vegas,
with one of them winning a jackpot after playing the other's quarter.
The pair trys to undermine each other and get their hands on the money...
falling in love along the way.
well catch it soon people
oh well, i just wna end o levels like soon!
im tired of hanging on for so long.
i wna grow my hair long, dye my hair and etc.
but school is stopping me from doing all this.
i fucking hate my computer at home.
i can jus smash it and let it rot.
i wna get my laptop soon! like SOON!
im getting tired, had my poa paper today.
and i just simply press the calculator,
and hopefully it give me an answer out of the four option to choose from.
i must say its a 25% chance of getting an answer right.
shall stop my fingers from typing so much now.
derrick has fucked off.
oh man, antm cycle 10 finals is out next week. sweet!
Comment! (2) | Recommend!
Thursday. 4.24.08 11:24 pm
due to the high fever and food poisoning.
didn't attend school today and yesterday,
but i managed to attend for my eng oral.
well it seems that i have alot to catch up.
cause i miss alot of lessons.
which is kinda important cause mid-year is just next week.
i'm going back to get some rest again.
everyone please rem to take good care of yourself.
dont for sick at the wrong time.
ciaos!

just cant stop listening to this great song
Comment! (1) | Recommend!
Tuesday. 4.22.08 1:06 pm
its almost 2 am now and i don't wish to attend sch later.
due to my chinese oral exam. sigh
how i wish i am prepared for my o levels now.
so that i can quickly end this journey and head to the poly!
i wna get into the mass com!
which is like 10 points and below? grrr..
Stay with me just for the night,
Felt ashamed yet insane.
I walked, I ran, I jumped, I flew
Right off the ground to float to you
There's no gravity to hold me down for real
Near, far, wherever you are
I believe that the heart does go on
Once more you open the door
But somehow I'm still alive inside
You took my breath, but I survived
I don't know how, but I don't even care
My heart won't move, it's incomplete
i simply jus wna have fun & party all night long.
Comment! (4) | Recommend!
Sunday. 4.13.08 11:04 am
even if i'm too lazy or tired,
i definitely have to blog about this awesome movie.
its extremly a great movie.
no regrets bout it.
i give this movie two tumbs up!
seriously you people definitely have to catch this movie real soon.
this movie will give you this though of "denfinitely is her, yet maybe not?"
its hard to know who was actually her real mother.
but i guessed it from the very start :) hah
you'll find out till the very end of the movie.
trust my words its really awesome.
for me, its way better then 27 dresses or even leap years.
whats so great about this particular movie?
what makes it so special?
In the movie, young Maya Hayes (Abigail Breslin) is less than happy about her parents' impending divorce. Trying to convince her father, Will (Ryan Reynolds), to forego the separation, she sways him into telling her how he met her mother - in the hope that he will remember why he fell in love with her mother in the first place.
The movie flashes back between Maya and Will's 'story-telling' session in the present, and Will's earlier days as a struggling political consultant who had just arrived in New York. As the story unfolds, Will begins to reveal the women in his life one by one - carefully concealing their identities by using fake names - and Maya is left to ponder as to which one is her mother but most importantly, who among them truly holds her father's heart.
it was rated 4 out of 5 stars.
remember to catch it real soon!
more info bout this movie, there is always the trailer.
Comment! (2) | Recommend!
Friday. 4.11.08 3:39 pm
its 4 am now and my nose is stuff with tissuse papers. how cool is that.
anw not feeling any sleepy yet,
just caught this movie titled "Funny Games US".
one word bout this movie "sick".
oh well, recently i'm so addicted to this song called "Just Fine", by Mary J. Blige.
its like consuming drugs man. it makes you feel like dancing. hah
love the start of the song lyrics.
You know I love music
And every time I hear something hot
It makes me wanna move
It makes me wanna have fun
But it's something about this joint right here
This joint right here
Its makes me wanna... Woooh
here is her music video clip.
hope you'll start to groove too! enjoy.
Comment! (3) | Recommend!
Friday. 4.11.08 7:04 am
and what a crappy day, im suffering from a really bad sore throat.
my friend said i might get TB. ridiculous. like hell no.
but who knows. maybe plenty of water would help.
our geography project is half way done.
and i think our project looks awesome.
thanks to liyun. heh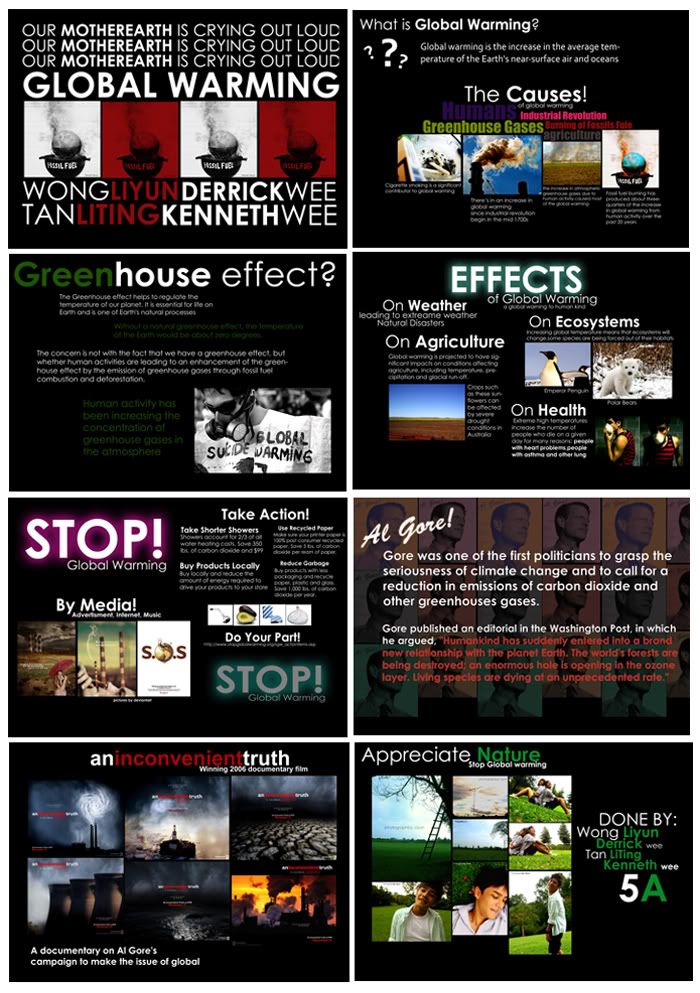 Comment! (0) | Recommend!