Negative statements that you would like to say to your terrible boss.
Thursday. 11.27.08 12:10 pm
1. Everyone thinks the world of you. Actually, we'd like to send you to another world.
2. Your breath smells of alcohol, you won't keep your hands off of me, and you make lewd comments. You should be the poster boy for sexual harassment.
3. Our corporation used to be in the black. Thanks to your hard work and dedication to the destruction of employee morale you have managed to put our company deep into the red.
4. The only person that ought to be laid off in this company is you. A hamster could run this company better than you.
5. Brilliant idea increasing our health premiums by 50%. I'd be careful walking on the shop floor. Your health could be at risk.
6. After twenty years of hard work and personal loyalty, you have decided to give me a day off of work. What will be next? Are you next going to pay me minimum wage?
7. You're instituting a weight reduction program? Great! You're going to fire any employee who doesn't lose twenty pounds in one month? Not so great. I hope that you're the first one to get canned. After all, they don't call you Mr. Henry "Fatso" Jenson for nothing.
8. Thank you for instituting the No Smoking policy, the No Personal Email policy, the No Social Conversations policy, the No Eating Food on the Premises policy, and the No Going to the Restroom More than One Time a Day policy. I have a new policy to offer. It's called the No Listening to the Boss policy. I think it will go over extremely well.
9. Putting two employees in one cubicle should really cut cost and reduce energy. I see that you are having the hottest secretary in the company in your cubicle. I'll be sure to pass the news on this to your wife.
10. Having five company meetings in four hours is a bit excessive. Listening to your monotone voice is worse. Looking at your boring statistics puts me to sleep. Watching you scratching your baldhead, fidgeting with the pencil, and picking at your nose is abysmal. Finally, telling ethnic jokes and making rude comments is the worst. You have about as much charisma as a dead toad.
Comment! (6) | Recommend! | Categories: negative statements [t], terrible boss [t]
Top 10 Lunchbag Art Design
Tuesday. 11.25.08 11:47 am
World Aids Day: 01 December 2008
Monday. 11.24.08 11:03 am
World AIDS Day, observed December 1 each year, is dedicated to raising awareness of the AIDS pandemic caused by the spread of HIV infection. AIDS has killed more than 25 million people, with an estimated 33.2 million people living with HIV[citation needed], making it one of the most destructive epidemics in recorded history. Despite recent, improved access to antiretroviral treatment and care in many regions of the world, the AIDS epidemic claimed an estimated 3.1 million (between 2.8 and 3.6 million) lives in 2005, of which more than half a million (570,000) were children.
The concept of a World AIDS Day originated at the 1988 World Summit of Ministers of Health on Programmes for AIDS Prevention. Since then, it has been taken up by governments, international organizations and charities around the world.
From its inception until 2004, UNAIDS spearheaded the World AIDS Day campaign, choosing annual themes in consultation with other global health organizations. In 2005 this responsibility was turned over to World AIDS Campaign (WAC), who chose Stop AIDS: Keep the Promise as the main theme for World AIDS Day observances through 2010, with more specific sub-taglines chosen annually. This theme is not specific to World AIDS Day, but is used year-round in WAC's efforts to highlight HIV/AIDS awareness within the context of other major global events including the G8 Summit. World AIDS Campaign also conducts "in-country" campaigns throughout the world, like the Student Stop AIDS Campaign, an infection-awareness campaign targeting young people throughout the UK.
World AIDS Day banner, European Commission building, Brussels
A large red ribbon hangs between columns in the north portico of the White House for World AIDS Day, November 30, 2007
A 67 m long "condom" on the Obelisk of Buenos Aires, Argentina, part of an awareness campaign for the 2005 World AIDS Day
It is common to hold memorials to honor persons who have died from HIV/AIDS on this day. Government and health officials also observe, often with speeches or forums on the AIDS topics. Since 1995 the President of the United States has made an official proclamation on World AIDS Day. Governments of other nations have followed suit and issued similar announcements.
Comment! (0) | Recommend!
Configure Firefox In 8 Steps
Saturday. 11.8.08 3:21 am
Hands up to those of you who are using IE 7. Did you notice that IE 7 keep having time-out moments when you're waiting for an important file, email message, website or blog to load? Well, have you heard of Firefox yet? For sure Firefox is no slouch, but here are tweaks to make your browser sprint like Olympics champ Usain Bolt on the track. I tried this tip to boost my Firefox browsing speed and it works.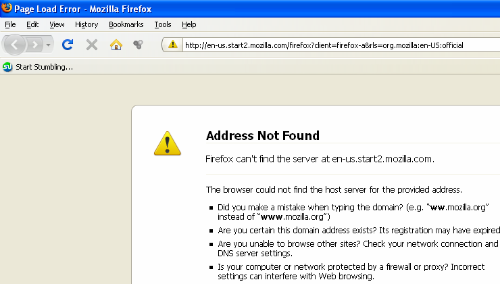 1.
Fire up Firefox (make sure it is in offline mode).
2.
Type
about:config
into the into the address bar (the space that shows the website address).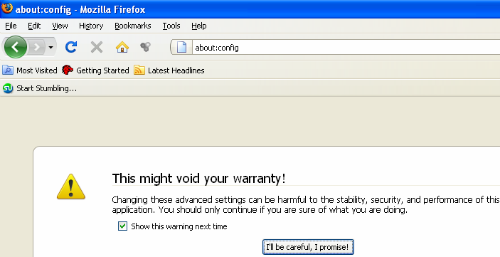 3.
You will see a warning:
This might void your warranty! Changing these advanced settings can be harmful to the performance of this application. You should only continue if you are sure of what you are doing
. Don't be alarmed: Just click the button that says,
I'll be careful, I promise!
.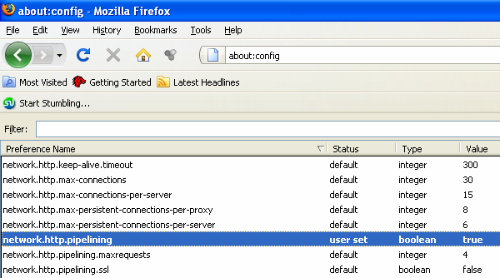 4.
Pages and pages of lines in fine print will follow. Scroll down and search for this one:
network.http.pipelining
. The value is set at
false
. Double click that line. The value will change to
true
and the line will turn bold to show that it has been changed.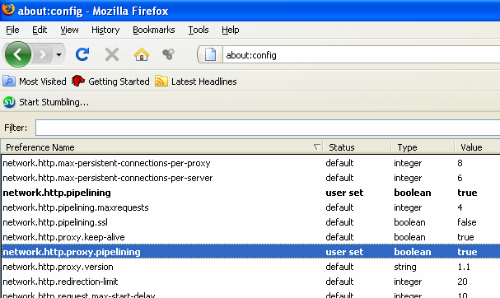 5.
Do the same for
network.http.proxy.pipelining
- double click to change the value to
true
.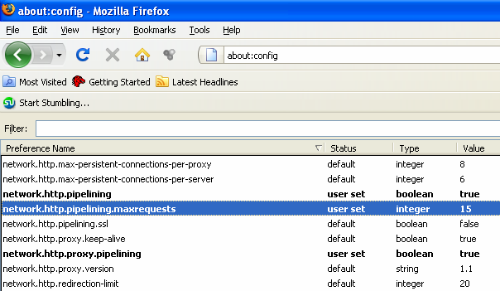 6.
Double click
network.http.pipelining.maxrequests
and change the value from
4
to between
8
and
30
.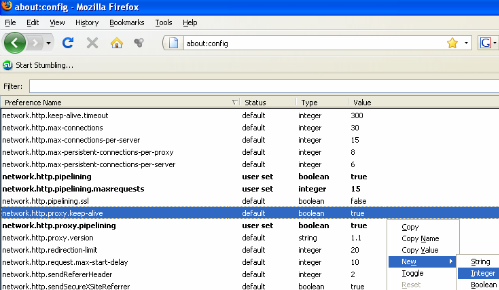 7.
Right click anywhere in the browser window, select
Now
and then
Interger
.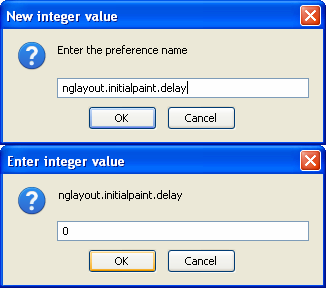 8.
Type
nglayout.initialpaint.delay
into the window and set its value to
0
. (The dialog boxes will come out one after another after you types in the configuration) This cuts the time the browser waits before it starts showing a Web page. Install the add-on,
AdBlock Plus
. Get it from
mozilla.com
. It prevents time-wasting ads and banners from loading.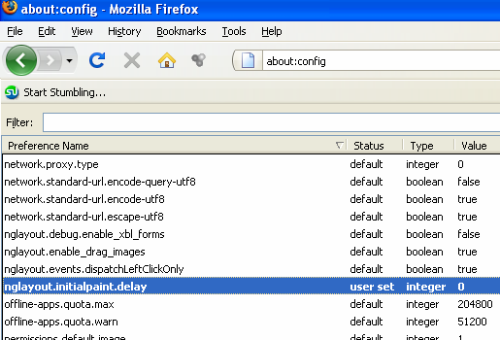 This is what you should see after completing Step 8.
As with all settings tweaks, note down each changes you make, so that you can retrace your steps, if need be. Do note that the changes have not affected the stability of my pc for a whole month, after I've tweaked my Firefox Browser. So people, feel free to use these tweaks, but do remember to recommend this page/blog to everyone you know or just simply click on the
Thumbs Up
button for
Stumble Upon
users. Thank you.
P/S: This article was taken from a newspaper. But I've decided to add in screen-shots to make this tutorial much more easier to see and understand and also to follow through. Though this article does not belong to me in the first place, the added screen-shots make this tutorial unique in a way that I can claim it's mine now. Thank you!
Comment! (0) | Recommend! | Categories: Firefox Configuration [t], Browser Configuration [t]
Hitler And ERP Woes from Singapore
Thursday. 10.23.08 11:57 am
Take from YouTube:
Hitler and ERP Woes. Only Singaporeans will fully understand this.
Based on the Hitler Gets Banned series on Youtube. Footage from the movie "Der Untergang", "Downfall" in English, showing the final few days of Hitler's life.
Note: Please DO note that the original idea of using this Hitler clip for subtitles originated from the Hitler Gets Banned From XBOX Live video. Inspired by it, I came out with the local ERP version.
I also appreciate good films and good actors, so I didn't do this video in disrespect of "Der Untergang" which I like alot for the movie that it is and the fantastic acting of Bruno Ganz as Hitler.
Lastly, many thanks to Fizzy for alerting me to the problem of people reading newspapers on-board very crowded MRTs.
I was never a car owner and never will be. I am however a victim of several taxi ERPs and puke related incidents onboard MRTs.
Comment! (4) | Recommend! | Categories: Hitler [t], ERP Woes [t], Singapore [t]
Back-stabbing and bitching
Thursday. 10.23.08 2:47 am
I was nice enough not to bitch about this s-o-a-b at my blog but yet he decided to be nasty. Yes, all eyes are on me when he bitched about me. And that is because I'm the victim and he's the bully. The good part? He's 3 years younger than me, but I seriously suspect he wears a skirt instead of pants.
NuTangers, what's your view(s) on a male backstabber? We girls might be gossipy and bitchy, but we'll never bitch about someone else to a manager or supervisor. That's so plain wrong, rude, stupid and childish, isn't it? What hurts me more is the fact that he can even brag about it on his own blog like he's some sort of superhero. Sheesh!
Seriously, who's the tolerant one here? You? For Christ sake, if you're tolerant, you wouldn't have backstab and sabotage my department in the first place. Here I am, being TOLERANT by pretending I know nothing about your backstabbing and bitching even though I'm aware of it. I sincerely hope Allah is watching everything you do to me, and hope you get your punishment for being nasty and acting like a jerk!
Comment! (4) | Recommend! | Categories: Back-stabbing [t], bitching [t]
You mean, this is Orchard Road??
Friday. 10.17.08 9:22 am
I remember during my school days, when Orchard Road was such a "posh" place to be. All those buildings gleamed in the sun, while retail staffs are always attentive and carry a smile on their face. I would take a bus from my neighborhood and alight at Far East Plaza, where all the ah bengs (read: ****** beng) and ah lians (read: ****-*** lian) - I'd call them fucktards, 'cos they deserved to be called that anyway -would gather and act like they were supermodels, pretending to smoke their cigarettes when they don't even know how to. And just further down would be CK Tangs, where I would go down the escalator located behind the bus-stop to go over to Wisma Atria. While along the underpass, there used to be this blind man who would play popular songs on his electronic keyboard while trying to earn a living. It wasn't that bad honestly.
Although he sang out of tune, nobody complained. In fact, everyone understood his plight and would drop money into his "donation" box every now and then. And after the end of the underpass would be the lobby for the Orchard MRT station, where Wisma Atria is located just a few steps away. Yes, Wisma Atria is always crowded, but with shoppers mingling at the shops and human traffic was bearable. Walk straight along and you'll find yourself at Takashimaya Shopping Centre where there are even more shoppers. But more on the look-and-see variety, looking at the various shops and seeing if there's any discounts going on. That was the Orchard Road I remembered during my school days.
Compare that to the Orchard Road today.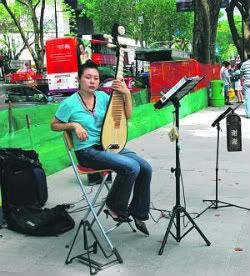 Far East Plaza are still festering with even more ah bengs (read: lanjiao beng) and ah lians (read: chee-bye lian), who are still desperately trying to pretend to be supermodels but fail so terribly and miserably (Darlings, you lot are better suited to hang around void decks than to mar the image of Orchard Road, get it?) that I wanted to bury them alive for trying to. And further down would be CK Tangs where the floor tiles in front of CK Tangs sometimes decide to 'play punk' on unsuspecting female shoppers by making them trip. (Yes, CK Tangs have become a scary place to walk, due to the tiles.) And just before I can go down that damn escalator that is located behind the bus-stop, my hearing must be tested by these stupid, loud and blasphemous road-show(s) that chose to have a road-show just right in front of CK Tangs. Never mind, just go down the escalator to get to Wisma Atria.
Oops, the blind man playing his electronic keyboard is no longer there. In his place are various buskers trying to out-perform each other by turning up the volume of their freaking amplifier. Never mind, I have my MP3 player to keep out the noise that used to be music. And right after the underpass, at the Orchard MRT station lobby, just before Wisma Atria, there would definitely be all these Bangladeshi construction workers or some In**** (in case I get sued under the Semitic Law in Singapore, this particular race will have to be asterisked to protect myself) men would purposely block traffic by pretending to be oblivious to the traffic and talking right there and then. Yes, fuckers, good job at being a nuisance to everyone. Fine! I weave in and out of the crowd just to get to Wisma Atria's entrance and suddenly find myself somewhat blocked at the entrance.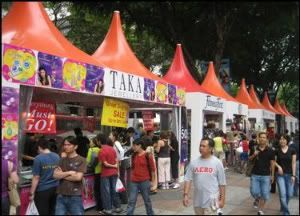 You see, there are construction work going on. Which means I have to walk on the pavement, right next to the road. Never mind, I can deal with it. If the crowd gets too obnoxious, I'll just start my chain cigarette smoking to clear myself a BIG PATH to walk on. Everything went according to what I planned and just as I am closing in towards Takashimaya, I heard horrendous music blaring, voices trying to out-talk and out-shout each other into the microphones and those pesky people with fliers all rushed up to me like starving children and started thrusting their goddamn fliers into my hands. What do I do? I simply shoved both my hands into the pockets of my jackets just to avoid having the slightest chance to hold on to a piece of flier advertisement. There's a good reason for this. Just being these fliers-people a.k.a "starving-children-wannabe" is a rubbish bin that is so chocked full with their own bloody fliers that all the rubbish are dropping out of the bins and piling on the floor right next to it. So, instead of contributing to the mess that is already in existence, I chose not to by not taking a single piece of freaking flier that comes my way (or rather, my face, my arms, my chest, okay that's enough of flier shoving, you assholes!)
Looking at the chaos just in front of Takashimaya Shopping Centre, I think I should just abandon the thought of that particular stretch of road and go towards HMV Heeren opposite. And as soon as I crossed the traffic lights to go over to HMV Heeren, happily anticipating the cool air-conditioning and music CDs that would welcomed me with open arms and soothe my annoyance, I realized I had made a wrong choice that I found out too late. Just somewhere in front of HMV Heeren is another road-show for credit cards. Yes, those type which hire an outdoor guest noise-polluter, who speaks into the microphone thinking that he or she is some famous host akin to Ryan Seacrest when in fact no sane person gave them a glance at all. Seriously, do these people need to breathe at all? They speak so fast into the microphone that I really wonder if they are robots in the first place? Fine, just walk past those brainless talkers a.k.a noise polluters and into HMV Heeren and all would be safe, I supposed?
Wrong! Right when I stepped into HMV Heeren, I am suddenly bombarded with more humans giving out fliers. Aargghhhhh!! Forget about that damn CD. I'm going home. NOW!!!
Comment! (3) | Recommend! | Categories: Griping [t]
Saturday. 10.4.08 8:22 am
As of now, I suppose quite a number of people must have been getting tired or "annoyed" of my relentless
Memories of my Grandfather
posts, so therefore, I would like to take this opportunity to announce that blog posts of my grandfather have been moved to my friendster blog. The address is
http://puniaopuniao.blog.friendster.com/
and interested readers who want to know more about me and my childhood days spent with my grandfather can proceed to the pre-mentioned friendster blog site for more entries and photos. And I hereby announce that all postings that are made about my grandfather will solely be at
http://puniaopuniao.blog.friendster.com/
and all posts shall returned to the normal whimsical tone it was supposed to be. Meanwhile, a huge thank you to all my readers who took the time to get to know me, my family and my grandfather through my
Memories of my Grandfather
posts and I sincerely look forward to seeing you all over at my friendster blog too. Thank you.
P/S: Don't worry, I've included a permanent link to my friendster blog under the
Whispering At...
sidebar for easy reference.
Comment! (2) | Recommend! | Categories: Pu Niao @ Friendster [t]