Sunday. 1.11.09 6:05 am
Sunday. 1.11.09 5:38 am
Thursday. 1.1.09 12:45 am
Monday. 12.29.08 12:28 pm
Talking about e-mails, that brings me to another hilarious subject I'm about to "expose" on my blog. Let us just for a moment pretend my loyal readers DO NOT KNOW where I actually work, I hereby present to you, the lousiest complaint letter from
Miss. S S N
. Do note that I am leaving a link so that hackers and spammers and bots who trawl my blog will "catch" her email and do the necessary "damage" possible. I mean, seriously, we were more geared towards laughing at her stupidity than being outright angry. All in all, I have to applaud her for her hardwork but still, this is one EPIC FAIL example, and the best, I've ever seen on the blogosphere!!
To recap what happened, a lot of feedback towards her haven't been quite positive. She's the "one day I'm focused and concentrated but I'll simply forget everything the next day 'cos I can't be bothered" kind of worker. Whatever we can teach her today, be prepared for the fact that she will totally forget it the very next. How can you not be angry and exasperated at such a personality?
I simply did the most logical thing I've always done. To simply ignore, I mean, haven't you all heard that "ignorance is bliss"? She can be all unfocused for all I really care, but I'm more geared towards coaching staffs and colleagues who might be new, scared, blur or anything. But as long as they have the discipline, motive, hardwork, right attitude and determination to learn, even if I have to repeat myself over and over again, I will do so obligingly without any grumbles.
But this blur colleague of ours, we seriously have to take our hats off to her. Yeah, I understand that when you first start work at a new environment, you have to learn everything from scratch and progress might be slow, but it's alright. Everyone went through the same stage nonetheless, even for me. But to utterly forget what you learned the previous day, despite reporting for work 2 weeks (meaning not such a new staff anymore), that I am totally speechless.
Here's a screencap of the email she sent: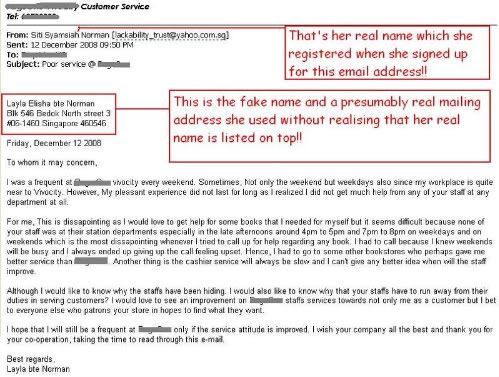 The "re-enactment" of what was written in the e-mail:

From: S S N [S S N]
Sent: 12 December 2008 09:50 PM
To: XX Enquiries
Subject: Poor service @ XX

Layla Elisha bte Norman
Blk 546 Bedok North street 3
#06-1460 Singapore 460546

Friday, December 12 2008

To whom it may concern,

I was a frequent at XX every weekend. Sometimes, Not only the weekend but weekdays also since my workplace is quite near to XX. However, My pleasant experience did not last for long as I realized I did not get much help from any of your staff at any department at all.

For me, This is dissapointing as I would love to get help for some books that I needed for myself but it seems difficult because none of your staff was at their station departments especially in the late afternoons around 4pm to 5pm and 7pm to 8pm on weekdays and on weekends which is the most dissapointing whenever I tried to call up for help regarding any book. I had to call because I knew weekends will be busy and I always ended up giving up the call feeling upset. Hence, I had to go to some other bookstores who perhaps gave me better service than XX. Another thing is the cashier service will always be slow and I can't give any better idea when will the staff improve.

Although I would like to know why the staffs have been hiding. I would also like to know why that your staffs have to run away from their duties in serving customers? I would love to see an improvement on XX staffs services towards not only me as a customer but I bet to everyone else who patrons your store in hopes to find what they want.

I hope that I will still be a frequent at XX only if the service attitude is improved. I wish your company all the best and thank you for your co-operation, taking the time to read through this e-mail.

Best regards,
Layla bte Norman


Okay, now let me dissect this email and explain to you exactly where are the "EPIC FAIL" parts. Just make sure you don't laugh out too loud and shock any innocent humans around you.
Epic Fail Reason No. 1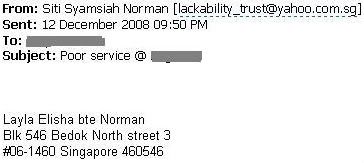 First off, let us all look at the name that is listed beside the
From:
area of an email. I must once again stress over and over that one should always try sending such an email to a close friend, family member, close relative, or even to another one of your own email accounts so that you can spot and correct your own mistakes. Instead of showing your real name and then making it even worse by puttiing in a fake name like
Layla Elisha bte Norman
. Why, the blur one here actually still use her father's name/surname 'cos she's lazy? Come on, you can do better than that!! But hey, I presume the mailing adress should be her real own mailing adress, right??
Epic Fail Reason No. 2
Okay, so it seems that you used to be a frequent shopper at my workplace every weekend. Sometimes, not only the weekend but weekdays also since my workplace is quite near to XX. I'm positively sure most of us at XX knew that you used to work at this cafe called Gloria Jeans, that prides itself on concentrating on making art lattes than to focus on making good coffee, right? And the best part? The cafe you used to work at is quite accessible from my workplace. All I need to do is to walk out of my workplace's main entrance, go down the escalators in front of my workplace's main entrance. Once I reached the ground floor, I just need to turn to my right and walked straight ahead and bingo! There's your "workplace" on my right, just beside this news snazzy restaurant called "Serendipity".
And the fact that you can't seem to get any help from any department puzzled me very deeply and greatly too. You see, whatever the working environment or industry, there is no possible way that there shouldn't be any staffs stationed at the cashier/check-out/payment area. I'm a little somewhat dumbfounded... Ah! I know the reason now! We are all midgets-who-turned-into-midgets-overnight, that explains the reason why you can't find anyone from any department to help you out when you need help. We were too short to be seen by you, so next time, remember to focus towards the floor instead of the ceiling, you might "catch" us scurrying to and fro, serving our customers happily, like little elves!!
And of course, you "pleasant experience" did not last for long as you have to go arounf looking for another new job. And this brings another new question to me, do you always use this same method in the event that when you can't perform at work and got asked to leave? One advice from me to you, try and vary your methods, if not, it's quite faux paux for a girl to use the same method to get attention umpteen times, okay?
Epic Fail Reason No. 3
IMG[http://img.photobucket.com/albums/v319/Raiha_Evelyn/SexyBlueMaMe
/epic03.jpg]
Darling, of course you would go around looking for buys to buy for yourself. I mean, which sane human out there would buy close to $100 worth of stuffs for anyone and everyone except themselves? Unless it's Thanksgiving or Christmas, then that would be a better question and also a brand new question that I would have to answer here, right?
Say, you know what is dissapointing? The fact that the word "dissapointing" is spelt as "dissapointing" throughout the entire email makes this email seem even more dissapointing to the dissapointed reader(s) out there reading this. Yeah, I know, it's really dissapointing to read something that can't be spelt correctly. dissapointing right, readers of
Hollow . Whispers
? Anyway, let's leave this dissapointment and focus on something less dissapointing, shall we?
Another thing I noticed is that, you actually keep track of the time we supposedly "turn into midgets, scurrying around"? Come one, you've got to be kidding me right? As far as I (and maybe you, Miss S S N) is concerned and aware of, 4pm to 5pm is the time when I supposedly go for my well-deserved break if I am on the closing shift. Oh, wait a moment. You had your break occassionally at 4pm to 5pm too, what a coincidence!!
And one more thing I've noticed too! 7pm to 8pm is the time when there are no crowds hanging around due to the fact that customers and shoppers are humans also and they need to eat and drink so that they may have the energy to do even more shopping too. Don't forget, folks. Customers and shoppers pay us our salary too, so keep that beautiful smile on your face at all time, ya'hear? Back to the topic at hand, 7pm to 8pm is the least crowded time and that is when we clear off unwanted items from our workplace so that it will look less cluttered and more tidy and so that we can fill the counter up with more unwanted last minute items from customers and shoppers who might decide to change their mind too? What a coincidence in both timings, I suppose?
And of course the cashier service is slow. I mean, we were all trying to clear the crowd as fast as we can while you simply, as cool as a cucumber, slowly ring up your customer's transactions. Do you actually know this astounding fact that for every customer you served, the not-so-fast and maybe blurest cashier, (yup! that's me!) actually finished serving 3 or maybe 4 customers at any one time. Hmm, I bet you didn't know you were that slow, right?? It's okay, I'm not blaming you at all, you're just simply... slow...
Oh, don't worry about our service improving or not currently. Right as soon as you left, we breathed a loud sigh of relief altogether, pull out act together and the checking-out speed is still up to par as per normal.
Epic Fail Reason No. 4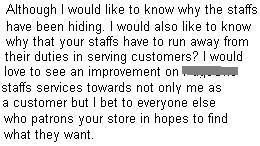 Like I previously mentioned earlier, we were not hiding at any point. We are "midgets-turned-into-midgets-overnight", and hence when you thought we were hiding, we were actually scurrying to and fro around your legs, trying to get your attention. But apparently, you set your sights on the ceiling, hoping to catch some "gargoyles" for help instead. And no, we were not running away from our duties at any point at all!! Like I previously mentioned earlier, we were not hiding at any point. We are "midgets-turned-into-midgets-overnight", and hence when you thought we were hiding, we were actually scurrying to and fro around your legs, trying to get your attention. But apparently, you set your sights on the ceiling, hoping to catch some "gargoyles" for help instead.
Sorry, I just had to repeat that particular "explanation" twice as once doesn't seem to get the intended attention I really need.
Hmm, let me look at this particular line now. "an improvement on XX staffs services towards not only me as a customer". So, are you actually hinting that you were previously not a customer but a staff instead? Hmm... seems like the cat got out of the bag at this part, I suppose??
Epic Fail Reason No. 5
Nah, I doubt you would be a frequent at my workplace, also known as your ex-workplace, although I would like to know what type of "frequent" are you talking about though? Frequent customer? Frequent epic fail email complaint sender? Frequent lame ex-colleague? Frequent...umh... whatever you want to frequently be. And don't worry one bit, my dear girl, service has always maintained in tip top and good condition, there's no need to start improved, nor be improved further, as far as I am aware of.
And thanks for wishing us, your ex-workplace and ex-colleagues all the best. Thank you for your co-operation and taking the time to write in a bogus complaint letter for us so that we may cheer ourselves up at your expense. You're really done well in cheering us up with this email and I promise you we'll be laughing even more if you decide to send in more bogus complaint emails.
Until then, Miss S S N... Layla... S S Layla... whatever. Do write in again, hopefully with a new email address that isn't dissapointing when it comes to spelling and most importantly, without your real and fake name showing up at the same time, okie dokie?? Well, see ya!!
Well, readers at
Hollow . Whispers
, what do you think of this email complaint letter epic? Definitely a fail, if you ask me!! Let me know your views, comments and opinions, I absolutely love to read what you have to say about this lousy complaint letter!!
Comment! (3) | Recommend!
Thursday. 12.25.08 1:53 am
Sunday. 12.21.08 1:56 am
Friday. 12.12.08 11:10 am
Monday. 12.8.08 1:48 pm
Caffeine is my shepherd; I shall not doze.
It maketh me to wake in green pastures.
It leadeth me beyond the sleeping masses.
It restoreth my buzz.
It leadeth me in the paths of consciousness for its name's sake.
Yea, though I walk through the valley of the shadow of addiction,
I will fear no Equal -
For thou art with me;
Thy cream and thy sugar they comfort me.
Thou preparest a carafe before me in the presence of The Starbucks.
Thou anointest my day with pep; my mug runneth over.
Surely richness and taste shall follow me all the days of my life,
And I will dwell in the House of Mocha forever.
Comment! (4) | Recommend! | Categories: caffeine [t], coffee prayer [t]