Old news: I was aware of the rivalry between the Red Sox and the Yankees, except I didn't know the whole history behind the "curse." New news: Yankees lost Game 5!!!!
Nooo... then again, they've already won a lot. I'm not a big fan of baseball, but I'm a Yankees fan. Ambivalence, do I know thee now?
...Anyway, I remember betting three years ago during the subway series (NY Yanks vs. NY Mets) in Global class. If we bet correctly, the teacher would give us extra points on a test or something. Eh... I bet on the right team, but too many games. Anyway, it's back to the Bronx for Game 6! In reality, I haven't been watching the games at all. I just follow the scores. I used to watch the (Yankees) games, but I have better things to do now. It's nice if they win this year, but it was nice when they won those 26 other times too.
Can't think of any significant NY happenings... except on the subway this stupid bitch, who was standing up talking to her friends, kept touching me
(I was sitting down). She was hovering over me worse than a bee helping a flower mate and kept knocking her skanky legs into my hands (I was reading a book). ANNOYING!
P.S.
Heh, isn't this Terrence and Philip or something from South Park? "Shut your fucking face, uncle fucker..."
P.P.S.
Why does it look like they are arguing in Japanese?
23:43
Comment! (3) | Recommend! | Categories: new york yankees [t], sports [t], new york city [t], subway [t], south park [t]
Syndicated South Park is teh awesome
Satan
: ...and now Chris and Saddam just keep killing each other over and over and I don't know which one to pick.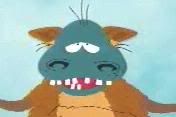 "What the hell happened to you?"
Satan
: Huh?
God
: You got kicked out of here for being a headstrong rebel and now you're a whiny little bitch.
"Well, I just don't know which one to pick!"
God
: No, you've become dependent on relationships. So you haven't even considered the option of not being with either of them. If you're not sexually attracted to someone, you're not ever going to be. But Saddam isn't right either. He's the other extreme. You need to spend time alone, so you can find the balance, the middle ground. That's what I always do because I'm a Buddhist.
Satan
: Wow, you're right. You know I've had steady relationships for the last thousand years and when one ends, I just start another one. But I haven't taken the time to be secure with myself.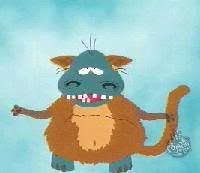 "Bingo."
Satan
: Hey, thanks, God. I forgot how clear you make things sometimes.
God
: It was nice to see you again, Satan.
Satan
: You too.
God
: Goodbye.
---
I should really stop making these posts of what I want to buy that haven't been released yet... all righty this will be the last one for a while, but if I hadn't been so damned impatient and waited for a few days for the images to be available at Amazon this wouldn't even be necessary!
Srsly, what's going on with the image of The Simpsons 7th Season boxset? I want to see Marge's fucked-up head on Amazon already!!
00:53
Comment! (2) | Recommend! | Categories: south park [t], quotes [t], buy list [t], dvds [t], cds [t], the simpsons [t], friends [t]
Guess I forgot to put the foglights in
I finally tried some maple candy Ross and Chandler were raving about when they went to Vermont and stole all those apples and pine cones. It tasted like a sugar bomb exploded in my mouth, then washed it down with a cool refreshing glass of soda and honey, and afterward I picked my teeth with a sharpened candy cane. Mm... that's good glucose!
Is this supposed to be Kenny?
Pop vs. Soda Debate
I WILL NEVER CALL IT POP!!!!!!!!!!
14:02
Comment! (2) | Recommend! | Categories: friends [t], food [t], vermont [t], south park [t]
S'all right? S'all right!
I MADE MY OWN BUTTER!
Too bad I still have a giant stick of unsalted Danish butter and four sticks of King Kullen butter. (Why the hell do I have so much butter? It's not like I use it daily in my food or on my skin.) BUT I MADE MY OWN BUTTER!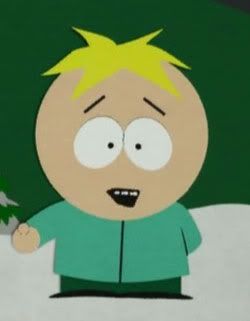 (That's me!)
18:38
Comment! (4) | Recommend! | Categories: food [t], south park [t]