The Real Beginning of An End
miércoles, 24 de septiembre, 2003
Thanks to everyone who commented on my last entry... though I doubt they will return.
Anyway, I've finally figured out what to do with this -- blog about NYC! Since New York City is so interesting (in more ways than one), I going to write of things New York. The adventures will never be boring, but will probably be few and far between.
---
I got some condoms today.
No, it's not what you think. I was walking home in the East Village and two women with some plastic bags stopped me. In bright pink, the white bags said, "We care about YOU!" I was thinking, "She's handing out condoms," as she said, "here you go, honey." I thanked her (I am mortified to have said that, like I really wanted them, but old habits die hard), took the bag, and continued down the block. I wondered, "Did she really give me prophylactics?" and I started to feel the contents from the outside of the bag (yeah, I'm not one for taking out what may be condoms in public) and felt a rubbery ring. So it was either condoms or a IUD (intrauterine device). When I got home, I took out the contents and found: two (2) pamphlets; a little business card-like card that says, "Take control," with info on emergency contraception; a bumper sticker with a picture of a rubber that says, "Just wear it,"
; and three (3) lubricated condoms "for natural action" made in Thailand. Well, time to start my promiscuity! J/p. But really, was there something about me that said, "Promiscuous"? Or maybe because I was in the East Village... everyone in there is promiscuous! (J/k again; I always see a lot of senior citizens there and they are [presumably] not promiscuous.) So now I have contraceptives... Well, they expire in 2006, so maybe I'll know someone who needs some (and gets some) by then.
P.S. I also found a black panty liner in the gutter. Ciao.
22:56
Comment! (4) | Recommend! | Categories: new york city [t], condoms [t], italian [t]
jueves, 23 de octubre, 2003
Old news: I was aware of the rivalry between the Red Sox and the Yankees, except I didn't know the whole history behind the "curse." New news: Yankees lost Game 5!!!!
Nooo... then again, they've already won a lot. I'm not a big fan of baseball, but I'm a Yankees fan. Ambivalence, do I know thee now?
...Anyway, I remember betting three years ago during the subway series (NY Yanks vs. NY Mets) in Global class. If we bet correctly, the teacher would give us extra points on a test or something. Eh... I bet on the right team, but too many games. Anyway, it's back to the Bronx for Game 6! In reality, I haven't been watching the games at all. I just follow the scores. I used to watch the (Yankees) games, but I have better things to do now. It's nice if they win this year, but it was nice when they won those 26 other times too.
Can't think of any significant NY happenings... except on the subway this stupid bitch, who was standing up talking to her friends, kept touching me
(I was sitting down). She was hovering over me worse than a bee helping a flower mate and kept knocking her skanky legs into my hands (I was reading a book). ANNOYING!
P.S.
Heh, isn't this Terrence and Philip or something from South Park? "Shut your fucking face, uncle fucker..."
P.P.S.
Why does it look like they are arguing in Japanese?
23:43
Comment! (3) | Recommend! | Categories: new york yankees [t], sports [t], new york city [t], subway [t], south park [t]
miércoles, 12 de noviembre, 2003
Really off-topic: I went into New Jersey earlier this week! Oh-ho... anyway, nothing much, just checking out Newport Centre Mall to go to a certain
store
so I could utilize my dumb
card
. I've just realized I never spent too long in Jersey. I used to go to the mall and watch movies at a ridiculously cheap price (cheap compared to New York's 10 dollars, anyway). It costs 3 dollars for a round trip (used to be two...) on the PATH train, so total, it would be about $9. Plus, the mall's huge and I could always find something, and NJ has lower tax (six, but it used to be three!). In Manhattan, it would be $13 if I went on the subway... of course, now it's 4 dollars for a round trip. Inflation is confusing.
Well, then it wasn't really convenient to go anymore after 9/11... because the station was hundreds of feet below WTC, and I live fairly close to it. Anyhow, I didn't find what I wanted and went home sad and in the rain
(well, misty drizzle).
21:49
Comment! (0) | Recommend! | Categories: new jersey [t], mainland [t], cinema [t], subway [t], manhattan [t], new york city [t], money [t]
sábado, seis de diciembre, 2003
Och. Snow, snow y más snow.
It just got worse as I started to type this. New York's probably the prettiest when it snows a lot, because there aren't teems of people and clots of cars in the sidewalks and streets. I'll just sit in the middle of a park (NOT Central Park) and watch the snow. El otoño es mi estación favorita, pero el invierno es segundo. No me gusta la primavera y el verano. I abhor them. It's just so...
warm
. Yech. I went out yesterday, but I'm staying in today, drink a lot of hot niu wei soup
, and watch those DVDs
I bought yesterday in the twirling snow.
"We must go forward, not backward, upward, not forward, and always twirling, twirling, twirling towards freedom!"
Oh, and I am seriously pondering about contemplating leaving... I like nutang, but I have other online things to maintain (e.g., a site, another weblog I write in with much more gusto, trying to keep my e-mails to under 100, but is still at 200+, etc.). I don't really write much here anyway, and am pretty much alone. We (I) shall see...
14:31
Comment! (0) | Recommend! | Categories: new york city [t], snow [t], spanish [t], food [t], dvds [t], quotes [t], the simpsons [t], pondering [t], chinese [t]
My Friend is a Drag Queen
lunes, 12 de enero, 2004
Okay, I lied, but I wish it were true! I need some more interesting friends. On the topic of drag queens, I met my first today, on the subway, no less. Dunno if it was a transvestite... but definitely a cross-dresser. The big-bonedness and the facial stubble gave it away; also the patellas (kneecaps) were protruding in a rather un-feminine fashion. We got off at the same stop and I was surprised I was (slightly) taller than him! And he was wearing platforms!! He had very nice hair, though. I've seen some pretty hot Thai transvestites from photos my friend had took when she was in Thailand, but this person was like on the opposite side of the spectrum. Sorry, person... danhai nei jun hai ho wut dut (nay jeen hai ho chiew yeang [danshi ni zhen shi hao chou (pero usted es muy feo)])!!!
---
January 1 is Get a Life Day
January 2 is Happy Mew Year for Cats Day
January 8 is National Joy Germ Day
January 16 is Get to Know Your Customers Day
January 19 is Penguin Awareness Day
January 21 is Rid The World of Fad Diets and Gimmicks Day
January 21 is also Squirrel Appreciation Day
January 22 is Answer Your Cats Questions Day
January 27 is Bubble Wrap Appreciation Day
January 30 is Inane Answering Message Day
23:46
Comment! (2) | Recommend! | Categories: new york city [t], subway [t], chinese [t], spanish [t], days in the month [t]
She was angry for looking like a female trailer-trash version of Bob Barker
domingo, 25 de agosto, 2008
I was walking down Madison Avenue when I saw a very old woman with a very unfortunate hairstyle -- the mullet. It was a light, silvery gray and it contrasted heavily with her dark, tanned skin. I averted my eyes quickly to something else, a building or a public pay phone, I don't remember, but it's rude to stare. I noticed a movement from the corner of my eye from the old woman, but I didn't really think about it. As I approached the crosswalk, my eyes roved back to the woman because she was practically in front of me. She had her middle finger ready and poised, the nail touching the bottom of her chin as if drawing some "fuck-you" power. No sooner had I turned my attentions back to her that she just launched the finger from her chin.
Was she cursing me?
Madison Avenue? Manhattan? The world?
I've lived in NYC all my life and never have I received so many flipped birds from strangers before! I feel like a true New Yorker now.
17:04
Comment! (6) | Recommend! | Categories: new york city [t], riddle me this [t]
martes, 8 de noviembre, 2005
Srsly I still don't know who to vote for. I was all set on voting for Fernando Ferrer six months, maybe even a year ago, but as the day drew near I quickly realized I was torn, 50-50. Bloomberg's reign was definitely better than Giuliani's, but of course this is based on nothing but my cold, hard feelings. Most incumbents remain in office, because I suppose people fear change. I haven't had any chance to watch their debates; I've seen sound bites and criticisms of it. And now the day is here, I'm no longer 50-50, I'm 49-51.
I also have no idea about the other offices, like public advocate, borough president, comptroller, and city council (well the guy in my district is running unopposed, I feel the world has been lifted from me shoulders!). I know I don't have to vote for that, but if you know me I like using things to the fullest extent. There are also ballot proposals to vote on, the only one which I know is Proposition 2 (public transportation). Then again I would not have known anything about anyone if the NYC Campaign Finance Board didn't send me a Voter Guide... which contains a plethora of information, like the guy running for mayor under the Rent is Too Damn High Party (RTD):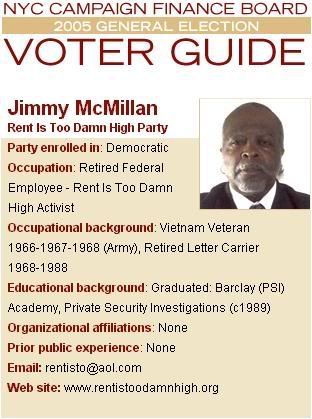 1. WHAT IS THE MOST IMPORTANT ISSUE IN THE CITY YOU WOULD ADDRESS IF ELECTED?
RENT is Too Damn High there is nothing else to talk about. All poor people are being ran out of New York.
2. WHAT OTHER IMPORTANT ISSUES WOULD YOU ADDRESS IF ELECTED?
RENT is Too Damn High there is nothing else to talk about.
3. WHAT MAKES YOU THE BEST CANDIDATE FOR THIS OFFICE?
I am a Rent Activist with real solutions to the High Rent Crisis that is driving everyone out of this City. That is what makes me the best candidate for this job.
You can't make this stuff
up
. He talks like I do... when I was 10-years-old!
11:38
Comment! (2) | Recommend! | Categories: new york city [t], current events [t]
Noventa y tres punto uno -- AMOR
domingo, 12 de febrero, 2006
It's finally snowing hard. After all these months experiencing unseasonal warmth, we get a blizzard. The snow is accumulating so fast you couldn't find the footprints of a stalker lurking in the snow after five minutes. This is the New York I know.
Edit: Record-breaking snowfall (26.9''), w00t. Take that, 1947!

I've had del.icio.us for a while now, but it's still empty. I don't know if I have time for it. I want to add stuff. I have lots of stuff to add, actually, if I can dig up some old files on my hard drive. It's got an RSS feed! RSS feeds are my new crack. "Is this the free crack giveway?!" (Hehe, Dave Chappelle.)

Okay, I'm going to sleep. For real this time. For every hour of sleep I lose, the closer my complete transformation to the Queen of the Harpies.
01:32
Comment! (2) | Recommend! | Categories: snow [t], new york city [t]