Thursday. 4.3.08 1:57 am
Kilusan Pilipino presents its 12th Annual Pilipino Cultural Night: Mano Po
Sunday, April 13, 2008
Time
:1PM and 5PM
Location
:Faye Spanos Concert Hall - University of the Pacific
3601 Pacific Avenue
Stockton, CA 95211
Tickets: ASUOP
student
presale ($5)
Presale ($10)
At the door ($12)
Children 2 and Under (free)
We will be performing folk and modern dances, songs, and some acting. Sorry that sentence just now doesn't make sense...but you get the idea, right?
Contact Email for Questions:
[email protected]
EDIT//
If that's not enough to get you to come, then here are samples of our fliers.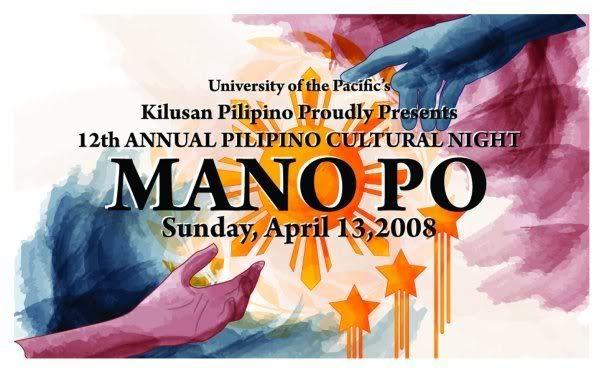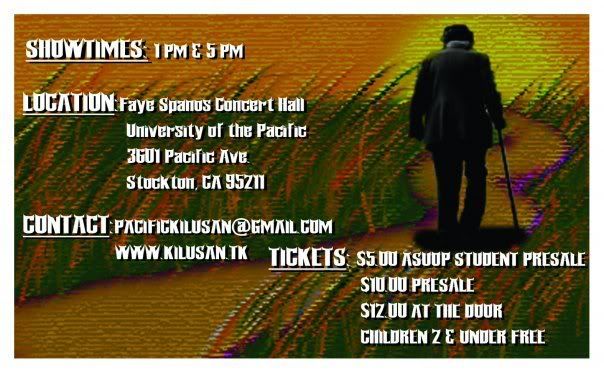 Comment! (4) | Recommend! | Categories: Philippines [t], Pilipino [t], Cultural [t], Night [t], Filipino [t], PCN [t], University [t], of [t], the [t], Pacific [t], Stockton [t], California [t], woot [t], awesome [t], stuff [t], eh [t], tired [t], food [t]
Wednesday. 7.5.06 11:44 am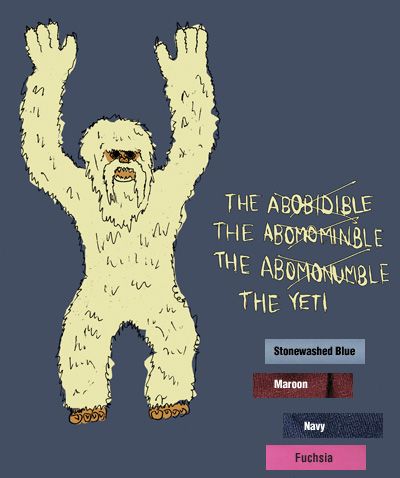 I was gonna buy this dammit. Now it's retired. I talked to Zach and he said that he could work something out with the sheep poster. meh. I'll ask about the yeti shirts. If they're not available...then I'll wait for the new design.
Oh yeah, and I'm planning to go around Port Jeff and hang up the comics to promote the site. Haha. And we'll take pictures.
Sooo... any volunteers?
You know what's depressing? When people leave. So I constantly visit the Turks Lounge even though it's like a waste land. It's barren and no one else is going. The photobucket images that say "This picture is no longer here" or whatever fill the forum. What sucks is that the forum creator never came to say that it's dead. And just now I was looking at old friends' NuTang sites and how they're like...empty.
I guess I really don't like change.
Join the forums at
animalshaveproblemstoo.com
EDIT>>
So myspace is just messed up right now. I'm still "friends" with this music myspace, but it's not showing. And apparently he didn't delete the account. The problem is that I can't find the profile. I asked the person in charge of it (he has his own) but the link he gave me looks different than it was. The weird thing is that everything changed. All of the songs, the amount of friends, no comments, blank. Whatever. It's just been bothering me that myspace still can't work regularly.
Comment! (4) | Recommend!
Saturday. 11.19.05 7:28 pm
As you can guess . . . the hike was awesome.
Ok well whenever we got lost, we just yelled out "MARCO!" andif someone responded with "POLO!" or "Penis!" then you know we were near someone from our group. You could also usually distinguish who said what. The group I was with yelled "penis" while the other yelled "Polo" I found it quite humorous.
Well when we were going down from the top, we had to take a different trail. It still bothers me because we could have went on the same trail down and left at a quicker time... but we had to take the Red Trail to the Yellow Trail and crap all over the place! Soo we went down the trail for a quarter of a mile . . . and then we find out that we ahd to backtrack because the chaperones were leading us the wrong way...they were leading us down to the entrance of the Blue Trail when we needed to go to the Red Trail! So we backtracked and went along the trail. We continued. We were a huge group.
After another half a mile, we kinda lost some people. Some went ahead. Some didn't. I was near the back . . . then when we went to take a breath, the group got smaller. There were three girls and two adults. We picked up a few others. I supposed that the others were waaay ahead then. There were some times where we were close to the edge . . . but it wasn't that bad. We though we found the end . . . and it turned out that we did. Then some of the girls yelled, "MARCO" to make sure if there were any others that were close. When we heard a "polo," we were relieved. I jumped! Woot. yeah... I was happy. Soo then we re-grouped with a few others. Then we walked along the trail. It was about half a mile I think.... until we found Diamondopol's group. We made it to the place where the bus would meet us. Five to eight minutes later another group came. About 5 minutes afterwards Posnanski came. Theeeeen McCafferty came in 10 minutes after that.
Can you believe it? The teacher who planned this whole thing...and who keeps planning hiking trips up the Catskills came in last. I guess It's a good thing in case there were any people left behind. Luckilly we all made it.
It wasn't that bad. It was snowing...but it wasn't too cold. The only cold part was waiting for the bus. My legs are still sore, but it was great. I was able to hang out with people I normally didn't hang out with or talk to. I felt that it was a good thing because people started to see me as not just that quiet kid in school. I was exhausted...but t'was good.
Tomorrow I'm gonna help out with the food drive.... but I'm gonna study some tonight..hopefully. I'll try to develop the pictures tomorrow and post them up.
Comment! (11) | Recommend!
Monday. 11.14.05 5:23 pm
I'm saved! The essay is due tomorrow yea.
Well I got a new bow....didn't cost a thing. They just replaced my crappy one for a new, yet used, one.I'm happy for that =)
Umm . . . I'm kind of I don't know. I forgot the word. Anyway whenever I hear my friends gossip/talk about other friends . . . I feel some uneasiness. I mean, what if they talk about me? What if their friendliness is just a charade(seems to be a misuse of the word...whatever) which covers up how much they hate me (if so). I just hope I'm not hated. I don't understand why people still like to talk about others and whatnot...especially when I'm in the middle. ugh.
I'm gonna throw dirt at life....
the game...
the cereal
mine...
Edit.
I spent half an hour on this...and yeah. It's crappy looking. It's a flyer (or flier...or whatever) for the Breakfast with Santa thing... I noticed the year was still 2004 after I uploaded it...but I'm too lazy to re-upload it so here is the original. oqwaeljfbno3lihnlw,fjnlwef umm... I'm gonna write that darned essay now.poiyjhklio876trfjkn;jo87utdhgcnb life is really annoying me now.
Comment! (4) | Recommend!