Monday, January 2, 2012
On 14 December 2011 ...
My friend and I sat on a bench on 4th floor to enjoy the night sky and listened to the melody of the waves for the second last time.
While we were chatting, I saw 1... 2... 3... shooting stars above me ...
Spinoff
: I didn't make any wish upon the shooting stars because they were shooting too fast! Before I could say "I wish", it already disappeared!! My friend joked that is why there are usually so many shooting stars at one go so we could simply finish our sentences. First star will be "I" then second star will be "Wish" and so forth. I bet God is very impatient to listen to our wishes ... I wonder who is the idiot started wishing on a shooting star? And who is the idiot following his footstep? He'd better guarantee wishes made upon shooting stars will come true! Apparently, my team members witnessed around 20 shootings stars the very same night... =(
I would definitely remember this night for its yellow moon slightly concealed by the clouds... for its strong cold wind on my face. It's the best weather I ever had since walking down those lonely roads in Wellington ...
Comment! (0) | Recommend!
Monday, January 2, 2012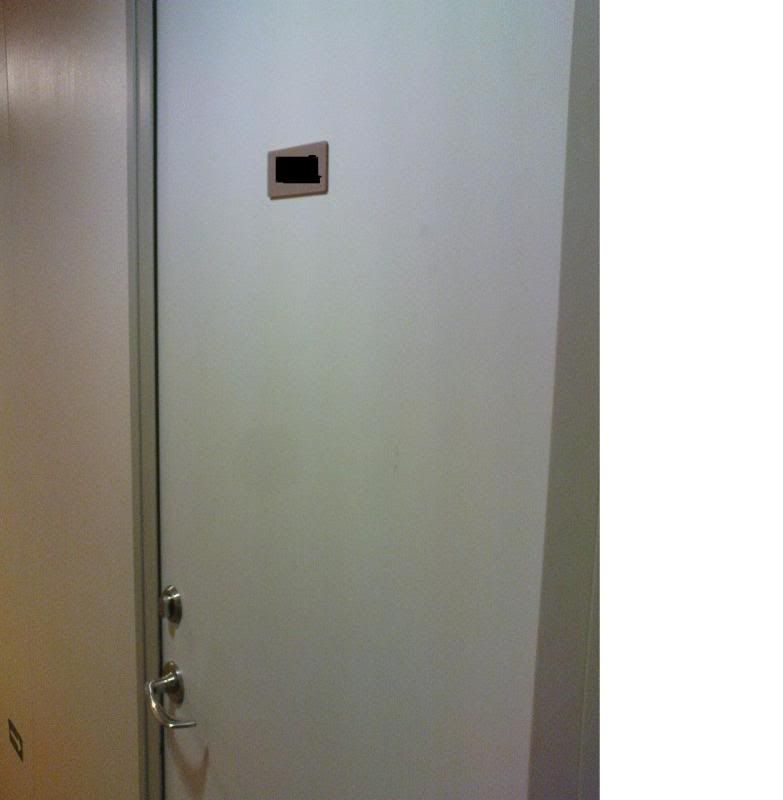 On 14 December 2011 ...
I was resting on the sofa in our cabin in the afternoon, while spacing out and gazing at my cabin mates walking around in our cabin. The day before we had nightmare from packing our luggage to check out. I was indeed exhausted accompanied with backache and a twisted foot. I don't know ... but I'm always amuse to watch my roomie from Thailand doing things ... and ... she was placing her handbag next to her pillow on the upper bunk. (We slept on a double decker). She was about to leave the room but she returned to re-position the bag properly and I SNAPPED from revery.
My breathing stopped. My eyes won't leave her pillow. My heart started to race. I was overwhelmed with a familiar fear I have known a long time ago...
IT is there. IT is watching me with a strong presence lingering in the air ...
What should I do?!
My Thai roomie left the room immediately she arranged the bag. I was alone in the room. I dare not say "GET OUT" fearing the unknown future. What should I do?!
I averted away and calculated my options while stabilising my heart beat with slow breathing, but it didn't help. I reached to a decision, which is to stay in the room even though I should leave the room immediately. I chose this option because there is nowhere else I can go to rest since I wanted to nap.
This is not the first time IT was watching me. In fact this is its third time. If I didn't had any disturbance earlier, it should be OK to be in the same room with IT, I assured myself despite feeling very uncomfortable.
So I acted normal. I started tidying the room ...
I was relieved to hear the admin's announcement for my contingent to check out the luggage at 4 pm-ish. I gladly left the room and returned at 4.30 pm, and was disappointed for the presence didn't leave at all. Not even a tiny bit!
My cabin mates were nowhere in sight. And I was dying to say out loud about the fear I was experiencing. I wanted to tell my cabin mates!! When one of my cabin mates returned in the evening after dinner, I wanted to tell her "Please stay with me," but the words caught in my throat, and I saw her left the room ...
I was alone again. And I was tired. I napped hoping IT would be gone. Instead, I woke up to the overwhelmed uneasiness. The race in my heart didn't subside at all... In fact, how can I even sleep knowing there IS something else in the room?
Sensing it might not leave any time soon, I decided to leave the room to catch up with friends when I still can command fear and anxiety ...
Later at night
"Roomies??? I have something to share with you on the 16th of December before we leave ..." I said.
Spinoff
: My worst fear is to be disturbed via dreams or seeing shadows and reflection not belong to me in the mirrors in my cabin. I somewhat anticipated to experience such encounter. I just pray that my encounter would be less scary than the last time I had in 2011. I'm fed up and tired of feeling frightened even in my own home. Thus, I'm sorta grateful that I only experienced this encounter the second last day of my departure. I shared this encounter with a close friend, and we were both glad that it happened on the 14th of December not November. Phew~ But it really is a torture not being able to tell my Thai roomie for more than 20 days that IT was on her bed.
I remember the first two times it happened ... We were not in as we were attending some activities - I think discussion group - but occasionally I sneaked out to get food from my room. It first happened one afternoon. I went back to my room to grab something. The moment I stepped into the room, I felt something watching me from the upper bunk. But as usual, I ignored it, telling myself I'm just too sensitive. It was gone the next time I returned to the room. Just didn't know why the third time ... was ... more eerie...
On one hand, I'm glad that I'm not the type of people who can see the unseen clearly. I could only see shadows and occasionally body parts like hands and feet. Sigh. On the other hand, I fear my level of sensitivity is returning to the level I once had 10 years ago. Oh well, just bring it on!
By the way, I felt better after leaving the room. I visited a friend and in the middle of our chat, this pal suggested to go to my room. I seriously went gag. Instead, I suggested to go out to get some fresh air. And we did ...
Continue in
1... 2... 3...
.
Comment! (0) | Recommend!
Sunday, January 1, 2012
ARGHHH!! You will know why I had this reaction after reading this entry.
On 10 November 2011 ...
I was very not feeling well due to land sick... and was not hungry since I ate a lot during the welcoming reception at Manilla Hotel. But still I need to go to the dining hall for dinner since the chefs have already cooked my vegetarian meal. So I dragged myself to the said venue and sat with my friends. However, they have finished their meals, thus left. I was left alone with one of my Environment DG mates from the Philippines ... whom I have never spoken prior before. (Shame on me >.<) I don't mind being alone on the dining table since he had also finished his meal, so I kindly told him that he doesn't have to wait for me to complete mine (because I will be eating extremely slow...). The reply I received was he didn't mind sitting until 8.30 pm before his meeting starts. He also asked if I were OK since I complained earlier to our mutual friends before they left that I was having land sick. I thought it was very nice of him to sit with me.
Then ... he said "You look like one of my friends."
Oh no ... not again ...
I replied "OMG! You are like the 10th person I know to say that I look like someone they know. God has been very unkind to me for recycling my face so many times all around the world."
Seriously?! It even happened on the ship?! I was really kinda hysterical internally because I didn't expect to hear such comment. ARGHH... I have always received such comment wherever I go... It seems that among all my friends I received this comment the most! I guess God likes my kind of appearance too.
Later he added "It's OK. You are good-looking."
Eh? That was surprisingly unexpected.
I just replied "Thank you" with a smile. Later, he left for a meeting.
Despite of my land sick, that comment seriously made my day for the entire 2011. That is simply because it's been a long time since someone said something nice to me. I guess it is refreshing after undergone various experiences like being harassed verbally, being called insane, heartless and even brainless until this date... affecting my mental and physical health. It reminded me of stories of how smiles can save people...
The comment really put a smile back on my beautiful face.
Spinoff
: I'm always amaze with myself for having wits at the weirdest hour. My friends always commented that I'm a funny person, but I don't see how! I seriously appreciate that comment for it enlightened me - a lot - at that time. Unfortunately it didn't help me much in finishing my dinner. HAHA. However, I did finished my dinner cleanly, as it is my policy to finish everything on the plate except for bones.
If you are reading this and remember this conversation, I sincerely want to thank you for making my day. Sorry for not saying this earlier ... not because I was busy hiding from you, but due to lack of memory space. HA. Just kidding... it's I didn't have the chance.
Comment! (2) | Recommend!
Sunday, January 1, 2012
On the 16th, the last day of SSEAYP, many of the PYs bid their farewells with tears. My friends were crying hard smudging their eyeliners, meanwhile I didn't shed a tear. I bid mine with full of smiles.
I didn't have the chance to give farewell hugs to some of my friends, because the admins formed a human chain and they placed bars to make space for walking. Moreover, I was holding two hand-carries. So I did the E.T. thing with my friends... where the ET's and Drew's finger touched.... That is the only thing I could do. I guess in the end, I am still crazy, creative and true to myself!
Our friendship is just the beginning, and I'm sure we would definitely have chance to see each other again. And I would like my farewell to be with full of smiles and tears of joy!
This was where we departed from the ship. I kept looking back at the entrance mouth feeling grateful for having created those wonderful memories ...
Spinoff
: I asked a close friend from my contingent if I'm a cold-hearted person for not shedding tears. He honestly replied Yes. I pouted. But I think I somewhat am because even a tough guy like him also had tears during our farewell party. But it doesn't mean I'm not sad, or rather possessing no feelings. I'm not that cooooooooold. It's just I'm able to maintain my composure, and am ready to return to my reality.
I remember an advice given to me back in 2006. The deep sufferings I had then blinded me from my environment, and I was told to be grateful for whatever I have, encountered, endured regardless of the level of pain. It forced me to see things in a different light. If I'm not chosen for this program, I won't be able to meet my new friends. Therefore I'm grateful to be in the program in the first place!
Another reason I didn't shed tears because I have promised myself that I won't cry anymore ... due to an excruciating period I had earlier in 2011. Or ... rather I have no more tears to spare. Moreover, I'm tired of being sad.
Besides, why does farewell have to be sad?!
Comment! (0) | Recommend!
Saturday, December 31, 2011
My mind went blank and I don't know what to write in my reflection. That is simply because my mind is busy occupied with someone.
My life in 2011 has undergone one hell of a time, both happy and unhappy, and I remember shedding an astronomical litres of tears.
My friend once said to me that I'm a strong person because my smiles smothers all my sorrow and sadness so well that no one knows where my true unhappiness lies. Unless I share. I think if we were to meet again now, I'm sure she would say I have mature so much since we last met at my farewell party in 2006. I bet she would say I have grown much stronger too. I am somewhat glad that we didn't get to meet up when I was in Tokyo recently. Because I don't want her to make me sound old! But the truth is I am now stronger in terms of personality wise and I am indeed older; I hope wiser. Her son is now 6 years old. I wonder what would he look like now. The son with the name of hope and strength.
I know what will her next question be. I may not have an answer if we were to meet up at the beginning of my international program in Tokyo, but now - after the program - I know I have a resolute answer. The blatant truth is I have derived that answer aeons ago. I have been keeping off that idea for a very long time indeed. I'm sure she would wish me all the best. Maybe this time she would proudly say her husband is not making her hair to split anymore!
My dream to visit Japan has been achieved despite of the short stay stint. In fact, I consider my participation as a bonus since I also get to visit 4 other countries, which I never dreamed of going. I remember asking God that I want my life to be more interesting, and I never expected it turned out to be having a working holiday for 53 days on a ship. I wonder what is the meaning of my vision I had when I was 15 where I saw a yacht on a sea with a whisper: New Zealand. Was it two future settings in one vision? The NZ came true ... and was Fuji Maru (the ship) meant to be the yacht?
I know I didn't do much crazy things, but I still didn't regret doing them. But I think I'm not aggressive enough to live by my motto: Never lead a regretful life. Yvonne, if you were still alive, what would you tell me? I am not proud to say that I'm still millions of kilometers away from my dreams.
I thank you God for letting me meeting two new friends that I know we will definitely have a very long relationship until the day we die. Thank you for listening to my prayers for wanting new close friends. My favourite moment of us is the crazy drink we had together in Yokohama. I really wish that we had more time to indulge our drink! And of course not forgetting my friend who introduced me to SSEAYP. (Yes I'm talking about you; you know who this is) Thank you for being there for me. =)
I didn't dream of snakes lately, which I'm terribly relieved. I still could not decipher its meaning. Whatever it meant, be it having new relationships or new beginning ...
I ended my 2011 unexpectedly sweet with someone in my mind.
Comment! (0) | Recommend!
Friday, December 30, 2011
I could no longer hold my yearning for a particular genre book, so I asked the second-hand bookstore owner nonchalantly "Do you have any books on gay stories?"
I finally feel liberated after saying it. I have been wanting to ask that question for over 6 years. I have been searching for that genre on my own homeland for that many years, and I could not find one. I was given an author's name, but ... I could not locate and I dare not order from local bookstore. I really regret for not reading MORE contemporary gay stories when I was still back in New Zealand. The library has a shelf dedicated to that genre. And I read only one!
I wonder what did the bookstore owner think of me when I said that in the morning. Did she think I'm a weirdo? Or did I overthink? Unfortunately she doesn't have. Although I mustered the courage to ask for that genre, I still don't have the courage to order that genre over the counter. That is simply because I still have not found the right book that I want to order. The gay stories I searched on amazon have explicit cover. Like hell I'm gonna order that over the counter. And like hell I'm gonna put a book with such cover in my room. What if my mum wants to pick a book, and she picks it up? I would have lots of explanation to do!
Maybe I would just settle for Queer as Folk. It's just I want to read and watch something different. Blame the tv for not giving me enough intellectual programs.
P.S: Sincerely apologise if you are lost at my blog. I'm currently updating my blog about my absence for two-months, therefore, I highly advise you to click on SSEAYP Adventure tab on your left to navigate your readings. I will surely be updating entries on non-SSEAYP Adventure. So please visit here again, thank you for your patience!
Comment! (0) | Recommend!