Friday, January 20, 2012
Strange.
How come I didn't advertise my winning of Steve Aoki's autograph in 2009? It was totally an unexpected win. I was just browsing some online magazine and spotted a slogan contest.
I first thought the caption cover was ugly. Serious. Steve Aoki, the world-renowned dj, was half naked pointing his stomach. There was a bubble next to Aoki's head.
Being mischief, I wrote "My stomach makes the loudest music."
And I won grand prize. My slogan was chosen as the winner by Aoki himself. Pretty honoured. But unfortunately I didn't collect the autograph because I forgotten to collect it from the organiser.
ARGH. Pity. Not sure if his autograph has any value on ebay. HAHA.
Comment! (1) | Recommend!
Tuesday, January 17, 2012
On 14 November 2011 ...
Another day for discussion ...
I like today's topic: Needs vs Wants. In the context of environmental issues, needs and wants are crucial to the future fate of the natural resources. If humans can potentially identify needs and wants, we won't be needing lots of stuff in our lives.
I was asked by the facilitator to share my needs and wants. For me, as long as I have food and shelter (of course includes clothes), I'm satisfied. The only thing that makes me suffer is that we cannot live idly without thinking of money....
Anyways, I don't think my answer is interesting. I guess it's somewhat expected by my fellow group members. So the facilitator asked another female member.
She listed a few items as need, and the last item she kept pronouncing it as SIX. We all looked at each other wondering what six is... We asked her to repeat, and she became kinda infuriated by our query. Then she spelled SEX.
The discussion group roared in laughter. The second oldest Malaysian who was sitting beside me looked at me for approval. "Sex is a NEED. Don't you think so?"
I gave him a goldfish look for I was wordless. "You know what? I should go to the dining hall and do a survey: SEX IS A NEED OR WANT. That would be interesting, aye?" I replied.
Tidbits
: Actually I would like to ask that question out loud in the dining hall, but too lazy to organise it. I believe everyone would say YES to the survey. So my survey would be useless in a way. What do I think? I think it's more of a WANT than need.
My definition of NEED is things you need to survive. Things you can survive without is categorised as WANT. Simple. If you can categorise like I do, I bet you will be good in managing your money.
Comment! (4) | Recommend!
Hakodate Ikuzo! (Hakodate, here I come!)
Tuesday, January 17, 2012
On 27 October 2011...
I was simply thrilled though a little frightened, as it will be my first time splitting from my Malaysian contingent members since we arrived in Japan.
I was grouped in SG-I, and our homestay will be in Hakodate! The city famous for squid. It is located south of Hokkaido, so we took the plane in the afternoon. Apparently, we met many groups taking flight to their destination too.
It was getting dark when we arrived there. The first tourist destination we were brought to was the Hakodate peak. The tour guide told us we were lucky that it didn't rain today, thus we might have a fabulous view. Cross fingers though~
It's funny to found we were stuck in a jam to the peak. We waited for around 20 minutes. The day has become dark despite only 7.30 pm.
It was freaking cold when we got down the bus! My wooly gloves and microfleece could not really protect me from the cold! Nevertheless I had a fantastic view. It's been a long time I have seen such picturesque scenery ...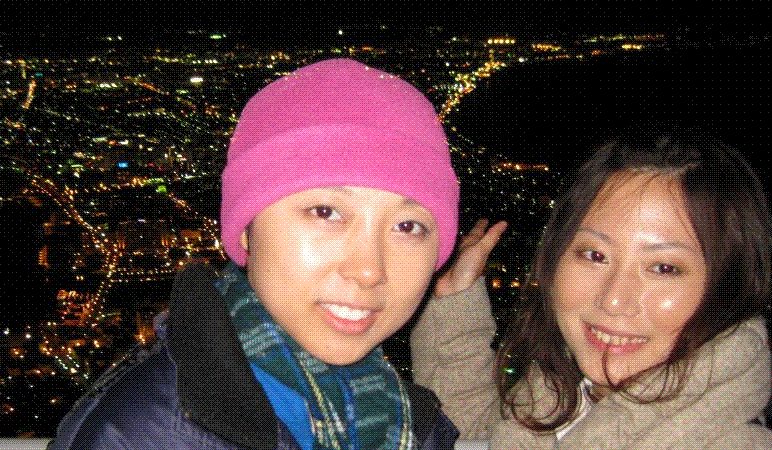 Tidbits
: The first friend I made during this trip was a student from Kyoto, Japan. =)
Comment! (3) | Recommend!
Tuesday, January 17, 2012
On 26 October 2011...
This is the most memorable and interesting day of my entire life.
As AYL, I was entitled to have an audience with the TIH Prince and Princess Akishino at their residence. Our audience was held for around one hour. The NLs, YLs and AYLs were given 30 minutes to interact with the royal couple. Meanwhile we were served some Japanese crystalised sweets and drinks. It's amazing to find out that Princess Akishino were once a participant of SSEAYP! The interesting fact we found out about the prince is he likes rooster. =)
Later in the afternoon, we had an audience with the Prime Minister of Japan, Yoshihiko Noda, in his residence. The building was impressive. It looks more like an office rather than a house. I guess where we met is the reception area.
You can read our meeting
here.
Unfortunately, I'm not in the picture, but my NL and YL were. Aiya!
Spinoff
: I was so exhausted that I slept throughout my journey to the residences. Surprisingly, both residences are very near to each other and it's just around 20 minutes drive from the hotel we were staying!
My Japanese friends were impressed that I got to meet such high level people for normal citizens don't even have such chance!
Comment! (0) | Recommend!
Monday, January 16, 2012
On 25 October 2011 ...
The contingent had free time in the afternoon since other contingents have not arrived. We were pretty grateful to be the second group to arrive in Japan in the morning.
I actually didn't plan to be adventurous because I dislike visiting places with such limited hours. Our contingent members were free to hang around the hotel, but we MUST return for meeting by 10.30 pm. And I only had like approximately 5 hours to chill? Nah ...
I was planning to venture alone until two members tag me along. I was reserved, but in the end I tagged along. Why wanna waste such opportunity?
There's a subway near the hotel, and we took it to Shinjuku! It is just 3 stations away from our hotel. And I was so excited!!! Shinjuku! One of the happening places in Japan!
We walked around with one of the member's fiancée. It's very cool! There were a lot of people, and we definitely went food hunting. I guess we were somehow spoilt with choices or the prices, we didn't eat much. We just ate bits and pieces from here and there.
What I love is the endless small lanes. I love walking in those lanes to see the small businesses and marvelled at the design and architecture.
Guess what I saw? I saw
GRANIPH
! It's one of my favourite online t-shirt stores from Japan! I have always wanted to buy a tee but never had the chance because they don't accept paypal. Somehow the tees that I like online were not in the shop and vice versa.
Anyhow, I was spoilt with choices as well as the prices. They are quite expensive, and I regretted for not buying two tees! I ended up only buying one. >.<
Here's the front design and below is the back.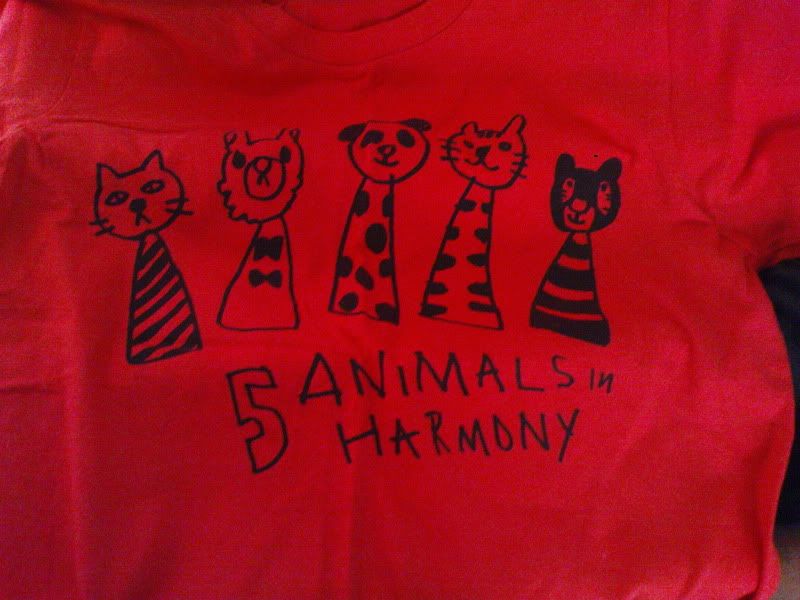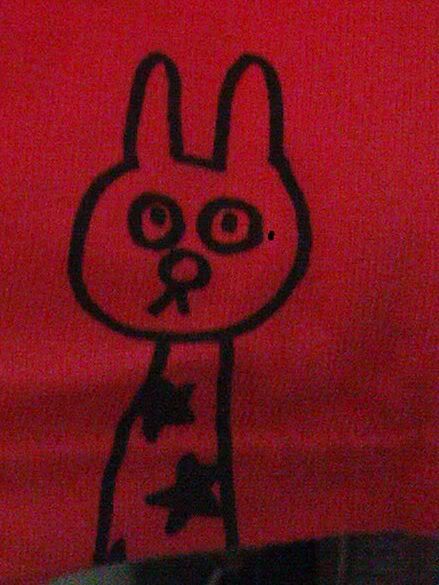 It was awesome! I love the tee! I bought it for 2500 Yen. >.<
Comment! (0) | Recommend!
Saturday, January 14, 2012
My colleague and I had a good laugh during one of our team building activities today. We were required to blow balloons and tie it to our leg. He and I tried to blow several times yet no result. We only managed to expand it by only one breath! And we could not continue for the air not entering into the balloon. So we thought there was something wrong with our lungs. It was a good laugh by the way. We had to ask the group leader the balloons for us.
This is what I hate to share with you all. Since I'm alone in the room, I saw something moving from one table to behind the tv cabinet. I immediately called up the operator and they sent over a maintenance guy to check out what's behind the cabinet and found nothing.
What the hell?! God, pls let me have another good night sleep! As usual, I'm gonna sleep with all lights on with tv in addition. Sorry earth, I'm just scared to sleep alone tonight.
Comment! (0) | Recommend!