Thursday. 4.5.12 10:30 am
What... What?
I never get it why technology gadgets have the same name as food. For the past few days, my friends who are into IT stuff were sharing with me some IT information that got me confuse.
First thing first is the version name for android phones. I now own a Samsung Galaxy tab 7 plus so my friends were excited for me for I have finally joined the group. Yea. I am now finally updated. So they were telling me to upgrade my tab to better version. Being clueless as usual, I got no idea what the hell they are ntalking about for as far as I know my tab is the latest version in the market. So what is there to upgrade
Until a friend was telling me to get an ice cream sandwich.
My reply was you want me to eat? His reply was "You can try." I certainly don't find it funny. I thought technology should use more scientific name like the ones in star wars or star trek but not from the kitchen.
No wonder my mum gets frustrated when people try to update her with the latest gadget in the market. I get annoyed too.
Is creativity dead? So should I upgrade my tab or phone to ramen version in the future? No thanks. I prefer Naruto or Bleach.
Comment! (2) | Recommend!
Sunday. 4.1.12 10:26 am
Aiyo. This is the worse backache I have ever experienced since it is accompanied by headache, neckache and maybe twitching muscles. The mere pressure on my lumbar is enough to waken the pain in that area. Worse thing is I feel like puking. Ugh. Must be the neckache fault.
How unfortunate that I had to attend an event despite of my condition. I had called up the organiser to cancel my attendance but I got a wailing reply instead because she has reserved seating for me. So I changed my mind because I have also given her my word that I will be there. But that was in January.
And so I went. And I got rather pissed instead due to the organisation of the event. You may ask me in private for the real reason as I am not going to reveal it here.
Argh! If only I could just stay at home and do something productive than attending the event.
Period.
Comment! (0) | Recommend!
Friday, March 30, 2012
So cute!!!
Its all I could blare when I saw the small bat lying on the ground outside of my apartment. It is really tiny compared to the one seeking refuge at my balcony 2 years ago. I think this was 5 times smaller than the refugee.
My mum told me about the bat as she entered the living room. I quickly ran out with my phone hoping I could take a photo. My mum thought it was dead as it was not moving.
I walked closely to the bat to take photo while my mum was reminding me it's venomous. And to take in my shoes in case the bat found a new home in them.
I quickly snapped a photo and ran back to my unit. I stood at the door watching it. It's so cute when it twitched its ears. I meowed at the bat hoping to get its attention. Mum has to remind me repeatedly it's a BAT not a CAT. It's obviously wrong language!
Ah! If only I could pat or stand in front of the bat to look at its appearance.
I shouted back to my mum who was in the farthest room in the house that we must be very noisy since it kept twitching its ears from right to left.
It crawled a little, and I quickly closed the door, fearing it might just fly into my house.
I opened the door a few minutes later, and it was gone.
Mum later told me the bat was resting next to my shoes. The bat crawled farther from my shoes when it heard footsteps.
It's so rare to see such animal in concrete jungle. I hope it will live long!
Comment! (0) | Recommend!
Monday. 3.26.12 3:12 am
I proudly announce that i am a new owner of a smartphone. Though i am now using samsung galaxy tab, i need someone to teach me how to use for i am ver IT illiterate. No kidding. I dont even know how to use the camera because i overlook the camera icon.
Me so dummy.
So i am now borrowing from my future savings to buy this phone. Not too sure if i have any regrets.
Comment! (0) | Recommend!
Saturday, March 24, 2012
I was surprised to read this article:
Kancheong parents
. I was also somewhat sad to know this is not only happening to me but to other people.
I have been in my current job for 4 years. I had never had issues with my job until after my 4th anniversary in my job.
One of my responsibilities is to arrange student's placement for internship. It's a tedious job, and I lose more hair each year given that I'm already experiencing hair loss problem.
One afternoon, a student came to me and pleaded to have a specific placement due to distance factor. She was pleading until I have to tell her off that she HAS to negotiate with me NOT begging. I added to do it with dignity. I cannot tolerate such attitude even this could be her life and death situation.
I'm not an understanding person, but the students also have to understand that it's not easy to place 140 students in one of the placements they have chosen. Each placement can only accommodate a limited amount of students.
So when students came to me to request for their placement of choice I cannot entertain because it is strictly on first-come first-served basis.
I do not wish to entertain the student who pleaded just because she wanted a placement that is within her home radius. I offered her instead the next closest place to her home since there is still space and she accepted.
After I have announced the placement, I unexpectedly received a call from a parent whose daughter had come pleading to me earlier. She was pleading to me to change her daughter's placement by smothering the fact that her daughter is highly interested to work in that place. I didn't buy it because she didn't show such passion when she came pleading to me. In fact, there was fear drawn on her face. And I understood why the fear from the call.
The mother gave me every excuse she could think of to make me change her daughter's placement. It was my turn to plead for help. My 3 superiors were no where in sight and I alone have to battle with the call.
I talked to the mother for 30 minutes because I could not find any loops to end the call. So in the end, I requested the mother to let me talk to the daughter to end the call for good.
I ended up being distraught the whole afternoon. I could not do any of my work, and in fact I got scolding from my direct superior for entertaining the call. No one even asked me how I felt after having my energy drain.
The student apologised to me on behalf of her mother, but the damage to me cannot be undone.
If only I can tell the mother that she has forgotten that I'm too someone else's daughter. How would you feel if your daughter was me receiving those blows from you?
How selfish people are nowadays!
Comment! (3) | Recommend!
Saturday, March 24, 2012
On 28 October 2011 ...
It's the fourth day since I have arrived, and all I could do is to sigh, as I have no means to record my thoughts and feelings of the moment.
I wanted to write down my emotions the moment I stepped into Narita Airport, but all I could do is to hope that my brain's recording function won't falter.
I was pretty happy that we were told to kill time in the 100 Yen shop that is just 5 minutes away from the school we had our
institutional visit
.
The first shelf I visited is the stationery. There were a lot of plain books, but I just could not find the one that I like.
I spent a good 15 minutes going through the shelf. I finally settled for a black book. It reminds me a lot of moleskine ruled notebook. I preferred a thicker one, but there is none to my liking. Besides, I have to think of the book's mobility too. The size of the notebook is perfect for my handbag and it won't add additional weight to my already restricted baggage weight.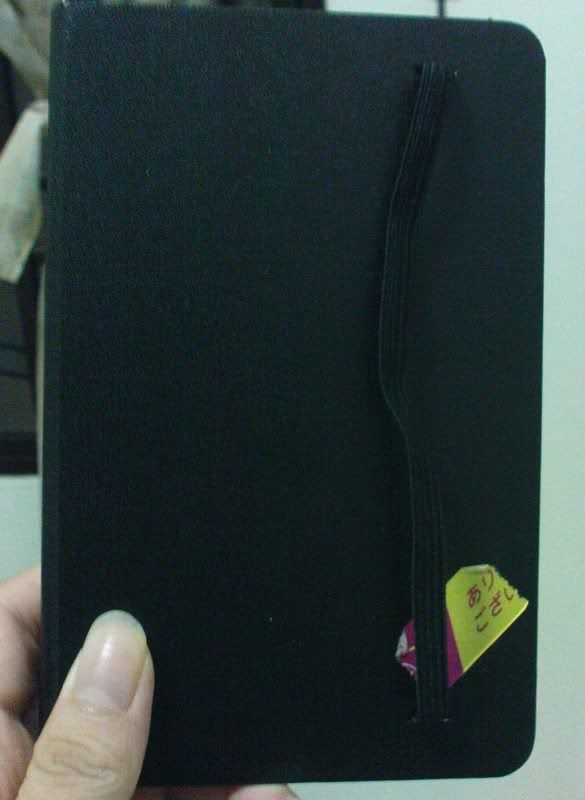 Spinoff
: Despite buying the book before going on board, my first entry was dated 5 November.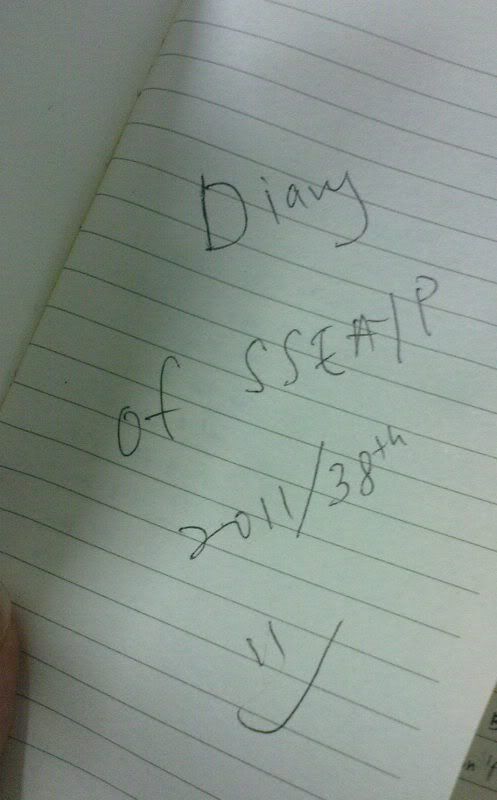 I was actually reluctant to buy the notebook because I have already prepared a thick one back home. However, it is extremely unfortunate that I cannot bring it along due to limited baggage weight. In fact, I didn't even have allowance for toiletries. I bought them in Japan and survived on samples I obtained earlier.
Comment! (0) | Recommend!