Why is everyone on FB suddenly so into THOR recently?!
Anyways, just for laughs.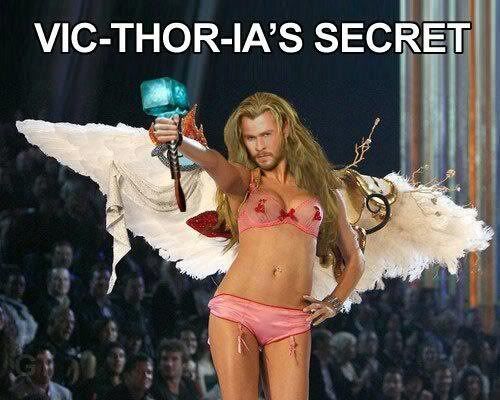 Happy weekend.
Comment! (1) | Recommend!
Granted.
I can reimburse my specialist fees when I get second opinion on my condition. My colleague recommended me a to a neurologist her family visited in the private wing in a well-known public hospital.
I will be dropping y there soon.
Comment! (1) | Recommend!
Sunday. 7.8.12 10:56 am
Glare.
That what was I did to the neurologist after he said directly "let's wait for more symptoms to show up before I put you on any test, because I can "guarantee" you that any tests will show you negative on any illnesses."
"Oh despite having mild headaches and twitches everyday? And oh yea the twitches disturbed my sleep. It is nothing?"
Glare.
"That is not assuring at all."
Glare.
"Ok. To give you a peace of mind let's put you through some test."
Sounds better, but I lose confidence in you, jerk. Lesson is even though you have my best interest, please make sure your words can instill confidence in me that I do not need any test at present. And do not think I am stupid. The reason why I was not suggested all those jargon test because of my insurance policy.
This doctor trying to be honest with me, right? Hmm.. Looking for ways to change specialist.
Comment! (3) | Recommend!
Thursday. 7.5.12 11:31 pm
don't worry, i'm not dead yet.
I only wish to be able to rest in peace with no whatsoever disturbance. Ah. I will be home alone soon. Some good advertisement.
I will be seeing a neurologist tomorrow. I am quite afraid to know the diagnosis. My twitches have spread to my right side of the face and my thighs. The most worrying part is the twitches on my left eye. I often feel mildy swell on my left eye. Hitherto I could also feel a tingling sensation at an old injury place on my left jaw.
I spent whole June resting and spent time with myself by doing things that I have always wanted.
Doctor said the twitches could be stress induced, so I rested but it did not go away.
I hope it is nothing serious.
Comment! (4) | Recommend!
I love this song.
Period.
Comment! (0) | Recommend!
Saturday. 6.30.12 10:36 am
i know i have been running away from making difficult decisions. i tried to go through the things that i need to decide.
i actually have decided to study masters locally but my fortune says i have to get it abroad. this years is the year for me to get out of the country. a tarot card reader also said i must get it abroad. if not, i will be dreadfully stress.
i really want to make decisions not based on the tarot cards results, but it is my higher self telling me things that i have blinded myself to.
i think i know why i will be strssed to the max should i persist locally. i first have to deal with my sister whom we have not spoken to each other for coming 7 years. and i will be extremely stress when my dad comes back for good. and not forgetting how my mother has and still driving me to nuts.
so much stress, so much unhappiness, so much sadness.
i can feel the anguish inside me. i can feel the stress building inside me and i dont know how to overcome my current life plateau.
never ending frustration is eating me inside out. if only i could talk to someone who has been in my shoes and has overcome it for i would like to seek advise.
even if i dont study abroad, i would still need to stay outside of my family to be sane.
as i am typing this, i could hear weeping sound and frustration coming from inside me.
i dont think i have been smiling or laughing as much as i did before. nor have i been spending time with myself.
i need to remind myself that the storm will pass. how did i stay sane for all these years?
Comment! (2) | Recommend!