Monday, December 3, 2012
I wrote a lyrics last night, but I was not satisfied and so I tried to write again today. When I open my lyrics doc in office, I found what I have written half-way early this year:
Even though we can be with each other in the next life ...
But is that what i want at that moment? Or is it just now?
If only i have declared my love to u ...
And to save myself from this drowning of love ...
What if u donít want to be with me again in the next life?
All this assumption is killing me and i knew all this feelings will pass ...
And hopefully it is soon so i can fall in love soon...
To save myself from drowning ...
Wow. What was I thinking when I was writing this half way?
Comment! (0) | Recommend!
Sunday, December 2, 2012
My doctor has finally stopped my medication, because my symptoms were very mild, hence my eye sight is ok despite feeling the twitches every now and then.
However, my left eye now is swollen a little. Mum could not tell if it's swollen or not, but I do.
Maybe I'm running too low on sleep as per doctor advised me I must rest a lot due to the nature of the illness I might be having.
So health, please be kind to me...
Comment! (1) | Recommend!
Saturday. 12.1.12 9:51 am
I went shopping with mum today and I spotted some ill-mannered Malaysians along the backway of the shopping mall as I was heading to another major mall.
There was this young man threw the plastic bag he was dipping his snack in it on the ground and acted there was nothing in his hand to begin with. How disgusting it is to litter on the floor. Where are your manners, young man? I expect his kid to be in his foot steps too.
And later, during supper time, mum and I went for some pizza. There was a couple sitting on my far left at the corner of the restaurant. I have been noticing them eating pasta followed by breadstick and pizza.
What disgusted mum and I were the amount of food they wasted. They didn't even bother to pack the 3 pieces of pizza and 2 breadstick! And the waiter dumped the leftovers into the dustbin!
We were horrified! What a waste! There are people from other parts of the world who have no food to eat and here people THROW them away!
Why can't people treasure the intrinsic value, if not instrumental, of food?
Comment! (1) | Recommend!
Sunday. 11.25.12 5:41 am
I was in Singapore for a reunion with my batch mates from the program I joined last year.
This year is the last year the ship I stayed on will retire. I looked at the ship nostalgically, and I did play those happy memories in my mind.
We had lots of finger food, but I did not eat much. There, there was the ice cream counter I used to collect my ice cream everyday on the ship. But I did not get any last night.
There were many other ex-participants from other batches on the ship too.
I look around and saw how friendship transcends time.
I have never said this before: I am proud to be a participant of last year and always will be.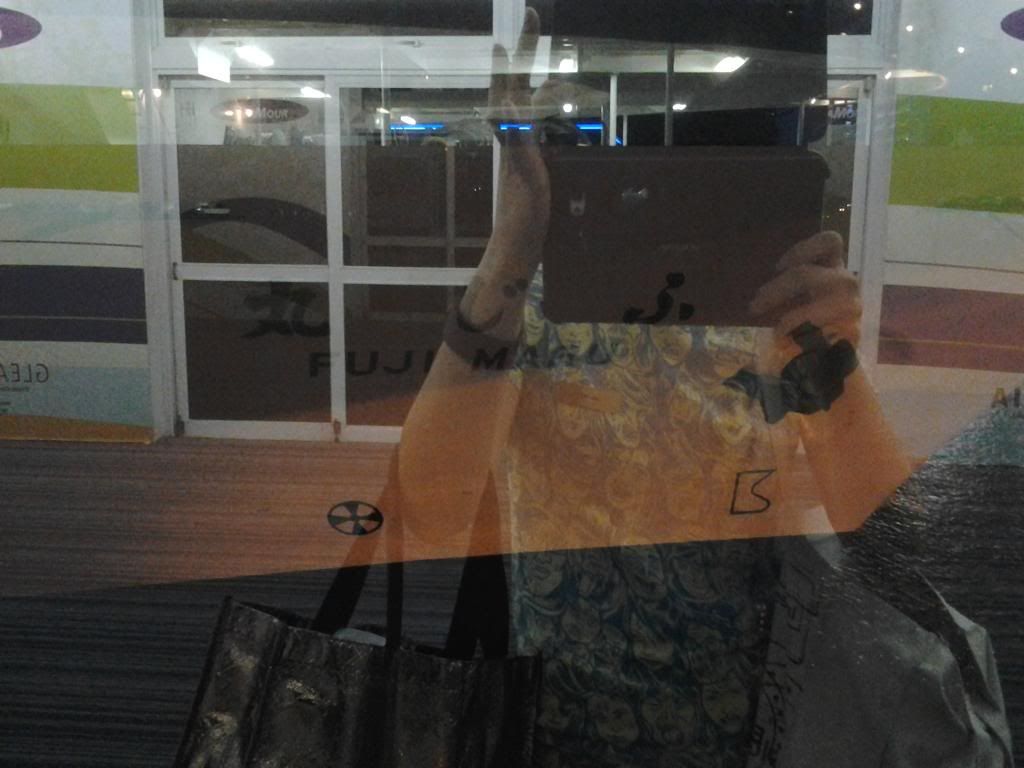 Comment! (0) | Recommend!
Friday. 11.23.12 7:32 pm
I'm now in Singapore for a reunion event tonight. And guess where am I staying? I am staying with a friend who is hosting my juniors from the program I joined last year. They are from Brunei and Myanmar.
So cool!
Comment! (1) | Recommend!
Sunday, November 18, 2012
I made a huge laughable mistake.
Mum and I went to watch a Chinese blockbuster called the Cold War. We entered the cinema early; there was very little people. And so I was on my tab making some emails while mum watching the playing advertisements.
It went on like this for more than 15 minutes, and more people have entered the cinema until it was almost full.
I was in the middle of scrolling the tab when a young man was talking to my mum. I looked up and my mother was in a confusion. And he showed his smartphone to me and said "I think you are sitting on my seat."
"Is it? Isn't this cinema 2?"
"No. It's cinema 1."
Mum and I quickly left the place and went into the correct cinema, which is just beside cinema 1.
I laughed. I entered the wrong door! Most cinema have two doors leading to one cinema, and apparently I didn't check properly that this cinema has only one entrance, and I took for granted that the left door will lead to cinema 2 instead of 1.
Phew. Luckily, Cold War didn't start when we entered the right cinema.
And the title befitted the movie very well: Cold War. It's a good movie, which I will recommend to friends.
Comment! (2) | Recommend!