Man.
We should totally add this to the smiley collection!
Cool wallpaper.
Down the road, not across the street. Make it count!
Stuck on emo today. Can you tell?
I don't know why, but if I run, I have a tendency to sneeze a lot right after. And it shouldn't even be happening right now, I ran like a little more than an hour ago. The cold usually doesn't make me sneeze....
So.... went to the monkey bars today. It was funny. Angie had on this really ghetto jacket... but she likes it and she doesn't think it's ghetto. It has like, gold letters that say "South Pole" on the front though, with freakin' FAKE jewels! It's like, total second-rate kinda bling. And it has gold and red stripes down the sides... so freakin' gangster seriously.
But back to the monkey bars. DC and his friends lost their ball.... near us. Once. Then they lost their ball on top of this little building thing nearby, kind of like a really big shed type thing. And they stayed over there for a while, which was in our view, and tried to get the ball. Heh.
Otherwise than that not much happened today. Oh, except that I found out my voice can go a lot higher than I thought it could.
Alice just barely poked me, but since I'm super sensitive and super ticklish, I... -sigh-.... "squeaked". As in "EEEEE!". I swear that I've never done that before. It was weird. :P
Random picture:
By the way, I found something that, although it could never match
middaymoon
's version, is still pretty funny.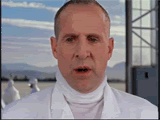 Comment! (5) | Recommend!
I hate it when they recommend music that I hate.
If you have iTunes, you know there's like, a menu thing where you can select what genre you want to see recommendations for. Well.... I hate ALL hip-hop, rap, R&B, inspirational, and folk music. BUT THEY KEEP RECOMMENDING IT!
Ugh. I just click "Don't Like It" about 500 times to make it go away.
By the way, does anybody know why "Hate (I Really Don't Like You)" by the Plain White T's is so popular? It's crap... seriously. "My Only One" by them is so much better.
That man (in the middle) is too pretty. He shouldn't be allowed to be male!!
Okay middaymoon, here's the avatar.
Comment! (8) | Recommend!
Damn I'm not in the Top 10 Active list anymore. Well... that will soon be resolved.
Okay so my mom is going to the Girlscout Winterfest and she's going to sell these little stuffed pigs. I'll show you a picture later, I'm too lazy right now. Since I'm getting most of the profits I have to help with the making of the pigs, right? So that's going to take up some time..... but Winterfest is on Sunday so I'll be on as much as usual after that I think. Or maybe not. Dunno.
Found some graffiti on a table during lunch. It was a crude picture of a guy telling a turkey to "SUCK IT". I didn't like it much so I used Angie's dry erase marker to censor the more unappropriate part of the picture and wrote "Please be kind to animals" underneath the drawing. Hope they take my advice....
I'm LOVING band sites these days... so much better than before.
Haven't been eating dinner lately but that's okay, I haven't been hungry. And it seems to be helping me lose weight, which is never a bad thing...
I guess this means I shouldn't say "when pigs fly!" anymore. :P
Comment! (3) | Recommend!
So we er.... "investigated" today. We went and sat in the bleachers at Lunch and uh..... observed.... DC and his friends. Nothing much. I don't think they're losing their ball on purpose. :/ But that DOES mean they don't suspect anything.
Angie thinks they saw us though. That can't be good.
Maybe they knew we were there and that's why they lost it a lot? I dunno.....
I'm so paranoid sometimes. :/
PEEKCHA!
Damn I don't know who that nerdy guy is, but he gets to meet cool people.... HE MET AFI!!!! He's an accomplished nerd. >:/
Comment! (5) | Recommend!