Thursday, December 14, 2006
Wednesday, December 13, 2006
After the first dollar it seems like the money comes a lot faster. But maybe that's just me. I mean, a while ago I was like "wow a whole DOLLAR!" and now I'm like "huh. Six dollars is coming up. Okay."
Comment! (8) | Recommend!
Wednesday, December 13, 2006
Well I pretty much failed my french oral. :/ 9 out of 16.
When we were waiting to leave by the door, I just happened to look at the fire extinguisher case and there was this really funny little sticker on it.
But the thing is.... now I don't remember what it said.
Hence, the title.
Anyway.... that freshmen whose name keeps escaping me commented on my outfit today. :P
The conversation was pretty boring.
Him: You're wearing all black
Me: I have a green shirt...
Him: THAT DOESN'T COUNT!
Here's a comic.
Comment! (6) | Recommend!
Tuesday, December 12, 2006
French......
I hope that turns out okay.
Maybe we'll switch seats soon. ;)
Math-wise, I AM SO SCREWED. Math is by far one of my WORST subjects. All that line, triangle, whatever crap doesn't stick. I made like fifty flashcards, because writing stuff down usually helps me, but I probably won't do well.
Then again, do I care?
I generally don't stress about my grades. I do fairly well (in other words, I don't fail).
Who cares about math? Pas moi.
Here's some random stupidly funny picture.
Comment! (6) | Recommend!
Tuesday, December 12, 2006
Monday, December 11, 2006
Finals start tomorrow. Fun fun.
I have Lit. first. Hopefully it won't be too hard. We're just having a Socratic Seminar so it might not be that difficult knowledge-wise, but I'm terrible at speaking in front of people. :/
I think it would be fun to have a giant soft teddybear. Or maybe just a normal sized one.
The person I was back in third grade would utterly hate who I am now. :P
Yay teddybear! :D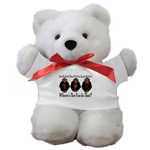 Comment! (13) | Recommend!
Monday, December 11, 2006
Sunday, December 10, 2006