Sunday, August 17, 2008
Yup, it's me on the magazine!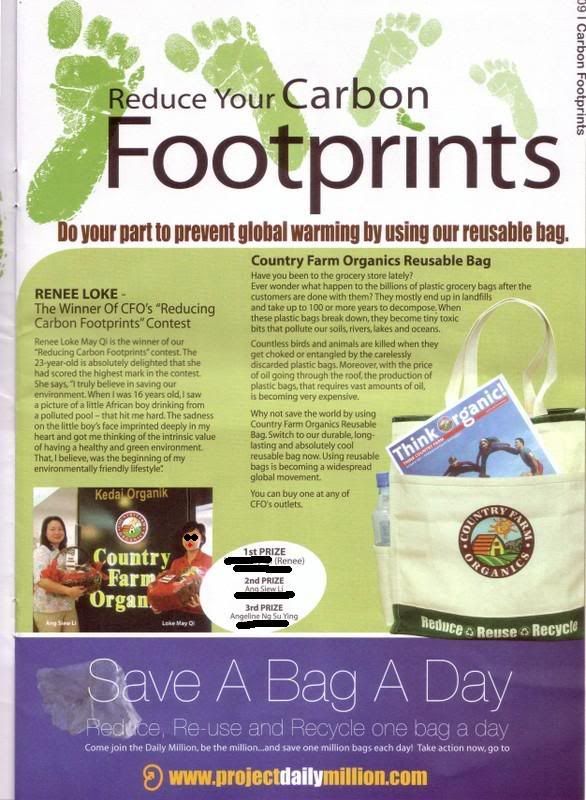 Comment! (12) | Recommend!
Friday, August 15, 2008
Ghost Day part 2 is back due to popular demand.
I think I have written this story before but I can't find it. So please enjoy this experience!
I was never afraid of the dark when I was a child. I could go into an unlit room and fetch the thing I want and come out without feeling scared at all. I still had this gut until I had my first supernatural experience at the age of 10.
I had a habit of sleeping in the living room at night because it was more airy than my room. But somehow one night my mum woke me up at 2-ish to ask me to drink water. I went back to the sofa to continue my sleep but it was not according to my plan. While I was lying down, I heard footsteps around me. It was not uncommon since my family members wore slippers in the apartment. I didn't bother until the footsteps 'lingered' too long ... There's no way for my mum and sister to walk around the unit for that long for the footsteps were continous. I thought it was my neighbour since my mum did tell me that a neighbour accompanied her daughter to ground floor for the school bus but won't it a little odd for the foosteps to hang around my sofa and at 3 am?
Something was very wrong.
I opened my eyes and the footsteps stopped. I could only hear the fan spinning and the flipping flapping of the newspaper. I moved my slippers nearer to the sofa. I told myself my mind is playing tricks on me. And I closed my eyes and the footsteps came back! I rolled to my right side hoping I would just go to sleep but I could not since beads of sweat formed on my forehead and my heart was racing. As I was lying on my right side, my left ear picked up some static sound like you are trying to get the right frequency radio channel. I covered my ear with my hair. And ... my hair somehow ... was pushed away from my ear!!! I did it again and somehow it led to the same result.
My head was screaming "GET OUT OF THERE." And I did. I scrambled back to my room with my pillow, blanket and bolster. And then I stood beside my mother's bed... thinking how to break the news that there was something out there but somehow my mother woke up and scolded me for surprising her and gave me "Why the hell you woke me up?" look. She was prettily mad and not forgetting to scold me to switch off the fan before returning to my room. Somehow I chicken out and didn't tell her my mind. I went back to the living room with absolute fear to turn off the fan and dashed back to my room.
I felt safe back in my room for my sister was asleep above me (double decker bed); I was relieved knowing whatever out there is not coming into my room because there's another person presence in my room but somehow... it was wrong. After snuggling in my blanket and my giant seal toy on my right side, I saw a short female shadow with long hair and button nose on the wall. I wanted to look at the shadow source but I was put to sleep.
Since this incident, I was enabled to see and feel spirits. The next day after this incident... I had visitors in my room everyday, on my sister's bed. I have never seen them but I could hear them rolling on the bed and making funny noises. So I always ended up sleeping in the living room in the presence of my mother when my sister was not sleeping in the room with me.
I didn't tell my mother and sister? I did the very next morning. But they told me it was my hallucination and no such thing exist moreover in a house that has a god altar. I tried to explain more but I was told to shut up and I think my mother even threatened to beat me up if I continue telling them my "made-up" story. Since the scolding I never told them any of my encounters even after 14 years of announcing the truth.
But I can tell you all that life was hell for me since that incident until 2003. Do you feel safe when you are back home? I didn't especially my mother and sister are always not around in the house. Do you sleep well at night? I didn't even though I was sharing a room with my mother. That's all because I have
visitors
all the time.
Do you want this kind of life? Yea it's cool to have the gift but do you want to lead a life where you don't even feel safe at your own haven? You might jump to the answer of YES because you simply don't know what it feels like. Don't understand the feeling? Simple. Just try placing yourself in a home where your mother or father abuses you everyday or even someone close to you comes into your room every night to molest you.
So you guys please be careful during this Hungry Ghost period. Check out
Foongpc's site
for some ways to protect yourself! One more thing is... don't try to pick coins in this period. Right ... I think that's a reminder for my money-minded being!
Comment! (12) | Recommend! (1)
Thursday, August 14, 2008
Chinese celebrate Hungry Ghost festival every year. And you could see the chinese burning money and I think now burning mercedes car [please bear in mind they are made of paper, though someone has burned a real mercedes car to honour the dead a few years back] and other useless technology gadgets that the dead won't know how to use. I'm referring to the dead that died before the emergence of playstation or the screening of Kungfu Panda. Yea .. and you could see these burning on the streets. Small colourful biscuits and some red candles will be burnt along too.
It is also a month where people might experience some supernatural events too. Do you have any ghost story to share? Please share with me if you do. But first let me share with you mine first.
Many people think it is a gift to be able to see spirits/ ghosts and they think I'm so cool to be able to spot them but frankly I never had a peaceful day when I had this gift for over 10 years. I was afraid to be home alone, I was afraid to be in the darkness, I was even afraid to sleep, regardless of time and the sunshine availability. I never told my family members about this "gift" because I was once told off to stop hallucinating. I tried telling them once and my mother cut me off by saying "SAY NO MORE". Full stop. I think I have even bite marks on my right hand before. After 14 years of silence, I told them recently and they were shocked. I think they just can't believe that they have been living with some uninvited guests for all their lives in our house!!! And I didn't even tell my mother the best part: there was
someone
in our room for months ...
to be continued .... [yea to be continued because I need to go home from office]
Comment! (9) | Recommend! (1)
Wednesday, August 13, 2008
I'm not referring to the Dreaming by Queenie Chan. I ought to make a review on that manga though.
I was referring to my dream this morning. I think I'm too into a japanese pop girl group called Morning Musume. I have been listening to their bubblegum songs seriously since June 2008; I have been hunting for Morning Musume video clips on youtube almost everyday without fail and I have seen most of their concerts until the latest ones in 2008.
Morning Musume picture [I removed the link since I can't seem to find a suitable picture]
I can remember all the members and former members of the group at the tip of my fingers. That shows how obsess I am... obsess?? I need to check on myself.
But basically my dream was hilarious. I dreamed myself being a member of this group. HAHA. I was holding a microphone and standing on a stage with five members out of 9. And I only remember Risa Niigaki, the sub-leader, talking to me.. Ah her smile is so infectious. She's really lovely and beautiful.
Risa Niigaki's photo
In my dream, I was wearing red and jeans. And I was smiling... like my brain [don't know left or right] seems to be very happy; as if I have not been happy for a very long time... sincerely happy. I actually have not seen myself smiling that naturally. Hmm.. Something new to me.
But anyway... that's all to my dream. I'm having insomnia at the moment... I need to relax myself. Hope you guys like this video; it's one of my favourite collaborations especially the ending chorus part. How I miss Mari Yamaguchi and Kei Yasuda presence in the group...
Comment! (2) | Recommend!
Tuesday, August 12, 2008
Renaye ... you are going to go deaf. For sure.
As for today, I have finally joined the majority in poking their ears with a pair of earphone attached to a mp3 player. During my debut ... I find it very troublesome to put the wire aside ... increased or decreased the volume ... turned on or switched off the mp3 players. And after listening to it for awhile I got mild nausea. I don't think I will want to listen to it again, ever, except for listening to the songs for my assignment.
Gosh ... how do those people listen via the earphone for hours??? Listening to the mp3 player for one hour I feel I'm going to go deaf and my ears felt suffocated!!
No... no no no to mp3 player. If I want to listen ... without the earphone then. Thank god my mp3 player has speaker.
Comment! (6) | Recommend!
Monday, August 11, 2008
I made a blunder today for my appointment. I got 2 free movie tickets to watch Don't Mess with the Zohan and I misread the preview date for tomorrow as for today. It was 1.5 hour before the appointment... and thankfully another friend of mine invited me to the same movie in the cinema opposite my office!! And so my friend also managed to get another ticket for my other friend so ... my friend was really a life saviour...
The movie was funny... should watch for releasing stress though the moral of the movie is weak but a good one. I heard the Kite Runner movie makes you even cry ...
And then .... hahaha .. that's where I was really blind. After movie, my other friend and I needed to catch one of the last few trains but before I visited the toilet at the train station ... I was very happy that I don't have to pay the entrance fees and so I went into the toilet without looking at the sign... I just immediately entered after spotting the entrance ... and when I wanted to wash my hand ... I went 'huh?' after seeing a guy's back in front of me doing his business... I quickly wash my hands and went out of the toilet to realise that I entered a male restroom. HAHA... then I quickly fled to the train terminal. My friend later called me to ask for my location and I told her I was lining up to enter the train. She was very worried because she could not find me in the ladies. And she blurted saying jokingly "Don't tell me you were in the men." I laughed!
No idea what has possessed me today ... I guess it must be the boredom...
[email protected]
... foldable chopsticks and the need to go to the ladies...
Comment! (5) | Recommend!