I was invited to a Starbucks cheer party this evening, where we are supposed to spend good time with the kids from some orphanage. I actually thought it was boring. Serious. A handful of adults only played with the kids and the rest mingled among themselves and there were a few doing some serious financial reading on the couch. As for me, I just sat on one of the couches chatting with some of newly made friends.
Bernard
was having a great time when he played with the kids and so are other online friends I just met. I seriously feel I have really grown up. Not to praise myself anything but I seriously could feel I have really matured a lot given in I am already matured from my upbringing and the things I read. I used to get into bad mood easily whenever I attended a boring party. I would actually show my impatience body language and just walk off within 30 minutes of an event when I feel it's not beneficial to me. But tonight, however, I stayed on and enjoyed every minute of it. I had really thought of walking out from the party, however, my own voice told me to stay on and not to let the boringness bother me. I was glad I listened because even though it was not that exciting, I did really enjoy tonight's party in a way by chatting with the Starbucks staff and just hang around for the party atmosphere. It lightened me up. And I finally told myself that this kind of boring event contributed to what I am now. There's always something to appreciate in everything we do in every minute unconciously.
Apart from that, my own voice got pretty pissed this afternoon during my vocal lesson. It simply told me "Cut the crap. Concentrate. And don't try ur best in singing just because the phlegm caught up in my throat." It was pretty surprising. It never happened before. It usually just gives me advices and opinions on matters, not scolding me! But somehow I obliged and I did pretty well in today's class even though I screwed up the first vocal exercise. My teacher all of a sudden asked me if I want to perform in the next recital while I was singing True Colours by Cyndi Lauper. I was happy about the request since she has been smiling to herself and once praising herself "I'm a good teacher" when I was singing some songs, which simply means I have improvement! But I turned it down. I don't think I would want to peform in public for some time. I just want a break. I have experienced in performing with several number of people from 2 to 10 000. I seriously hated the pressure of practising for the chase of perfection. I like to do things relaxingly. I don't ever want to undergo those pressure again. This is what I told my teacher but of course I might want to perform in the future but not for now. Because of all these experiences of being the forefront, I now want to experience of being a backstage person. I think that's more challenging than performing.
Oh well, I'm grateful for my little voice advises today. If not, I won't have improvement on my own well-being.
Comment! (1) | Recommend!
Thank you for everyone's concern in my previous entry. I'm not getting better in fact my sore throat has been prolonged. I'm now really wondering if I still could attend my vocal class tomorrow. But I was thinking of taking a break from vocal class and resume next month. I guess my throat needs some rest since I talk pretty loud - always.
Everyone, please take care of your health as I realised many people are getting sick. People seem to have the same symptom as me: cough, flu and sore throat. My doctor was telling me that this is actually not really because of the weather but the air quality. And I'm afraid to say that our air quality has gone down a lot. An American guy has been marketing oxygen bottle. Yea like the version of mineral water except this is oxygen. Maybe in the future we are going to buy oxygen.
My old hobby is back and I don't like it. That is watching horror films. I need to watch something else because I want to live longer....
Everyone ... take care ya!
P.S: I'm not going anywhere...
Comment! (9) | Recommend!
How unfortunate that the hand seals to the Meowing no Jutsu is not found yet by the legendry meowing ninja called renaye.... If only she could MEOOOOOOOOW...
But again very unfortunate because at the moment I'm having cough and mild sore throat. The worse thing is I don't have voice. No voice comes out whenever I try to talk. It sucks.
I was on sick leave today. The doctor told me I might have irritant cough which explained as exposure to environmental tobacco smoke and other pollutants (smoke and exhaust from wood burning, air pollution and exhaust from vehicles). Doctor did advise me indirectly to change my job or location to be better since I have been coughing since the end of September.
I'm going to visit another doctor for follow-up so I would try asking the doctor if I need to run any tests to check if I have any allergies.
I'm sleeping on the couch now. Dreaming no jutsu!
Comment! (17) | Recommend!
As usual, I watch youtube videos everyday in office at interval of my office assignments. Yes I need it because I need to be humoured. Remember ... laughter boost up your immune system.
Anyway... I have like watching programmes featuring DBSK/ Tohoshinki because the members are pure funny and cute. The only main reason I watch them is because I like Junsu since he is damn funny and Changmin because he is cute. And I found this Korean talent show featuring them as a judge. So I watched on happily but not for long.
The first talent segment featured a girl who can sing very well for her age. The second featured a group of two primary kids from Japan doing breakdancing and such. Have a look:
I find them to be cool because kids their age at my time don't give a damn about dancing and what the heck about their fashion when we are overwhelmed with pressure of excelling in school. Artistic talent or the possibility to foster it when we are kids were totally crushed.
The second segment encouraged me to continue watching but somehow I winced in my dull grey chair. Have a look:
What do you guys think? It seriously made me sick. Disgusting. I cannot understand why would the parents sent such cute kids of their own to the stage not to entertain people but only to revolt some of the audiences? I'm saying this not because I'm jealous of these bunch of 5 year old kids performing in front of DBSK and others but it's pure sick. Don't you think it's sick to see these 5 year olds to perform this kind of song? Hey it's not Twinkle Twinkle Little Stars... it's I only Want You... Nobody Nobody But You by hot Korean girl group called Wonder Girls. I cannot understand why would parents want to make their little girls look so old. I don't mind their dressing but why make them look out of their age? No wonders kids nowadays are much more complex than my time. Thanks to the current world situation.
So ... ok another breeze is gone... I continued to watch the next segment and this time not only I revolted in my chair I cringed until my jaw muscle numb. Why? It's simply another pure sick segment. Take a look:
Oh well... I somehow can't find the whole segment of the girl's shaking body. But watching her doing it or the whole 10 mins is enough to make me sick. The reason is the same as above. And another thing i would like to add is the body shaking of hers is pretty annoying because it's simply overdone. We do it as a warming up before singing to loosen up the muscles along the trachea and all the way to the hips or the legs for some people so I don't consider it as talent at all. And if she keeps on doing it so often, it's not going to be good for her small body because it hurts. It still hurts my stomach area whenever I do this exercise. And hey little girl , go back to school and pick up a much more cooler talent than this pepper-shaking body. If you still want to proceed with this body-shaking thingy, go and learn under a better goat or sheep. And damn.. why the heck did Changmin hug her?
If you disagree with my thoughts, please bear in mind that this blogger doesn't like to see children being exploited or even seeing parents encouraging their kids making themselves look stupid on the stage by showing off some non-talented stuff even though she strongly believes everyone has their own talent.
Comment! (6) | Recommend!
I think you have read two parts of my conference journey last week but you will get to read more detail here accompanied with pictures.
I was really happy to be invited to attend a conference called Inter-civilizational Youth Engagement Program and their title for this year is Green vs Greed. It was held from the 17th to 21st of November in De Palma Hotel. Because I didn't see the address properly, I made a quick assumption that the hotel is in Ampang, which is damn near to my office in Kuala Lumpur. And I thought I could do some shopping during break time. Yea right. I slept through out the journey until....
Day 1
The journey was boring because I didn't dream of anything. I woke up in the middle of the journey and found myself in the bus climbing the hill. I just went
What the HELL
in my groggy mind and almost freak out by almost asking the volunteer from the organizer,
JUST
, who was sitting beside me. But I think I went back to sleep telling myself again
What the HELL
.
The first thing I did when I got down from the bus was made new friends and the first serious subject I asked them was "Where do you live?" Surprisingly, many of us are saying nearby! And one of the participants is stayng 10 minutes away from me! Incredible.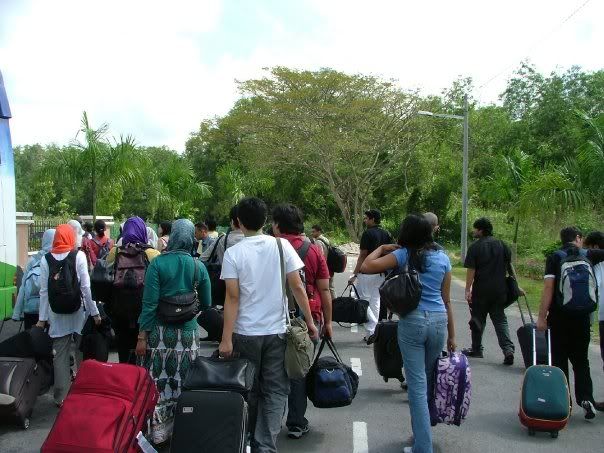 But nothing exciting happened on the first day and I just retreated to the chalet with a roomie from Australia.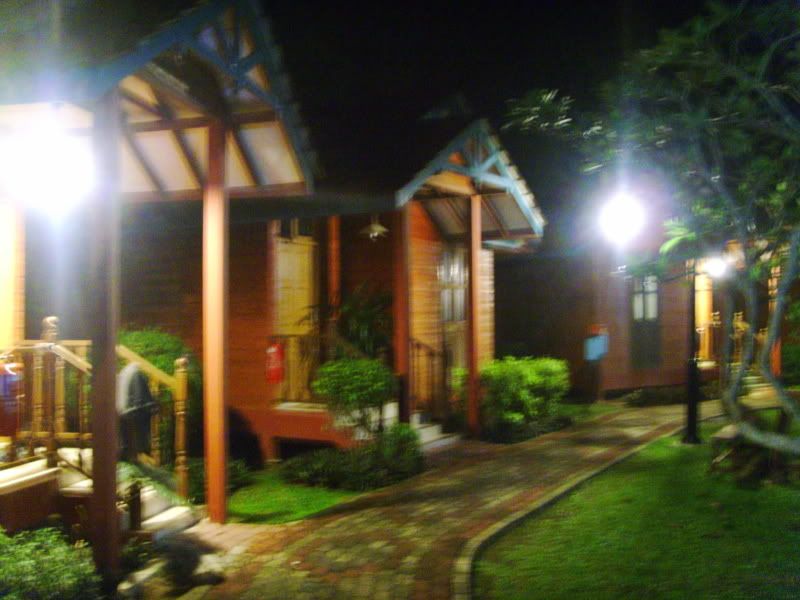 And for your information: the chalet is located at a very rural area. Opposite of my expectation. And you get to see lots of monkeys.
Day 2
One of the most exciting part of the itinery that I'm so looking forward to: visit a mangrove. I love going to these forests and look up to see the forage density. I just love to see its beauty. And the best thing was it rained cats and dogs!! I miss those heavy rain splattering on me ever sinceI came back from New Zealand. It's very relaxing.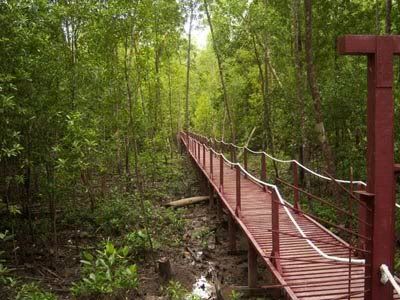 We wanted to cross the bridge but we could not because the organizer didn't inform the workers there that we would like to see the coast or rather the sea.
But I am still amaze with its natural beauty.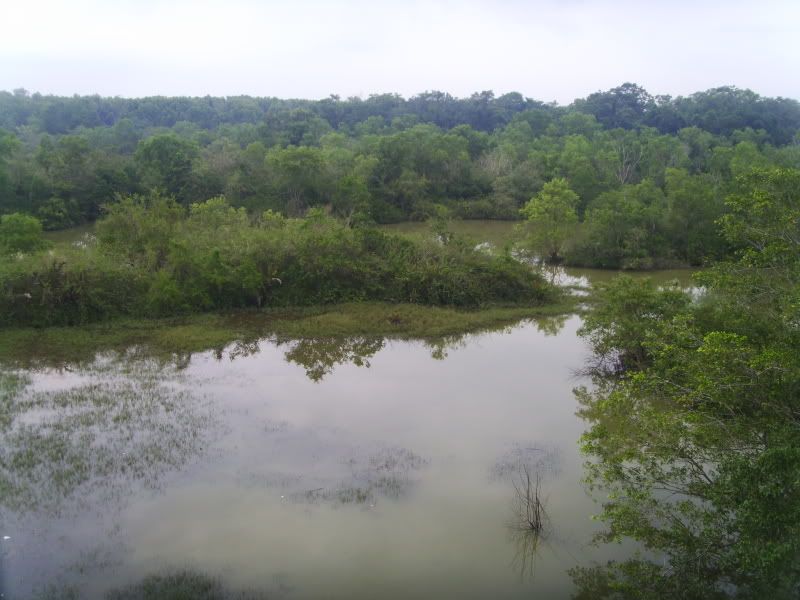 We went to the lighthouse too that evening and we actually got lost. HAHA. Anyway that was where you guys read that I wanted to touch the baby python but dare not touch it!! I went near it like 5 cm but in the end I fled 10 m away!
Day 3
I went up to my writer and greeted her. She's shocked to see me there! But we chatted and exchange information on food. I was actually surprised with myself. Why? That's because this was my first time to cough out my questions during the Q n A. I never like to hold the microphone and speak. But I'm glad I did. It's time for me to be brave and ask questions. I live only once to talk via the mic!
Later, we went to dine in a Chinese seafood restaurant. I think we were starving that we have been grabbing each dish like hungry kids. I didn't even get to eat one of the dishes. :( But it's alright since we have been having eggs everyday!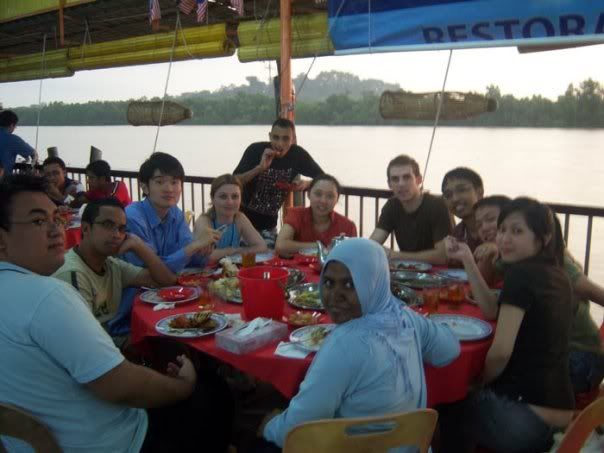 AA is so cool with his crab! He even came to my table for more crabs!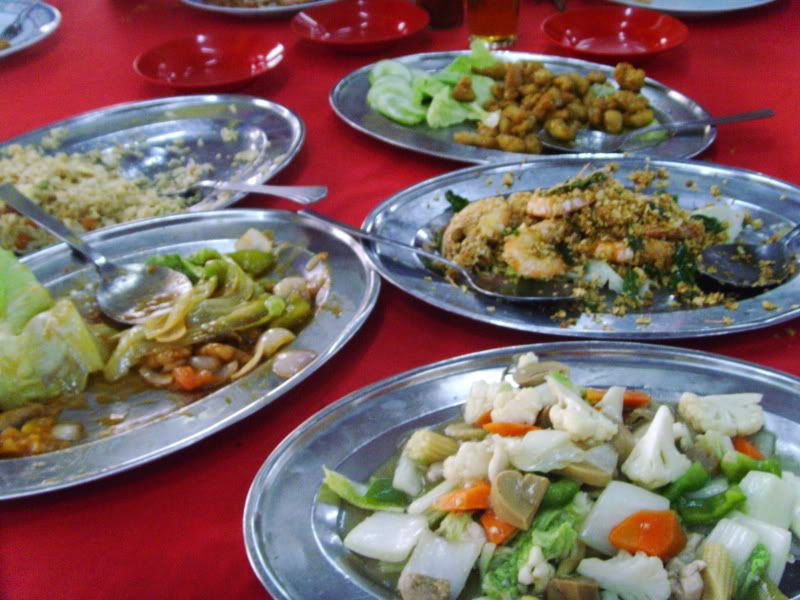 This was my table and we had a good chat. And ahem.. we decided to watch horror films that night. Yes we did. We watched 2 which were horror but not scary at all since we were laughing at the subs. The subs for the thai horror film called LongKhong was horrible. Only 2 sentences were perfectly correct. And the Saw 5 was just a wrap up of the other parts. And I fell asleep....
I fell asleep most likely because we had a hectic day since we went to see the fireflies. A friend of mine got a good shot of it but I will try getting a picture from him... if he allows.
Day 4
Unbelievable that time flies. The next day was the last. Our serious discussions still continued. I was pretty generous in rating all the speakers A. I really like their presentation; they were credible and something afresh and different from the numerous conferences I've been to. The indicator of my interesting is I don't fall asleep during the talk. And I was very energetic during each talk.
During lunch break, my friends and I got kinda silly so we made these poses: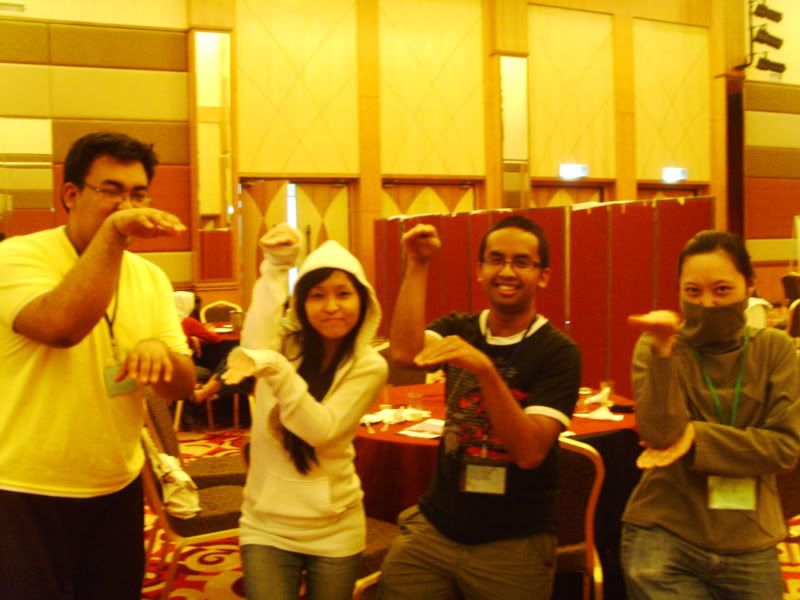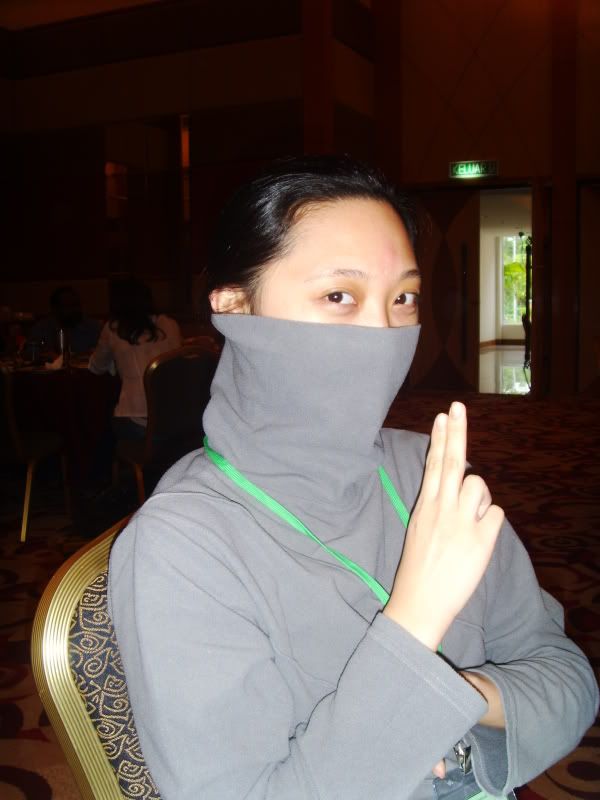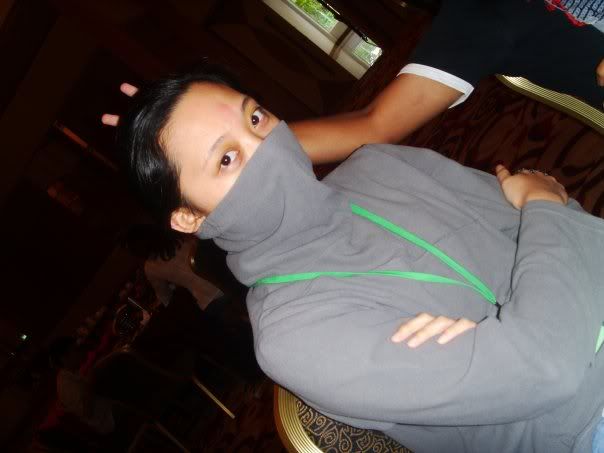 Cool aye?
And the most exciting thing happened was.... I got interviewed by a local station. I informed my mum to watch out for me on tv but my mum was disappointed to see someone else instead of the conference I was attending. Maybe I just got the info wrong. :( But I'm trying to ask the organizer to get the footage.
Here's me asking questions in during the Energy Crises presentation.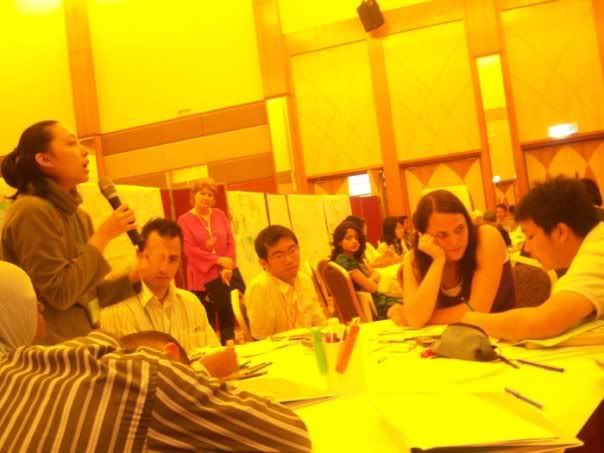 I looked like an evil old witch trying to give out some poison apples....
The day was ended with a performance. My group had a weird short drama but it was fun doing so because we got to do some matrix moves in a fight.
Day 5
The last day!!! So sad! But I think I'm more matured this time because I usually have this strong attachment to events that I find it hard to detach but this time I could control it well... Somewhere in my heart it tells me that this is not the end.
We went to rice field and some villages before we embarked home.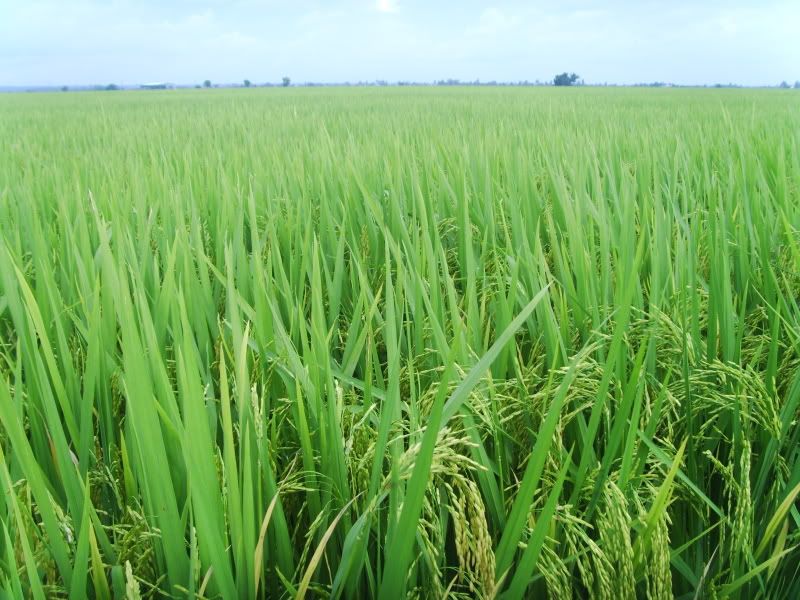 I just love the paddy but it's quite sad to know that there would be a percentage of these paddy have nothing in their husk. This is quite common in some countries....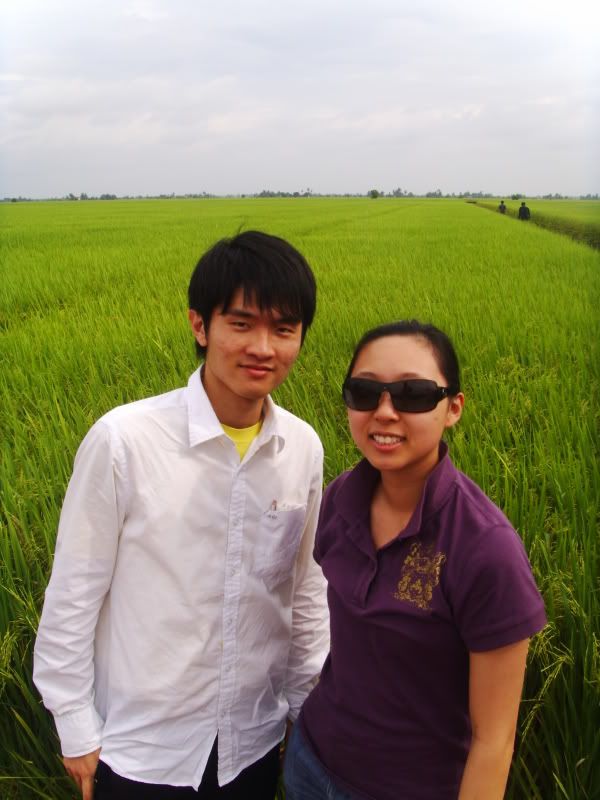 I'm just so cute isn't it?? I really love the background because it is not something I get to see everyday. I really cherish this picture. Yea yea ... not because of you, Mr P.
Lastly, this is another picture I cherish a lot...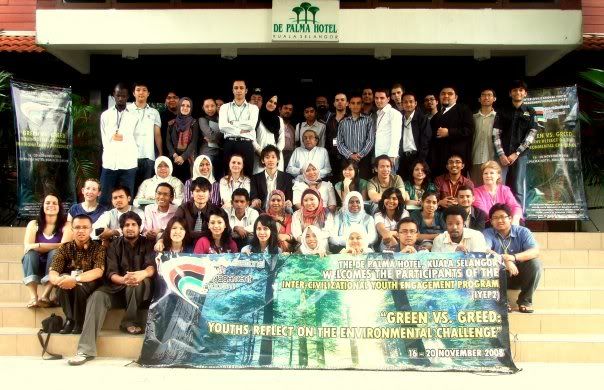 Although we have not known each other for more than 5 days, we got on like house on fire on the first day. I'm happy that we all could chat happily like a big family. And what most I like is how we chat so freely among each other. This conference also strengthened my belief that having friends from the same field and passion is very important to keep you going and happy and motivated. With these new friends, I feel the emptiness gap has closened a little more.
Thank you pals! Thank you Mr P for the pictures!
[Movie ending]
Reporter: Malaysia has a diversity of religion... what do you think of its current state?
Me: Eh? I can't really comment on that...
R: Take an example of the dinner..
Me: Right. On the dinner table, we had Muslims and non-Muslims from Bosnia, Albania, Sri Lanka and such but we never talked about religion. We just talked like what youth do: movies and such. We never looked at each as what religion or ethnic you are but as humans: youth. We entirely look and respect each other equally. People who always preach about dividing religion and ethnicity should really look out of their shell for more exposure. Without exposure, you won't know there's a bigger world out there....
Comment! (10) | Recommend!