I was doing some searching for environmental-friendly products and I found this site that has custom made rings for all occassions. The rings are so pretty!
And the best thing is the trees are not purposely harvested for the rings!
Take a look at the blog!
Wooden Rings from Touch Wood Rings
And it's so romantic to know the meaning of the ring's wood!!! Oh read up on that site if you want to know.
I have also added another green business link that sells organic tees from Africa. Their site is cool!
EDUN LIVE
:
Blank t-shirts
that help create jobs in Africa.
Check it out!
Comment! (7) | Recommend!
My body is now full of junk. Medicine junk. Doctor recently introduced me a new painkiller called Ibuprofen because the previous one called Cerebrex doesn't work. I took the former painkiller innocently until my mum was telling me the danger of Ibuprofen just now. I listened in horror.
The serious side effects:
chest pain, weakness, shortness of breath, slurred speech, problems with vision or balance;
black, bloody, or tarry stools;
coughing up blood or vomit that looks like coffee grounds;
swelling or rapid weight gain;
urinating less than usual or not at all;
nausea, stomach pain, low fever, loss of appetite, dark urine, clay-colored stools, jaundice (yellowing of the skin or eyes);
fever, sore throat, and headache with a severe blistering, peeling, and red skin rash;
bruising, severe tingling, numbness, pain, muscle weakness; or
fever, headache, neck stiffness, chills, increased sensitivity to light, purple spots on the skin, and/or seizure (convulsions)
Ok the less serious side effects:
upset stomach, mild heartburn, diarrhea, constipation;
bloating, gas;
dizziness, headache, nervousness;
skin itching or rash;
blurred vision; or
ringing in your ears.
Lest not these less serious side effects stop you from continuing this medicine? My god. I'm stopping it immediately!! No wonder after eating this pill yesterday, I don't feel anymore pain the rest of the evening and night. But late at night, I had a very terrible stomach upset but I didn't tell that to your mum 'coz I consider this symptom quite serious!!!
And below of the list of the side effects on the source it is stated "This is not a complete list of side effects and others may occur. Tell your doctor about any unusual or bothersome side effect."
OMG. Anyway, if you want to know more of this dangerous painkiller, visit the source where I got the side effects at http://www.drugs.com/ibuprofen.html.
Comment! (12) | Recommend!
Perfume(u) is so hilarious!
I'm so back to my old habit which is watching youtube videos in the middle of my work. Oh well, I decided to take a break after finishing the assigment more than 50%. So what I watched??
I watched Perfume's latest single which is Dream Fighter. I don't really like this song because the beat is just too slow for me. But I like the dance and their costumes sucks.
I decided to use this video because each member has a very balance number of screenshots. It makes me more observant whenever I watch a live performance after hearing Yuko Nakazawa, the former Morning Musume leader, complained that she has very little screenshots as they were often stolen by Natsumi Abe... And I realised in another video I watched [the same performance] on a different location, Nocchi [the girl with the short hair] has at least 8 shots while Kashiyuka [long straight hair] has only like 4-5. Poor thing!
And because I like watching Japanese talkshow that interview the idols, singers and such, I was searching for Domoto Kyoudai - two members who are the host and they are one of the most successful groups in Japan. And I found something I have been waiting for!! It's the interview of Perfume in Domoto Kyoudai with subs!!! The episodes have been in youtube for months but no one translated it. So I was so damn happy!
Just for a short intro. Perfume is Japanese group of three girls from Hiroshima that sing electro or techno music. They became a hit recently with their first single, Polyrthymm and the success ball keeps on rolling... The three members are Kashiyuka, A-chan and Nocchi. Please don't be surprised with their sharp high-pitched voice especially Kashiyuka. If I'm not mistaken, she has the highest pitch. And though they sounded moe [anime characters that have sharp girly voice that err... makes them cute] they can sing very well [without the techno sound] especially A-chan. If you listen carefully, you can hear her vibrato.
Enjoy the interview!
Gosh! Is your laugh making you hurt??!! Oh well, A-chan would be such a great mother! She's so funny!! And innocent?!
Wait, there's more!
Comment! (4) | Recommend!
Monday. 12.15.08
I saw
Xjion89
is joining a contest which is caption contest. I can't resist joining because the characters look soooo cute!!! I feel like strangling all the characters especially the cat and the obese hamster!
Here is my caption!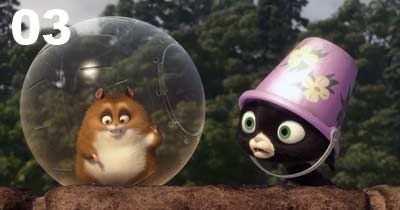 Rhino (the hamster)
: Hehe... You know you need to be as fit as me to be in this ball.
Mittens (the cat)
: EH?! By not having enough of oxygen?!
Have fun! Or join the
contest
Comment! (5) | Recommend!
Argh. My detox is a failure. I did it last week but it was also a failure. Today is also a failure. I need to do it again next week.
Oh... if you have lots of wind in your stomach, try this drink: crush some ginger and mix with honey and water. Drink it warm. I'm going to drink this before I go to bed.
Comment! (4) | Recommend!