Saturday, September 12, 2009
Wednesday. 9.9.09 9:30 am
I have noticed this restaurant sitting quietly in the row of old shoplots, wondering why would a restaurant established in this kind of area, not mentionning the road in front of it is dark and lonely when the night arrives, though surprisingly, it is just behind the buzzing and sort of wedged by shopping malls: Lot 10 and KL Plaza in Bukit Bintang. And this observation has been way too old for me to mention; it is 10 years old. Yes, absolutely correct. I have known this restaurant for over 10 years but I never once stepped into it though the signboard attracted me a lot.
And only after 10 years or so, I finally had my chance to dine into this restaurant tucked away in its own way amidst the bustling shopping malls. It is called Moussandra. It serves Mediterranean and Tapas. It was an accidental visit. I was around Pavilion shopping mall finishing my work and was heading to the monoral station. I was using the non-traditional road or you could call the dark alley (only during the night) and this restaurant is located somewhere along my journey. I stood in front of the restaurant and contemplate whether to enter or not because the road and the shops look so deserted!!!!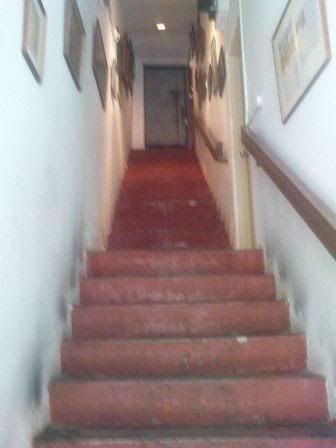 I saw someone drinking at the balcony and I managed to gather my courage and climbed the stairs. Not bad ... I could see lots of review been done on this restaurant which boosted my confidence. And ... the door cracked. No customers at all!! I looked around for that spotted customer and realised it was the chef, not any customer! What to do? I have already stepped in so I meekly asked for the menu. Nothing grand on the menu but those food list surely brings back memories of my work in a Turkish restaurant. Though simple, the menu suits my taste.
I looked at the set lunch price and jumped up! It was RM20 and it is worth of my 6 days of lunches. Argh!! I want to eat but the price... I eventually gave in to my tastebud, thinking this would be an early birthday lunch for myself. I deserve it since I was in a depression mode and I had not eaten any good food since I started working on my new job. So I sat at the corner and looked at every detail of the restaurant's decoration.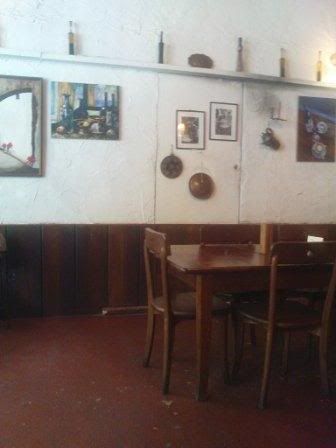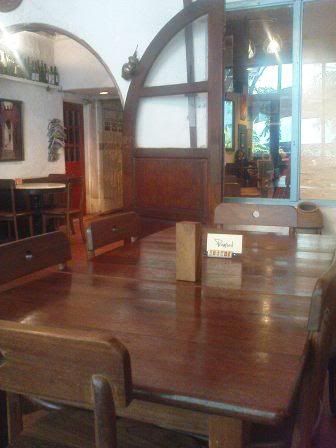 I didn't do any reading like I always do whenever I dine alone. I just sat and drank the sun light coming onto my table area. In the middle of my gaze, the waitress brought water. Thumbs up for the service! And I returned to my gaze....
The waitress walked pretty quietly and the next minute I saw a Spanish omelet in front of me. It looked too cute to be eaten. And I wonder how many of eggs did the chef use to create such height. It must be very high cholestrol for me. But I still digged in!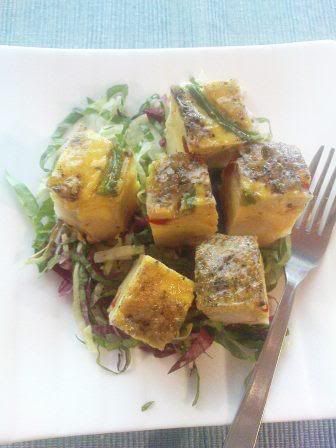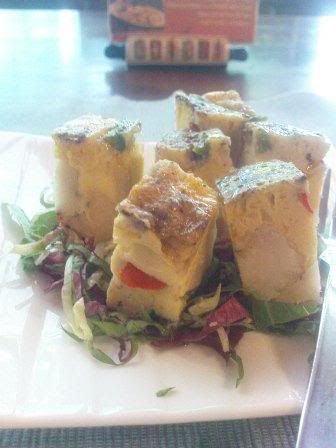 The presentation looks alluring. I carefully poked into one of the eggs and bit . The texture is firm and yet spongy. I don't mind the blandness though. The texture is good to be eaten without any flavouring whatsoever. But I could spot some potatoes in the omelet.
I went back to my gaze shortly after the omelet. This time I waited a little longer for my Pizza de Setas. It was worth waiting.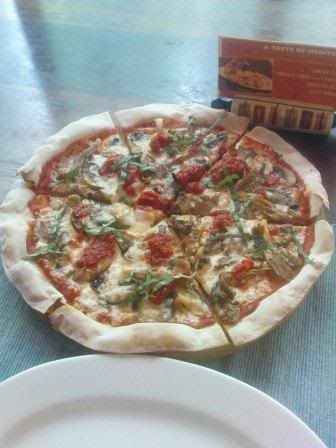 I like the presentation. Not too exaggerated and yet looked mouth watering. I sank the first slice into my mouth. I could feel the tomato puree, oyster mushroom, sauteed shitake and basil leaves blended nicely in my mouth. Without realising, I was already on the second slice. The crispy crust could also be the other reason for my speed eating. The base is light and crispy as though you are eating some freshly baked thinly slice of biscotti. The pizza is so afresh from the conventional pizza.
The dessert arrived before I finished my pizza. Argh!! Don't steal my moment with the pizza!!
It was Creme Brulee. I kept asking the waitress if this is an alcoholic dessert because I read 'Brulee' and she kept on saying no. Haha... I had a choice between homemade vanilla ice cream and Creme Brulee. And I thought I should have chosen the former because I forgotten I don't really like caramel. The caramel was perfectly burned and it was not too sweet. The caramel went well with the smooth pudding. Though I am not a big fan of caramel, I found myself wanting more when I reached the last scoop.
I approached the counter slowly as I looked around the restaurant for the final time. I thought to myself how quaint the restaurant is and yet it gives me peace and comfort. Could be because I was the only customer during lunch hours! I walked down the stairs and glad I left my footprint. I guess I will be leaving more prints there very soon....
Food: 8/10
Service: 8/10
Ambience/ Setting: 8/10
Value: 7/10
Moussandra
Sub Lot B-8, Mezzanine Floor, KL Plaza
179, Jalan Bukit Bintang
55100 Kuala Lumpur
Tel:03-2144 0775
Website: http://www.moussandra.com/index.php
Comment! (7) | Recommend! | Categories: Food review [t]
Tuesday, September 8, 2009
Saturday, September 5, 2009
Reply my entry if you think I'm pretty. Haha.
I hate today's incident. I was waiting for the public bus below my apartment with my usual look: jeans, tee and sunglasses and space-out-look. And all of a sudden, there were 2 crazy guys in a red Proton Wira car coming out of the low cost house (opposite my apartment) whistling horribly in front of the bus stand. I knew they were whistling at me. Don't forget, I was spacing out not deaf. My face didn't turn to their direction but my eyes did. And then they sped off. They came back in less than 5 minutes and stopped right in front of me. And started their whistling and waving at me. I just stood there akimbo. With no change of expression, they went hee-haa and turned into the low cost house. While they were doing that, I didn't know there was this Malay woman who was sitting on the pavement squinting her eyes on me. Detecting the sharp glance, I looked down at her direction and stared hard. Luckily, she quickly looked away because I was about to tell her "mei tai ko leng lui ah' (haven't seen a pretty lass before? in Cantonese). Not surprising, those wolves were Malay guys. Afraid that the guys will come back for me, I entered my apartment compound and waited for the bus. Thankfully the bus came a minute later.
Frankly, this kind of thing comes with the package of having a pretty face. But you know what, I don't even get any attention if I go out with one of my Japanese friends. All guys' eyes on the street will be magnet to her!! Didn't lie because I purposely walked behind her when I noticed all guys were looking at her when I was walking with her. Hmph.
Comment! (4) | Recommend!
Friday, September 4, 2009
You know when people tell you that you are not alone because they will be there for you is something I don't believe in. I will just say thanks because I know it doesn't really work. Because at the end of the day, no matter how much the person can support you, you will be alone.
I remember one of my darkest moments in 2006. My friends keep on saying 'Let's fight together' to me just to make me feel better, but I know that their fight is so different than mine. It is something people don't really understand. What is there for a cheery girl like me need to fight? Why not give her some ward-off-evil charm? Somehow those encouragement made me feel more hollow than before. I prefer silence encouragement. That is why I'm very careful with my words when encouraging friends. I never used words like 'let's fight together' or 'you can do this' instead I try my best to use words that leads to empowerment or realisation on their own. Sometimes I would just keep quiet and minimised my words because presence is much more solid than wordings. And sometimes because no words can reach to that person even though you understand what the person is going through. No matter how much you tell the person you understand, the person will keep on replying 'No you dont' because you don't since sufferings can be similar but it's never the same.
That is why I never understand what is the point of visiting a psychiatrist. Why pay to talk?! Talk on Oprah Winfrey show then!
Where I am now comes from the support of my own mental an spiritually. My family has got nothing to do with this.
So in the end, no matter what I do, I will still have myself for support. So love yourself.
Comment! (3) | Recommend!
Wednesday, September 2, 2009
That was what my student said in my room yesterday.
It was 4-ish and there was a student in my room asking me to help her to fax something. And I did. I came back to my room with her checking on the letter content while I was looking at the screen monitoring
Jolenesiah
washing my restaurant's toilet in my virtual restaurant on Facebook. And suddenly I saw something in white turning around beside the student.
It was obvious.
And then I looked up to that direction and got myself excited and exclaimed "Wow. Did you see that?!" to her. She went blank and repeatedly telling me not to scare her since now is Hungry Ghost Festival. But it was too obvious not too notice!!
As if someone was standing beside her and suddenly the person decided to make a sharp turn enabling me only to catch the turn of the 'sleeve'.
I tortured her by saying "Did you not see?! It was so obvious... It was beside you!!"
Haha. I don't remember her reaction. Oh well, luckily it happened in office not at home when I'm alone. At least there are heaps of people beside me, so I'm not afraid.
Comment! (7) | Recommend!