Marriage is not about sex
Sunday, January 24, 2010
Marriage is not about sex, or is it?
I thought the curiosity to my gender has died down since no one has been telling me to get a boyfriend since my vocal teacher gave me a lectern a few weeks ago. Unfortunately I could not escape from a friend's scrutiny.
Again, I was asked about this boyfriend thing.
This time my friend asked from a different angle. He questioned would I be satisfied without having sex.
Huh?!
I hated this question but he has asked for my consent to discuss on adults topic. But still it's better to kill his curiosity before he keeps on probing me on our future midnight coffee break.
Well, I cannot lie that I never thought of that question but all the time it never strike me as a NEED, it is more of a WANT. And my friend said he salutes me for thinking that way or being able to flush out the sex thing out of my mind and being able to be an urban nun. Well, I just told him the truth because if a person never fantasies about sex, that person is abnormal indeed. And I'm not abnormal to that extent. And hey I like to watch Queer as Folk, ok?? The main male character in that series is HOT. Have not heard of this series??? Ooh.. if you dislike the topic of gay alone, don't bother to watch because it has explicit sex scenes between males. HAHA.
My friend was very curious to know why I don't have the desire to have my own children. Because to him, he feels it's a gift to be able to produce a living thing from a woman's womb. He would want to experience it if he's a woman. But why not me? I don't know. I can't answer this question myself. It might stem out from an incident 12 years ago and then not long after that incident I realised this world is overpopulated and this is straining the Earth. Thus leading me to deciding not to have own children, I decided to adopt. I remember debating over this stupid topic with the narrow minded classmates of mine. I wonder do they remember this! Again, to me pregnant or not is a WANT not a NEED. But I seriously don't mind donating my eggs. It would be interesting to see a child having my DNA and another person's. I wonder will the kid be as beautiful as me. HAHA.
A lecturer colleague reminded me that if I don't have a life partner, to be exact, sex I would end up like those grumpy old virgins in my surroundings like my auntie. HAHA. The scientific reason for this is ... sexual intercourse releases some kind of hormones in a person and this hormone makes the person happy. So no sex, less happiness in short. So my colleague reminded me I would be grumpy if I become an old spinster. Ugh...
So what if you have sex when you are not in a happy marriage? Sex might just one the contributors to happiness. I'm not trying to go against other people's beliefs but it's just this is my belief. And is my sexual life that interesting?
Comment! (5) | Recommend!
Tuesday, January 19, 2010
My workload is now overloaded with letters and appointments. 19 January 2010 was just another day with appointments and running to the photocopy room just to fax and scan letters for some high profile people. Later in the afternoon, my superiors and I attended an appointment with a non-profit organisation. And here were I rushing to that appointment and was so afraid of getting lost since one my superiors and I will make a second lost combo team to
Jolenesiah
and I together. But fortunately we didn't get lost. In fact, the place was quite easy to find until we got lost in the housing area. HAHA.
We reached our destination 5 minutes late because I mislead the driver to another lane. HAHA. But we were just awed by the premise of the NGO. It was just huge, clean and warm (as in welcoming). There was a dog at the entrance - non-identifiable dog type. My superior said "Such cute dog". But when I passed it, it produced the most ferocious bark for its size. Cute dog just don't fit that dog.
We had a fruitful discussion but not the end result. And the next minute we were back on the road heading back to our second home. And me ... asking my superior who was the driver too if I could go home now. And she was bewildered by that statement. She paused for awhile and then asked me "You sure?" I looked back and replied brazenly "Why not?" She paused again. She asked "You can overcome that?" I looked back with a puzzle look "Overcome what?" She answered "Your conscience."
I almost went "What's wrong with me going home?! It's on the way to my home!!!" But I have told her earlier that I would be working from home. So she said ok and dropped me at my doorstep. I was happy to be home because I don't want to come back with my usual rickety bus.
I turned on my laptop to start working. And I realised I was home by 4 pm. HAHAHAHA. No wonder my superior was startled with my request of going home!!! I could not help laughing at myself. Well, I didn't see the time before asking for permission to go home.
So... my bad. *grin*
Comment! (3) | Recommend!
Saturday, January 16, 2010
The flea market at Amcorp Mall today was boring. The sellers there were like selling things for the sake of selling. There were nothing much special except for a few. I stumbled upon a vintage accessories counter. And scrutinize each accessory. But the old couple were quite annoying. I asked for the age of the items. They replied they were more than 45 years old. Right. Next item, also the same answer. And the man said I'm one hell lot of a long winded person. Correct. Because I was trying to ask for the exact age. Not a rough age. It's so vague: all items here are more than 45 years old. I'm trying to look for vintage stuff to be sold online. Age does matter. So I continued looking at every item, and this auntie beside me kept on telling me "Which one do you like, I give you discount... You like the butterfly??? I give you special discount... Yea... you like the butterfly, right?' She asked me that question like every minute. She won't leave me alone. And I cannot tolerate my politeness, I shot back "You said I'm long winded, but you are much more long winded than me. Kept on asking me to buy." After hearing this, the auntie and uncle shut up.
The thing that prevented me from buying is the slight damage to the accessories. I spotted one accessory and it's quite cheap and it's pretty but one of the carvings were gone. I asked the uncle why is that so; he replied it's normal for vintage. I don't think it is normal if you have kept properly. I have seen some items over 20 year old, and they look brand new unless the photos lie to my eyes. But still worth looking through at these flea markets. Never know what gold I can dig.
Comment! (6) | Recommend!
Friday, January 15, 2010
I'm now reading a book called the Memory Keeper's Daughter. The book is well written-in logical sense- and the descriptions are very vivid which it is incredible because you would not get lost in those words. You are guided to what the author wants you to see what she sees. I have just completed 3 chapters but it's already sad.... It's about a doctor giving away his mentally disabled daughter at birth to a centre but his nurse took her in. The doctor lied to his wife that their twin daughter died at birth.
This story reminded me of a true story where a doctor I have visited in a hospital few years ago too have given up his newborn child to an orphanage right after his wife died during labour. I felt sad for the child. The child was born into a comfortable life but been stripped in a second to rags. Opportunities to live a better life were just ... poof at birth. What a karma.
Comment! (3) | Recommend!
Wednesday, January 13, 2010
With the official increased price in sugar, many eateries have increased their products between 20 cents to RM1. I only found that out last weekend when my friend and I were buying San Francisco buy one get one free extreme chocolate. Luckily. But still it has made many things more expensive like Milo in any mamak stall and bakeries. Government is actively campaigning reducing sugar intake among people. But does the campaign help? I never ceased to wonder. It might help not because we realised the danger of high sugar intake but the excruciating burning sensation coming from our pocket. If these production companies are given the license to increase prices on necessity goods, won't it be fair to inform all employers to increase our pay so we could cope with survival?
This is whole scenario is granting the wish of the saying the poorer is getting poorer, the richer is getting richer. But this is very vicious in a way. If consumers have weak purchasing power, businesses won't be able to run in the long run no matter how rich business people are. Because mainly the customers are from the working force.
I could not stop thinking of the welfare of the lower income society though I strongly I'm qualified to be labeled under urban poor. McDonald in Malaysia pay their staff RM4.50 per hour. The pay is below RM50 even after working for more than 10 hours. And to survive comfortably, RM50 is needed to survive for a day in the city. I'm not exaggerating since I didn't mention this meagre amount will be deducted for the compulsory retirement fund. RM 50 is seriously nothing. A clothe for a child in the cheapest supermarket is RM30. What can a parent earning RM50 a day to do?
I could not help thinking for the charities which rely heavily on donations. With the credit crunch on the people, they will just stop or reduce the donation amount drastically.
I'm certainly not surprised to see the rise of crime. It's so much better to try one's luck in robbing and working hard like a dog for just RM50 per day. No wonder kids nowadays want to be a celebrity. They learn a lesson from their parents.
The only thing I could do save myself from the credit crunch is to reduce my food consumption whenever I'm in shopping malls. But is that possible? Or just glue myself to home. That would be the safest way provided my house has noodles for me to cook!
Oh yea, remember to keep an eye on the barista who makes your drink. They tend to throw away your money. See the picture to get what I mean.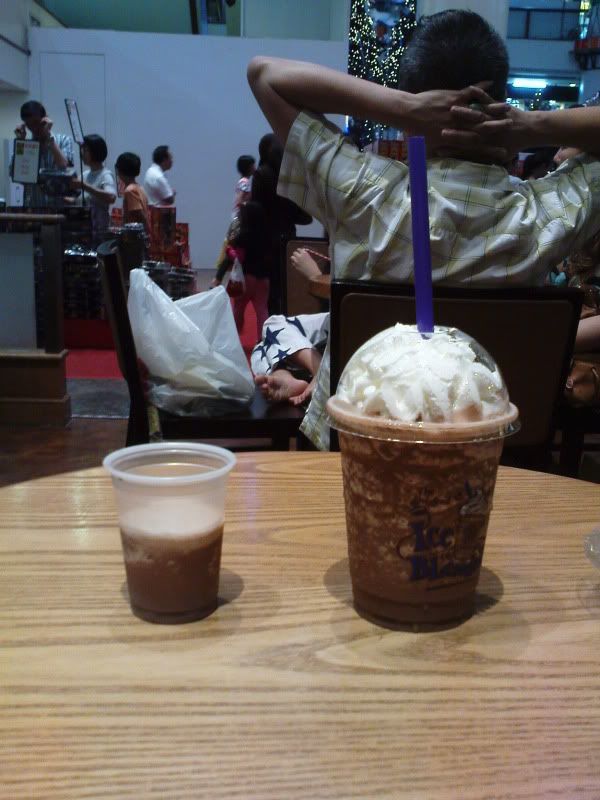 I was in Coffee Bean in Sungei Wang to have a drink while waiting for my friend for Xmas dinner. I managed to prevent the barista to throw the extra produced from my drink. I don't think I would be able to drink without feeling guiltily if I didn't do anything to prevent food wastage most importantly my money. I'm glad I did.
Comment! (6) | Recommend!
Monday, January 11, 2010
Ugh. Some mystery shopping company is just so particular. It gets on my nerve. I have been doing mystery shopping lately for the money. I joined these companies for fun at first but now I don't consider it fun anymore. It becomes more like a rigid chore. Yes, I'm paid to go shopping at certain companies in a shopping mall. And in return I have to write a report to the company. It sounds simple but it is not. It sometimes takes me 3 hours to write one. I remembered the latest I completed my report was at 4.30 am. Oh well that was because I was distracted by the TV. HAHA. But still I dislike writing report though the excel format is user friendly; I just need to write my report according to the listed categories. But still squeezing brain juice to write the scenarios happened during my conduct is not an easy feat. The report has to be detailed from what the staff says to the closing transaction. Not only that, I have to study the shop's environment at the time I entered. I need to observe what other staff were doing... how many customers ... etc.
Shopping became not fun.
The worse part is I need to buy something from the shop though none of the items in the shop suited my taste. But on the bright side, I have two options: Keep the item and get discount or return the item for a full reimbursement. On top of that, I will get my pay, though it is not much. But I get to buy things for myself given in that I don't do shopping at all except window shopping. Yup, it's my habit to buy things until my things are extremely worn out.
I just fixed a report requested by a mystery shopping company. I thought I didn't give a clear explanation but that was not the reason. The reason was I didn't number my comment in a big box, which super irritated me. To make the report more efficient, the creator of the report should just add more columns instead of a big box at the end of the report for further elaboration. In fact, this is the most fussiest company I have ever came across. I need to take a photo of the product and the store sign.... and I need to give the date and time in order to 'bid' for the job. Sigh. It's for the money though, hopefully it is worth!
Though I know I now needed a break from these assignments, I just feel sad for not having any assignments for this month. No assignments no money.
On the brighter side, I think I would have some mystery shopping assignments coming soon as I have given some details to another mystery shopping company and will be applying for another company.
Do you get rich being a mystery shopper? No, that's because you are in Malaysia and there is not many assignment you can get here. But I heard some people in the US earn like 4 figures a month. Well, that's because they are mystery shoppers in every hour in several places in a day. To be frank, you won't enjoy shopping anymore if you do so many assignments in a day unless you have lots of exciting assignments like sleep tester in a hotel or cruise, entitled to 50% discount in some branded boutiques or paid for your grocery. But these examples are unheard or rare in Malaysia except for the grocery. Even still, this assignment is hard to grab. I never got them after trying to bid for like a year.
Don't know what is mystery shopping? In layman terms, you are paid to go into a shop and ask a list of questions with or without buying anything and submit a report after your assignment. If you can't write reports and lazy to do so. Don't dream of being one. These companies are very demanding. You are forewarned.
Comment! (5) | Recommend!