Monday, March 29, 2010
There's a reason I watch Japanese entertainment programs. Not only the guys are cool and gorgeous, but they are damn silly and to some extent stupid. I guess that's what makes theses program salable.
Here's the first example:
Who are these guys? Oh these guys are Japanese idols. The guest is Yamapi. One of the verrrrrrrrryyyyyyy popular male idol in Japan. I'm currently crazy over his band group. Oh well, they have great bubblegum songs that make me addicted to them.
This is just another reason to laugh at these idols. And we all thought good looking people have no weaknesses or something like that. Idols are just humans too.
And Yamapi is BAKA (silly)!
Comment! (13) | Recommend!
Friday, March 26, 2010
I was invited to a grand event on March 26 along with a bunch of friends. The first thing crossed my mind when the invitation was in my hand was TROUBLESOME. That is because I have no appropriate clothing for this kind of event, and I'm lazy to do shopping. I suck at makeup and thinking of the transport is very horrifying because I don't really know where the hotel located.
I thought I could wear my new blouse, but my tailor did a poor job and I was as mad as a rabies dog when I saw the end-product.I was biting the tailor throughout the conversation. But one thing it's also my fault for buying a cloth that makes me look old but I like the design! But that's another story. The tailor sew dark blue buttons on the blouse, which what made me fire up. The blouse is already blue, and it doesn't need DARK blue buttons to match it. I requested for a change, and the tailor kept telling me she doesn't have any other buttons, because she needs to go to the city to buy. Then just do it! There is a real difference of customer service between my tailor in the city and this tailor in the neighbourhood. But still this latter tailor is damn expensive! And yet, my colleague complained that RM40 for workmanship is damn expensive. Hey, I paid RM75 for this poor work. No wonder my tailor charged me RM90 for her quality of work.
Anyways, I solved the outfit problem by picking one of my Victorian lacy blouses. Just love that blouse. But it was a nightmare to iron it. Oh blame on the stupid iron. The top was never smooth and it almost burn it!!! What frustration!
Never mind .... at least I could do a basic makeup.
Well, the event was just ... OK. Many people were there, but they are not there for networking. They were just sticking to their gang. I didn't even see some old timers that I know of except for the ex-fan and the Japanese ambassador's wife. It seems that whatever events I attend, the Japanese ambassador and his wife are there. How sporting the couple are! I'm just wondering why I never had the chance to get to know the ambassador... well... I'm sure there would be a chance in the future. But at the moment, maybe I should just email some acquaintance in the embassies and some other companies that I have switched job.
Ok. Seriously. I was really looking forward to the food. That is what I usually do in all functions. Food! How err ... glutton I am? Anyways... I thought the food was just so-so. The appetiser was ... smoked salmon and don't remember the other two items ... but it was not up to my taste. I just thought a lighter appetiser can be served, as in just only one item instead of serving smoked salmon and chicken and 3 slices of vegetable leafs. I just really thought the appetiser's decor can be more playful. It somehow gave me the thought I could create my own art too. I seriously thought vegetables can be served more? The main course was salmon in white sauce and some purple lettuce wrapped chicken. The salmon was big but why served salmon again? I already had that as appetiser. Why repeat ingredients? The only thing I really enjoy is the Chocolate Mousse Cake (similar). Even that, the cake was 'tight'. The cake doesn't melt in your mouth and you got to chew it. HAHA. But I really like the cake base. It has some biscuits. The mango pudding looked so good but it wasn't when you scooped into your mouth. The same reason as the cake. The pudding solution was just too thick and 'tight'. Pudding should be soft in your mouth but this was hard. I only managed to eat the mango bits on the pudding. I don't like to waste food but I cannot bring myself to finish it. But I finished my friend's Choc cake. =)
Hmm... I really the food in the Legend Hotel and KL Convention Centre.
Oh well, my friends and I made a move before the event ended. It was just too long and I didn't realise my eyes were bloodshot till I went to the restroom. But I don't mind to have a cup of coffee or some drinks after the event! Better not since I seldom do exercise. What does it feel like to stare at the emblazoned sky of stars with a drink in your hand? I never had done that except walking on the lonely lanes at 12 am with the sky watching over me.
It was a great night by the way. And I guess my eyeliner refused to follow me home because I can't find it in my handbag!
Comment! (4) | Recommend!
Wednesday, March 24, 2010
Yikes. I discovered something .... very ... shocking. I realised someone from 'upstairs' degraded my job position. My post is Senior Executive or Coordinator but some smart alek rename it to ADMIN OFFICER.
No wonder, I received so many orders from higher ranks.. and no wonder they keep on asking me to do this and that, as if I'm their PA. My boss asked me to send a reminder to all staff on a tutorial, but I didn't. The schedule recorded the tutorial. I don't it's necessary for me to remind. I need to give the lecturers and students some freedom and independence. I can't be doing everything for them!
Anyways .... I was very unhappy and very angry about the position title stated in the general contact list. My post description states Coordinator not some admin officer. My position is damn different from my neighbour. I'm not some low rank officer. No wonder some admin assistant tries to bully me. Stupid.
I don't really care about the title, but it is just one of the feel good factors. And also a license to order around to get things done swiftly.
I just can't wait for the name imprint on my door....
Comment! (3) | Recommend!
Friday, March 19, 2010
I just received a shocking news from an ex colleague. The news was one of my ex-colleagues admitted to hospital because of colon cancer. What made her care more complex is she is 9 weeks pregnant, but her condition is serious because the cancer has spread to her liver. The doctor has advised her to abort the baby but she refused because the chemotherapy will disable her pregnant again.
Somehow, I feel need to be grateful for my life. I felt recently I have been complaining about my life and I keep on telling myself I'm so fed up with life. To be in the shoes of my colleague is unfathomable. She has a young family and she is only 28 this year. She wants to live so badly and yet I complained about life. I have been so complacent with life...
Somehow, receiving this news makes me remember what I really want to do in life. I may not have the chance to achieve everything on my list, but still it would be great if I have crossed some off the list.
Doctor diagnosed my condition as costochondritis. I'm worried though the information obtained online said it's harmless and it should go off on its own. But my life destiny once said I could die anytime though it may not be my time. How scary and interesting life is. And I still have lots of things to do. I still have not carve my name in history!!!
What do I want to do next? Too many things to name ....
Comment! (10) | Recommend!
Tuesday, March 16, 2010
I have wanted to update the blog sometime ago but I could not find my cable wire for my handphone. HAHA. Just to warn you all that this is gonna be one heck of a long post, maybe, depending whether my eyes are still open or not.
I know I have been repeating myself several times I'm sick with life. Seriously. Every time I open my eyes from sleep I think about money. It sickens me to know I'm
born
to work for money. Is this how life should be? Anyway, anyhow, I was just could care less about life on last Friday. There was annual holiday fair 30 mins away from my house by train. I was contemplating with
Jolenesiah
whether to go or not since leaving home means spending more money. And I hated to spend unnecessary money which I have been doing that for the past few months. But she was lamenting how lucky I was to be able to choose where I would like to go while she is just like a bird in a cage. Hearing that, I changed within 5-8 mins and packed my bag to catch the bus. As if God wants me to go out and air my head from all those stress (two nights before Friday, I spent 10 hours working on a graph, and the night before Friday, I spent 5 hours working on a timetable), the bus arrived when I was walking out of the gate.
I didn't have the heart to go to the holiday fair because I won't be going anywhere since I'm soooo broke. But still I went to look around. To be frank, I was looking out for lucky draws. HAHA. Anyway, I saw my friend working in one of the booths and we chat for merely 2 minutes because she was dead busy and dead tired. So I continue to entertain myself. At last, I saw true entertainment!! I saw a guy holding some birds. At first I thought, it's fake because the birds were not moving. I went nearer and saw the guy holding a toucan and a red parakeet. I petted the toucan ... It was so tame....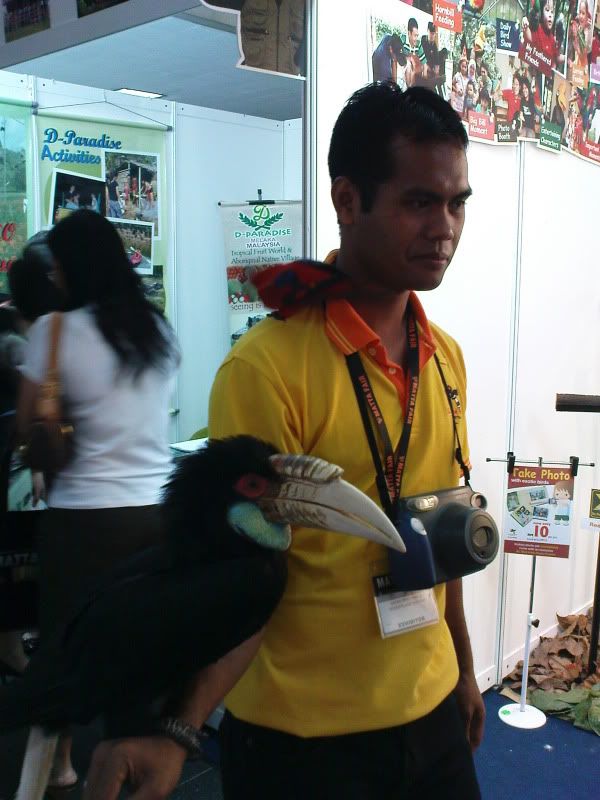 Then I petted the red bird. That stupid bird bit me. I was so shocked. Then the bird trainer told me I can't pet that bird because it bites. WTH. Can't you tell me before I pet? But still mission accomplished since I get to pet it!!!
I continued walking and found a counter selling hotel vouchers. Haha. I bought them ... sort of on impulse... thinking I work damn hard and I deserved a treat. So I bought three hotel vouchers to stay in Equatorial hotel when I go to Penang next week. It is expensive, no doubt, but still getting a good deal with a 5 star hotel.. why not? And on top of that, the package gives me RM100 of food credit?
Elated.. good mood made me walked more rounds till I spotted a counter where there were so many people sitting on the round tables ... discussing on something. I don't understand its posters and I saw the staff holding boxes with lots white paper inside... I got excited! So I asked for more information. An Indian guy attended to me. He didn't smile or looked friendly. He told me to sit and I did. He asked what I want to know. I replied I want to know what does your company do. He asked me to draw from the box which I did. The white paper said "Free 3 days 2 nights in don't-know-what-Cove Hotel in Penang." He then wrote a list of adjectives used to describe products like savings ... useful or something like that. He continued to say "If I were to explain this (pointing to the adjectives) were you join?" I went gag. "How do I join if I don't know what your company does?" He replied "I don't want to waste time talking to you." Wow. Salesperson says the darnedest thing.... "But possible for you to tell me a little about your company?" He asserted "But I don't waste time talking to you if you are not joining." Lucky him, my good mood protects him from being complained but ... "OK. IF YOU DON'T WANT TO TALK TO ME, FINE!" I walked out in mid sentence leaving him in pure shock. The company is called GROUPRIC.
Then ... I saw a rabbit!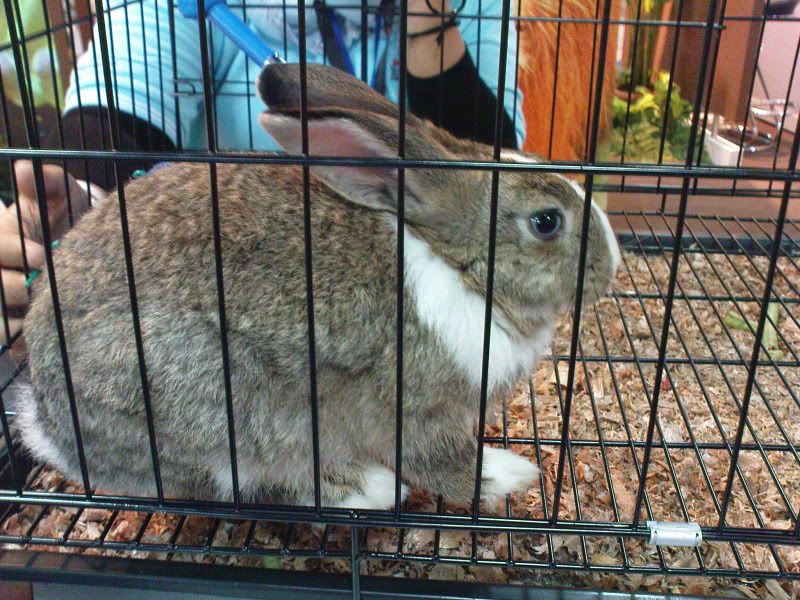 On Saturday... went out to meet some new friends. Cool... Get to eat all afternoon. Renaye is very happy when she is well fed. And I ate instant noodle for dinner... second time in a row while watching ET. Weird combination. And then I got a call from a company to do a mystery shopping. I almost collapsed hearing the dateline but I agreed to do the next day. And I was quite pissed off because usually mystery shoppers are given at least 20 days to complete the task but I was given less than 3 days. But I did because I want to feed my Paypal account. Speaking of it, the company hasn't paid me for my last month's assignment.
So what? I bought a Japanese toyboy single on impulse on CDJapan. HAHA. I can't wait to see those naked guys on the cover. More than semi-naked.
Then back to work on Monday... I thought I was going to die when I had a hammering pain in my chest since 6 am. I thought the pain will go off but it didn't and I had to force a smile when I was meeting some students. It was just too painful for me to carry on my work so I went to see doctor. The doctor said the wind created by my gastric could have pushed the wind into my chest area. She mentioned some inflammation. And advised me to abstain from coffee and gassy drink. I admitted that I have been drinking coffee and Vanilla coke for the past whole week. And I had gastric last Thursday due to stress. Well, spot on then.
In the midst of me having shallow breath, a junior exec tried to bully me. Remember I said I was working on some timetable? The timetable was meant for her. Because she is the main person in charge of that timetable, I just did my part which is to make sure the students could attend two types of field trips on the same day without clashing against my program. And the rest is none of my business. So I just gave her a list of names at 2 am when she has been pestering this list for the past one month. I told her already, I would give the list by Thursday means by Thursday. She doesn't understand that I would give her before 11.59 pm. Anyway, this junior exec gave me a bossy look while asking me "Why you gave me the list like this?" I know what she meant because I gave the list without following the right format but it's not my job. I was already in pain and having difficulty to breathe, and I feel like biting her head off but I decided to play dumb. I replied "What? What?" with an extreme blur expression. She repeated her question tilting her chin towards me. I continued to play dumb and pretend to be busy. I was on sick leave and yet I was working. The MC was just a license to enable me to sleep in office or not completing my work.
And today .. the pain is back but not painful compared to yesterday. The muscle relaxant medicine doesn't seem to work at all... it supposed to make me sleepy or drowsy but I felt nothing. And I got bullied again by that junior exec. I wonder what her problem is. I was leaving a message to a colleague sitting opposite her. It was a simple message but she complained it was too long and I should come back again to tell the colleague myself. She said it with a pouted face. Right... I wonder when is my time to show how high my volcano can erupt. I just can't wait .... Or maybe I should just continue to play I-am-so-easy-to-be-bullied character and see how long it can go. HAHA.
But on the brighter side, I'm burrowing my nose in Lisa Jane Smith books ... Ah ... I love her books... and I will try to write another poem/ lyric while listening to Ayumi Hamasaki song ...
I had such interesting days. I could just throw these things into my story anytime.
Comment! (6) | Recommend!
Thursday, March 11, 2010
Though I only work 3 days a week, somehow I have to work from home on the other days when I'm not in office. It doesn't make any difference if I work 3 days or not. I still feel like working 5 days a week!
Like yesterday, I didn't work but I worked from home. I'm not too sure if I should took up yesterday's assignment when my boss told me she wanted some graphs because there were some auditors coming tomorrow. I saw the types of graph she wanted and I could feel my heart stopped beating because I don't know how to construct those kind of graph. They looked so complicated, and worse, I don't know how to use Microsoft Excel! But looking at my boss how frantic and how stress she is and thinking the graph is related to my current position. Make the auditor happy = my job position is saved. Considering of the advantages I told my boss I will try my best though my fine line means "I could give up any time so don't rely on me."
So I worked on the graph all day yesterday to the point I advertise for help on Facebook. Luckily a friend saw my message and came to the rescue. Actually many friends tried helping me but they didn't understand what I wanted and I could not show them what kind of graph I wanted because the example was considered as private and confidential. I wanted to make a bar graph where the bars are horizontal and the axis x has to be in 100. And the problem is I could not convert the axis into what I wanted. When I got it right on the axis, the bars got shrunk. It was really frustrating. I almost screamed actually. But somehow I managed to get everything right. And I was thankful to myself for not giving up because I was about to send whatever I have completed to my boss to fix the balance. I finally did it. Guess how many hours it took me to figure it out.
It's more than 10 hours. No joke. But what a feat for an Excel illiterate.
You think tonight I can enjoy myself to a movie? Unfortunately no. I have another brain whacking assignment to do before my colleagues in the office scream at my ear the next day. I deserved to be paid more.
Comment! (6) | Recommend!