Top Tier: Dragon Fruit shaped as flowers, Mango Jelly


Bottom Tier: Rice, topped with Tuna & Cheese Omelette, Chicken Tocino, Banana Fritter, Breaded Chicken Strips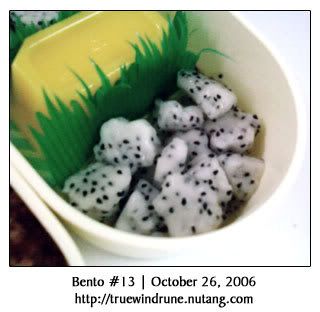 Close-up of the Dragon Fruit-flower
don't tell me
that you cut the dragon fruit into flowery-shaped one by one? O_____O It's friggin difficult isn't it?
»
razzly
on 2006-10-31 04:23:10
XDXD No, no. XD I have a flower-shaped steel cutter for it. :D Thanks for the recommendation.
»
truewindrune
on 2006-10-31 10:47:06
Sorry, you do not have permission to comment.
If you are a member, try logging in again or accessing this page here.