Bento Lunch #9: Birthday Bento
It's my mom's birthday today! Do you know what that means? We'll have the traditional misua (a kind of birthday noodles). For more info about Misua,
click here
.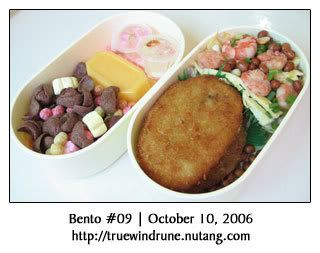 Top Tier: Koko Krunch Cereals mixed with Twix Fruit Cereals and flower-shaped marshmallows, mango jelly, strawberry jelly, pineapple jelly. :P

Bottom Tier: Potato Croquette, Curry Croquette (both from Hatchiin), Misua.
Oh dear, the croquettes I bought from Hatchiin didn't taste as good as I imagine. After a while, I start to get bored eating it. We call it
Nakaka-suya
. I don't know how to describe it in English though. But at least, I packed some yummy stuff for snacks. That certainly evened it out. XD
Sorry, you do not have permission to comment.
If you are a member, try logging in again or accessing this page here.