Thursday. 8.5.10 12:16 am
Shoot...I can't even remember the last time I posted an entry on here and then
LostSoul13
had to go call me out on Facebook and challenge me to the 100 facts thing.
For starters, I am up to the challenge...BUT DAMN...that's going to take me FOREVER. I'll have to get started on it at work and then type it all out later. I think it'll be über fun :)
Here's a recent picture of Greg - we went on vacation and he got to see Thomas the Train (he was really excited here)
He didn't look very happy here (I think he was more confused than anything else) - we might go see Thomas again in September when he's closer to home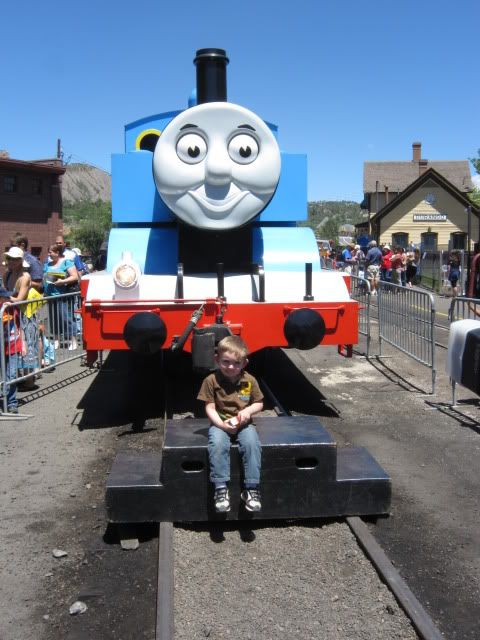 welcome back, pal.
And get to work on that challenge.
»
Dilated
on 2010-08-05 12:20:09
lol - it'll be hard...gotta find time to juggle it into my schedule (okay...who am I kidding...I have TONS of time to do this)
»
lazypuppy
on 2010-08-05 12:21:03
I want to see pictures of Gregory!!!! :D :D :D :D
»
Zanzibar
on 2010-08-05 12:25:24
Welcome back! Jeez, it's been forever!
»
randomjunk
on 2010-08-05 12:25:43
I know, it's been almost a year...I really suck :( It'll be better now! I will be able to post more since Greg is not a miniature handful.
»
lazypuppy
on 2010-08-05 12:30:49
Welcome back! Greg's adorable as always ;)
»
Nuttz
on 2010-08-05 01:02:37
YAY
»
Zanzibar
on 2010-08-05 01:06:27
Sorry, you do not have permission to comment.
If you are a member, try logging in again or accessing this page here.