domingo, catorce de diciembre, 2003
Wow, Saddam Hussein has been caught! Who's next, Slobodan Milosevic? Or perhaps... Osama bin Laden? Whoa... that last one should really be on the top of the list...
19:54
Comment! (1) | Recommend! | Categories: current events [t]
So long, and thanks for all the fish
jueves, 24 de agosto, 2006
Pluto's no
longer a planet
! I'm not surprised at this development, since I got the vibe that a majority of the people didn't think Pluto was a real planet, but I'm still a little sad. Now it will have to be My Very Eager Mother Just Served Us Napalm... or something. (Noodles?)
The Plutonians will be so pissed. In a few hours.
12:15
Comment! (8) | Recommend! | Categories: astronomy [t], current events [t]
martes, 8 de noviembre, 2005
Srsly I still don't know who to vote for. I was all set on voting for Fernando Ferrer six months, maybe even a year ago, but as the day drew near I quickly realized I was torn, 50-50. Bloomberg's reign was definitely better than Giuliani's, but of course this is based on nothing but my cold, hard feelings. Most incumbents remain in office, because I suppose people fear change. I haven't had any chance to watch their debates; I've seen sound bites and criticisms of it. And now the day is here, I'm no longer 50-50, I'm 49-51.
I also have no idea about the other offices, like public advocate, borough president, comptroller, and city council (well the guy in my district is running unopposed, I feel the world has been lifted from me shoulders!). I know I don't have to vote for that, but if you know me I like using things to the fullest extent. There are also ballot proposals to vote on, the only one which I know is Proposition 2 (public transportation). Then again I would not have known anything about anyone if the NYC Campaign Finance Board didn't send me a Voter Guide... which contains a plethora of information, like the guy running for mayor under the Rent is Too Damn High Party (RTD):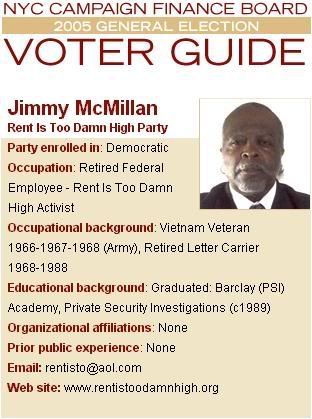 1. WHAT IS THE MOST IMPORTANT ISSUE IN THE CITY YOU WOULD ADDRESS IF ELECTED?
RENT is Too Damn High there is nothing else to talk about. All poor people are being ran out of New York.
2. WHAT OTHER IMPORTANT ISSUES WOULD YOU ADDRESS IF ELECTED?
RENT is Too Damn High there is nothing else to talk about.
3. WHAT MAKES YOU THE BEST CANDIDATE FOR THIS OFFICE?
I am a Rent Activist with real solutions to the High Rent Crisis that is driving everyone out of this City. That is what makes me the best candidate for this job.
You can't make this stuff
up
. He talks like I do... when I was 10-years-old!
11:38
Comment! (2) | Recommend! | Categories: new york city [t], current events [t]
viernes, 15 de junio, 2007
Pluto can't catch a break
: first, it was demoted from planet to dwarf planet, and now it's officially
not even the biggest dwarf planet
out there. Pluto has become the laughingstock of the Milky Way! The enemies he's made in the Kuiper Belt probably think he's getting his just deserts now that he's been kicked out of the solar-system club and his 15 minutes of fame as the sole elliptical-orbit planet are over. Oh well, you will always have the same name as the Roman god of the underworld, although his Greek counterpart was at least 1000x more awesome. Tsk. Can't even win at that.
Edit
: Hot damn, it's been four years and a few days since I first joined.
01:57
Comment! (6) | Recommend! | Categories: current events [t], astronomy [t]
miércoles, 21 de diciembre, 2005
I used to kinda maybe want a bicycle, sort of. Because of the stupid transit strike, now I kinda want one, maybe. Too bad I haven't ridden one in like ten years. Maybe I should buy blades, I can ice skate fairly well for someone who has gone less than once a year since I was nine, if I practice for a few minutes first. Do people still call them blades? I'm old.
20:01
Comment! (1) | Recommend! | Categories: current events [t], subway [t]
'Cause somewhere in the crowd there's you
martes, 13 de septiembre 2005
The idea of 220+ foreign dignitaries within a ten-mile radius of myself brings warm feelings to my heart. And my pants.

My mom's new show is "The Herbalist's Manual." Lollerskates.

Edit: Uh also I saw part of the hearing for Judge John Roberts. He's articulate but beats around the bush.
22:48
Comment! (4) | Recommend! | Categories: cjk tv serials [t], television [t], current events [t]
Mozzarella sticks are delicious
martes, 22 de mayo, 2007
My first cousin once removed got married over the weekend. And that's as far as I understand in terms of English kinship terminology... maybe because I'm unaccustomed to it, but it's too confusing. Like... my mom's first cousin's kid is my second cousin... I think. Okay, my head hurts. I'm just going to keep calling my newly-married first cousin once removed biu gu, as I always have.
The food was okay. I can never understand how abalone is such a delicacy. The wedding cake was too sweet and uninspired. I swear I'm not a foodie! But I've tried regular cake and pie that is more delicious. At our table, we emptied nearly every dish, but around us, lots of plates were still full and they asked for the waiters to bag them up. Methinks they deliberately did it to get free food.
Now I have even more white relatives by marriage. (Though more distant this time around.)
And the bubonic plague is in Denver
o_o
19:04
Comment! (5) | Recommend! | Categories: food [t], chinese [t], current events [t]
At least Typhoid Mary isn't around
jueves, 31 de mayo, 2007