R.I.P. Estelle Getty (Sophia Petrillo)
Sunday. 7.22.08 2:30 am
mood:
sad
listening to:
Miley Cyrus - I Miss You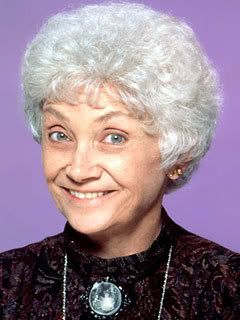 On July 22, 2008, at approximately 5:30 a.m. PDT, Getty died in her Hollywood Boulevard home in Los Angeles from natural causes (according to her manager), three days before her 85th birthday.
Each of Getty's former Golden Girls co-stars reflected on her death: Rue McClanahan told the Associated Press, "Don't feel sad about her passing. She will always be with us in her crowning achievement, Sophia." Bea Arthur said in a statement, "Our mother-daughter relationship was one of the greatest comic duos ever, and I will miss her." Betty White remarked, "The only comfort at this moment is that although Estelle has moved on, Sophia will always be with us."
In honor of Getty, Lifetime TV – which airs The Golden Girls – announced that it would air ten episodes of the series featuring the best of Sophia on Friday, July 25; fan voting for their favorite episode would be conducted on Lifetime's website, with the winning episode being aired last in the marathon.
Thank You For Being a Friend!
You will be very missed R.I.P.
Comment! (0) | Recommend! | Categories: Estelle Getty [t], Sophia Petrillo [t], Golden Girls [t]