Some people aren't lucky like us Some people they just give up
Tuesday. 12.26.06 6:00 am
I'm not alone Even when we're apart I feel you In the air
Thursday. 6.7.07 7:00 am
mood:
Thankful
listening to:
Ashley Tisdale - We'll Be Together
Hello Everyone! I can't believe it's been a whole month since I've lasted updated... I've been back to the doctors I had to have 10 tubes of blood drawn the other day and my tests didn't come back good :( my kidney function was high higher than it's ever been and my vitamin d was low and now I have vitamin d deficiency it was 14 and normal is 30 so that's just something else for me to have to worry about *Sigh* Mom bought me some gummy vitamin's I'm hoping those will bring up my vitamin d! When I went to the kidney drs he told mom to give me vitamin's and see if it helps and when I went to the thyroid drs he gave me some meds for my cold that I have my tyroid is normal thank God! it's just everything else that's been messed up now Please say a prayer for me that next time all my test will come back normal thanks. Last time I wrote about My Pawpaw well he's starting to feel so much better now! I don't think the drs are gonna have to take his toe off after all and I'm so happy :D Thanks to everyone that prayed for him because the prayers worked! thanks again Let's see what else has been going on, My friend Michelle is leaving this Friday for the Summer Friday is her Birthday I was hoping I'd get to see her before she left :( But it doesn't look like I'll get to, I'll be worried about Michelle, flying on a plane by herself I'm sure she'll be alright, But you know me I always worry about everything! Aunt Sue and Uncle Johnny will be here Friday and I think Mawmaw Graham will be here too, I can't wait to see all of them it will be good for all of us to get together I haven't seen Mawmaw Graham since Ron passed away and that's really sad to say. Next week is My cousin Jerri's wedding it's on the 16 the day Ron passed away and she invited us to come and I hope we get to go if something don't come up we are Isn't it odd how one day can bring happiness to one person and sorrow to another meaning Jerri getting married is happiness and Ron dying is our sorrow, you know? Life is a funny thing sometimes huh? Each day brings something new happening to me I'm learning more and more about myself everyday and learning that the friends I thought would always be around aren't and God brings people into your life when your at your lowest and when you need them the most there is always an Angel in disguise watching over you I do believe that, and I know they're watching over me God bought them in my life right when I needed them I was just too blind to see. My Angel Oracle I read tonight said the same thing and I thought that was so odd? Because I was thinking the same thing! It said "Maybe a friend has done something that really hurt you and now you feel disconnected from people you once relied on Maybe you have lost a loved one through death and you feel your heart is breaking You are not alone with what you are feeling!" it also said a lot more I was in shock! It said "This Angel is with you to bring about reconciliation or a new, and healthier circle of friends that are truly friends for you :) This Angel is with you right now to help you understand that death is not an end... and that the love you have shared with the person who has crossed is still very much alive, and well... and that it will help you to feel this connection you still share with them" I think that means Ron. I also think that's a good sign, I needed a sign somekind of ray of hope and I got it! What are the chances that I'd draw that card? one in a million that's why it's a sign I've waited a long time to get a sign, and I finally got one! the one I needed for so long... I feel like a weight has been lifted off of me I can breathe again thank God! You know the saying is true that, "God works in mysterious ways" yes he sure does Like I said before life is funny sometimes, and good things happen when you least expect them to happen :) you never know what can happen in the blink of an eye rather it be good or bad you just gotta have faith and hold on and pray that it will be alright that everything will work out in the end, and if it doesn't work out then it's not the end what's broken will be put back together again and it's not the end. I'm so blessed and thankful for everything I've got a lot more I want to write about before I go, you know I have to write about *everything else* that's been going on for starters, My friend Olivia left Ashley Tisdale Online because she said you never know who your talking to on the computer well, I agree with that and it is so true But I choose to trust My friends thought she trusted us I think she did, But maybe her mom and dad told her to not be on there anymore or someone said something to her either way, that's not like Olivia after all she made all of us signs saying she's glad we're all friends and that she loves us and stuff, you know? that's just so odd? Whatever the reason she left I will miss her and for that short time I was happy to call her My friend <3 and I wish her the best! and I hope she comes back someday. Speaking of Ashley Tisdale I started my own Ashley site I'll post the link to it later! I also got a new Greatest Journal My name there is ashtisdalefan if you have it add me! I've been working on my boards I now have 6 message boards Alanis', Ashley's, Darren's, Keith's, Melanie C, and Tori's and I co-mod a Ashley board with my friends Alyssa and Issa so I stay busy! I just started my Alanis, Darren, and Melanie C board I've had my Tori board since last year, But hadn't fixed it and I decited to fix it up! I need members I don't have that many I need to make banners and promote them I will when I have time I barely have time to updated once a month anymore UGH!! I'm so sorry about that But I can't stop my life I barely have free time for myself lol!and since everyone is coming in this weekend I really doubt I'll have any free time. I did have some free time Tuesday, and I went shopping! I bought Big & Rich's new CD and some Mary-Kate and Ashley Vanilla Pear lipgloss and some Bonne Bell Fanta lipgloss and some Secret Sparkle deodorant and Charlie a toy and me some sandles and a few weeks ago I bought Linkin Park's new CD and Gretchen Wilson's new CD! When I go shopping I shop til I drop and now I'm almost broke But got what I want. Mom bought me some High School Musical lipgloss with Ashley on them I love them and some Bonne Bell Cherry Coke lipgloss and Dad bought me some lipglosses and a lot of other stuff a keychain with my birthstone on it that I love and an S necklace for Shannon I've been wearing it all week :) I need to take some new pics lol! I will whenever I have free time maybe I will this weekend with my camera phone ok? :) Well now that TV season is over I'm bored I can't believe Apollo won Dancing With The Stars my Aunt Sue loves him I was hoping Joey would win I'm sad he didn't lol! I was hoping him and Ian and Billy Ray would be the final 3!! But Ian and Billy didn't make it, it was between Apollo and Joey and I was for Joey all the way it's too bad I would have loved to seen him and Ian or him and Billy Ray battle it out! oh well... Next year I heard Tori Spelling is doing the show I wish Jason would be on there :) But he'll be busy with his BabyGirl (yes they're having a girl) and naming it Shannon Just kidding again lol! But they are having a BabyGirl Tiffany said on TV they were! I also heard Mel B is doing Dancing With The Stars Emma Bunton did the show over in London I wish Mel C would be on there and Darren and Keith that'd be so cool :) In other TV news on Celeb Fit Club Dustin's still being an ass that's no surprize tho and on Charmed School Bootz left So I think the next to leave will be Pumpkin? lol! Jordin won American Idol I knew she would...But I still wish Blake would have won He will be like Clay Aiken and sale million's of CD's I know I'll be buying Blake's CD <3 ER is over for another season boohoo! What will I do without ER? Watch reruns lol! Shane West is a damn good actor! I would love to see him on another season of ER or even do his own TV show? ER won't be the same without him! I'll sure miss him. I'm gonna try to work on my GreatestJournal layout soon I want to try to find a pic of Ashley from the MTV Movie Awards and work on my journal layout and fix it up! One more thing Happy Belated B-Day Ella! and Happy B-Day Michelle! Love ya both Well I'm gonna go look for Ashley pics. Hope everyone has a wonderful weekend. <3
Much Love,
Shan
We'll be together come whatever
Not just staring at the stars
Just remember
That no one else could tell us who we are
We'll be together so don't ever
Stop listening to your heart
'Cause I can't turn mine off
*We'll Be Together* ~ Ashley Tisdale ~
My Ashley Site:
http://www.xoxstaringatthestars.co.nr
My Greatest Journal:
http://ashtisdalefan.greatestjournal.com
~ Big & Rich ~
~ Gretchen Wilson ~
Linkin Park
Comment! (0) | Recommend! | Categories: Angels [t], Aunt Sue [t], Alanis Morissette [t], Ashley Tisdale [t], Ella\'s Birthday [t], Doctors [t], Dancing With The Stars [t], Darren Hayes [t], GreatestJournal [t], Jason Priestley [t], Prayers [t], Keith Urban [t], Melanie C [t], Mawmaw [t], Michelle\'s Birthday [t], Pawpaw [t], Ron [t], Sick [t], Oracles [t], Uncle Johnny [t]
I get the feeling that lately nothing ever really lasts
Friday. 7.13.07 7:00 am
Comment! (0) | Recommend! | Categories: Aunt Sue [t], Ashley Tisdale [t], Bon Jovi [t], CD\'s [t], Darren Hayes [t], Doll [t], Deviantart [t], Ginger [t], Jason Priestley [t], Jerri\'s Wedding [t], Keith Urban [t], Kelly Clarkson [t], Ron [t], Pawpaw\'s Birthday [t], Miley Cyrus [t], Pics [t], Side Order of Life [t], Sick [t], The Spice Girls [t], Uncle Johnny\'s Birth [t]
Monday. 7.7.08 7:00 pm
mood:
excited
listening to:
Keith Urban - Better Life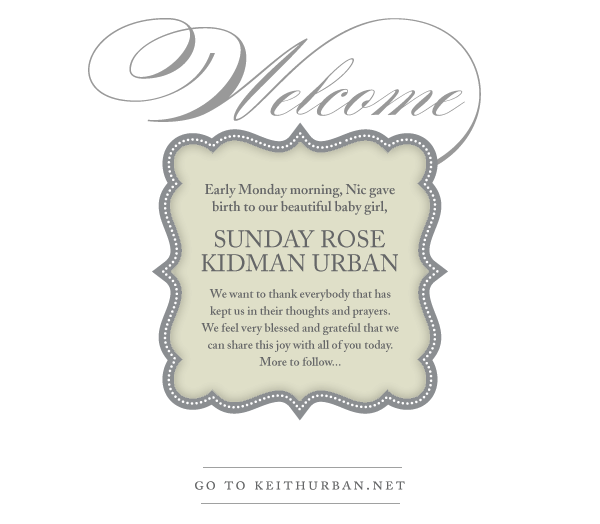 She was born on my Uncle Johnny's B-Day and Rose is Sissy's last name.
Much Love,
Bee
Comment! (2) | Recommend! | Categories: Keith Urban [t], Nicole Kidman [t], Sissy [t], Sunday Rose Kidman Urban [t], Uncle Johnny\'s Birthday [t]
All in love is fair One of us will lose Is it her or me Is it me or you
Sunday. 1.21.07 7:00 am
Thursday. 2.14.07 4:00 am
Comment! (0) | Recommend! | Categories: Anna Nicole Smith [t], Ashley Tisdale [t], Dixie Chicks [t], Grammys [t], Jason Priestley [t], Katharine McPhee [t], Keith Urban [t], Kellie Pickler [t], New Layout [t], Peggy [t], Ron [t], Snow [t], Saving Jane [t], Valentine\'s Day [t]
I can't keep on living Counthing every breath I take
Saturday. 2.24.07 04:00 am
Comment! (0) | Recommend! | Categories: Ashley Tisdale [t], Avril Lavigne [t], Brad Paisley [t], Doctors [t], New Layout [t], Pawpaw [t], Hello Kitty [t], Jason Priestley [t], Keith Urban [t], Katharine McPhee [t], Sick [t], Tori Amos [t]
I don't know how long this pain will last
Wednesday. 4.4.07 4:00 am
mood:
tired
listening to:
Martina McBride - Tryin' To Find A Reason To Stay
WOW!!! It has been a whole month since I last updated with an entry I am so sorry I remember I used to update almost everyday But I've gotten sick of blogging really Anyway it's been warm here lately and I've been out enjoying the warm weather :) Today I went to walmart and I bought Hilary Duff's, and Martina McBride's new CD's I love Martina McBride's new song with Keith Urban called "Tryin' To Find A Reason" It's my favorite song on her CD I'm happy Keith and her did a duet it's about time :) Carolyn Dawn Johnson also sing on Martina's new CD I love her <3 she's so amazing! She has a beautiful voice! the song she sings on is called "Beautiful Again" I love it. Also I bought some Jane Be Pure Mineral Foundation, I've been wanting to try that for a long time But the other brand cost way too much and this was very cheap lol I haven't had on foundation in more than a year stopped wearing it for a long time Maybe I'll start wearing it again??? it all depends on how much I like what I bought. I've bought so much stuff lately I got Elliott Yamin's new CD the other day and it is awesome! I love his song "Wait For You" and "Alright" the whole CD is great love it. Next week I'm getting Avril Lavigne's new CD, and Bucky Convention's CD at kmart, Because walmart doesn't carry CD with cuss words in the CD title that is so stupid! The only cuss word Avril's CD has in it is damn, I don't even think of that as a cuss word. oh well, whatever! kmart will just get my business from now on I don't care. I can't wait until May 1st cause Tori Amos new CD comes out "American Doll Posse" And Miranda Lambert's new CD and 90210 Season 2 DVD and on May 15th Gretchen Wilson's new CD I loved her last 2 CD's, and I'm sure I'll love her new one as well. <3 I ordered Melanie C's new CD from amazon.com and it should be here by April 10th I'm so excited to hear new music from her reviews say it's more rock than her past work that sounds good to me! Mel C was and always will be a rocker-chick at heart like me lol I love my rock music But I listen to everything! like I said I love all types. Speaking of The Spice Girls Melanie B (Scary Spice) had her baby today it was a girl Don't know what she named her yet I can't wait to find out I'm so happy for Mel B. Well what's everyone's plans for Easter? Me, I'll be having Easter dinner with family and maybe color Easter eggs if everyone wants to and sit outside if it don't Snow. 2 years ago on Easter My Dad was in the hospital, we thought he was going to die, Thank God he didn't doesn't seem like it's been 2 years it seems just like yesterday This Easter will be our first one without Ron :( I miss him SO much more everyday! But I know he's watching over us and we will be okay as long as we stick together. Mom bought me a Tinkerbell shirt for Easter and a Pink shirt and a little Pink radio and a BonneBell liplites lipgloss in Creme Brulee it taste just like a Vanilla cupcake! I've made a few new good friends at the Ashley Tisdale Online Forums they are ALL sweet I've already got over 1,000 some post on there I love Ashley I'm addicted. <3 I watched the Nick Kids Choice Awards only watched them to see if Ashley's show would win well it didn't no one won I wanted to except Miley won for best actress Happy Feet won best movie and Nicole was there to accept it wish Keith would've been there and Ashley Tisdale it's too bad they weren't there they should've been other than that the highlight of the show was Gwen Stefani she always amazes me Justin Timberlake was a good host I hope he host again 'cause he was so funny! lol I redid my LiveJournal to Ashley Tisdale my NuTang to Butterflies still have work to do on it and my OpenDiary is Tori Amos I have to work on my layouts this weekend. I've been working on my new website I'll leave a link for everyone to go and visit it And sign my guestbook also I have OpenDiary now for those of you who have that. Well if I don't update again Happy Easter Everyone! <3 Hope everyone has a great Easter with everyone you love God Bless you! <3 I'll try not to wait a month before I update.
Much Love,
Shan
Hilary Duff
Martina McBride
Melanie C
Melanie B "Scary Spice" Has a Baby Girl
Former Spice Girl, Melanie Brown, had a baby girl earlier this morning. Reports say both mother and baby are in good health and good spirits.
The baby, known for now simply as "Baby Brown," has a full head of hair according to a representative for Brown. The baby's name is expected to be bestowed later today.
The little bundle of joy arrived just after midnight after Brown was taken to Saint John's Hospital in Santa Monica. Weighing in at 5lb. 4 oz, the teeny new addition to the family joins Brown and her 8 year old daughter, Phoeniz Chi, Brown's daughter with her ex-husband Jimmy Gulzar.
There is some question about the paternity of the new baby, as seems to be the norm in Hollywood these days, and Brown claims that ex-boyfriend Eddie Murphy is the father.
Murphy, who celebrates his 46th birthday today, questions the claim that he fathered the baby girl who shares his birthdate, "I don't know whose child that is until it comes out and has a blood test," he said in an interview in December.
http://www.thinkfashion.com/blogs/stylosity_hollywood_hookup/archive/2007/04/03/melanie-b-scary-spice-has-a-baby-girl.aspx
My Website
www.xoxlovemeformexox.co.nr
Open Diary
http://www.opendiary.com/entrylist.asp?authorcode=D710437
Jane Cosmetics
http://www.janecosmetics.com
Comment! (2) | Recommend! | Categories: 90210 [t], ashley tisdale [t], avril lavigne [t], awards [t], carolyn dawn johnson [t], easter [t], family [t], friends [t], gwen stefani [t], hilary duff [t], justin timberlake [t], keith urban [t], martina mcbride [t], melanie b [t], melanie c [t], new layout [t], open diary [t], ron [t], snow [t], tori amos [t], weather [t], web site [t]