Watch the latest episode of 24 for FREE!!!
Wednesday. 1.24.07 5:27 pm
Fox On Demand
Beginning today, consumers can access previously-aired episodes from FOX's returning hits and new fall primetime series including Bones, Prison Break, Standoff, Vanished, Talk Show With Spike Feresten, 'Til Death, The Loop and Justice. Additional episodes of these and other FOX shows will be made available throughout October and November. On-air promotions during MLB broadcasts will push viewers to the sites to catch up on their favorite FOX shows through FOX on Demand.
Click
here
for the link!!!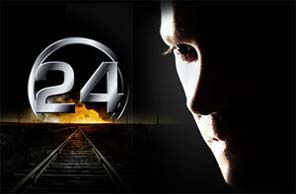 NOW ALL 24 FANS CAN ENJOY THE LATEST EPISODES AT YOUR OWN CONVINIENCE.
Comment! (5) | Recommend! (3) | Categories: Fox on demand [t], 24 [t], season 6 [t], jack bauer [t], bones [t], prison break [t], vanished [t]
Saturday. 3.3.07 4:37 pm

SEASON 6
4:00 - 5:00
Ok, this episode was the WORST episode of my entire life!!! I was so confused and it was sooooo super boring. Nothing really happened in this episode. There was no killing, no espinage, no torture and no hostage!!! I could not stay awake. What are the producers thinking???????
Comment! (1) | Recommend! | Categories: jack bauer [t], 24 [t], season [t]