Tuesday. 11.14.06 5:59 pm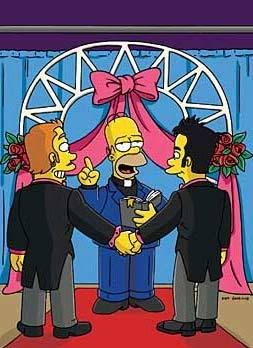 Should gays be allowed to get married. Heck why not?? You know, alcohol was made legal and you have drunks and alcoholics in our midsts all the time. There are gays and lesbians everywhere. If they want to get married why not? If an alcoholic wants a drink, give him directions to the bar. Who are we to judge the good from the bad, the evil from the righteous? I am a christian but I dont believe in controlling peoples lives. The catholic church BELIEVES that Jesus never married. I believe differently. I think he did get married.
My questions to the church would be....
1. Jesus was a man right? Yes.
2. He was born of flesh and blood? correct.
3. He was able to be tempted by satan? That is correct.
Then if he never married, why did he have 12 men following him everywhere??!!
Comment! (12) | Recommend! | Categories: Gay [t], Lesbian [t], homosexuality [t], marriage [t], gay marriage [t], same sex [t], [t]
Does Courney Cox slip Jennifer Anniston the tongue?
Thursday. 2.15.07 2:38 pm
Courteney Cox makes out with Jennifer Aniston in next month's season finale of FX's Dirt, but Cox is downplaying the lip-lock.
READ MORE

Comment! (1) | Recommend! | Categories: lesbian [t], Dirt [t], Courtney Cox [t], Jennifer Aniston [t]
Friday. 2.16.07 6:30 pm
Have you ever had someone of the same sex hit on you? My student worker was sharing her experience. She was in the womans shower locker room. She walked into the athletes shower room and walked in on two girls kissing. She totally freaked out!

Comment! (5) | Recommend! | Categories: Lesbians [t]
Malaysia to ban lesbianism
Monday. 12.1.08 5:27 pm
"A Malaysian religious leader has spoken for the first time in detail about the ramifications of the fatwa passed last month that ruled against women indulging in activities deemed as 'masculine,' including lesbian sex and dressing like a man."
OK WELL I LIKE TO WEAR BOYS OR MENS TEE SHIRTS BECAUSE THEY ARE LARGE AND COMFORTABLE WITH A PAIR OF JEANS...
Speaking to the New Straits Times he added that the manner of dress was only one aspect of 'masculine' behaviour by women the council sought to condemn.
"Although this also includes the dressing of the person and not just the way she behaves, the way of dressing is just one aspect of what makes a 'pengkid'" he said.
When asked why the council went to such lengths as to rule on what women could wear, Mr Aziz identified seemingly innocuous actions such as dressing in a masculine way as something that could lead on to greater 'crimes' such as lesbianism.
"Not only is the act forbidden, but any act that may lead to the actual act is also forbidden," he told the NST.
*****
I have to laugh because it takes more than they way a woman dresses to make her a lesbian. Look at Hillary Clinton, she is married, wears suits but she walks the line there... Hmm???
Comment! (18) | Recommend! (1) | Categories: malaysia [t], lesbian [t]