Wednesday. 4.4.07 11:45 pm
It is done and I am coherent. I had a discectomy because I had a completely herniated disc. I heard that the doctor told my friend that it was HUGE. He does not understand how I tolerated the pain as long as I did.
THAT CUZ I AM A WARRIOR PRINCESS... damnit! hee hee.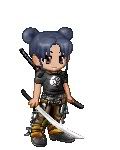 So after the surgery I had coffee. I know. I was thirsty and did not get my coffee that morning. Since I was able to hold down the coffee without feeling like puking they said I could eat anything I wanted. Whoo hoo! Where is the BUFFET!? My best friend, Hiroko, took me to an all you can eat chinese buffet then she took me home, tucked me in the bed and waited for me to sleep. She stayed until 8pm. I LOVE her soooo much. She called my dad and my mom and told them that I made it through and that I was doing just fine. Then she had me talk to them. I was doing great but groggy..
Thank you everyone for all your kind thoughts and prayers.... I cannot be greatful enough to all of you!
Comment! (12) | Recommend! | Categories: surgery [t], orthopedic surgeon [t], disc [t], family [t], Hiroko Hojo [t]