If I wanna smoke I'll have me a fag
Wednesday. 3.19.08 1:58 am
Brief intro to my (blog) outburst... society feels it is right to judge others. I feel it is none of their business. Some people have such boring lives that they have too much time on their hands. So they spend their time pointing fingers at other people. This is a free country and people choose to do as they please.
(now to begin my rant)
I want to make a strong statement here and that is I want to do whatever it is I want. We live in a free country and I feel that if I want to go to church, I will. If I don't want to go to church. Then I wont. If I want to have a drink then I will make it a double. If I want to smoke then I will have me a fag... (british for cigarette). If you were thinking of the word "gay" then let's talk about it. If or when I want to kiss a girl or be gay then I will.
Why does society judge you? I think as long as I am not murdering someone why is it wrong to be or do whatever I want? If I am gay, who am I hurting? If I smoke or drink in my own home, who am I hurting? If I go to church or don't go to church, does that bother you? Who am I hurting? That's right. Me. So then, why judge me?
I am not saying that I do any of these things but I think people place so much emphasis on who THEY are and what THEY do that they expect you to be the same way. Well, you know what? EMBRACE DIVERSITY BABY or get off the globe!
Comment! (3) | Recommend! | Categories: smoke [t], gay [t], freedom [t], diversity [t]
Tuesday. 11.14.06 5:59 pm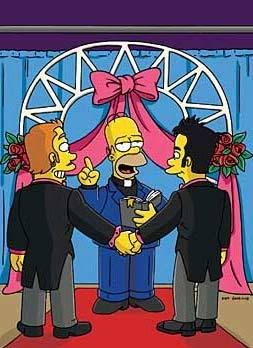 Should gays be allowed to get married. Heck why not?? You know, alcohol was made legal and you have drunks and alcoholics in our midsts all the time. There are gays and lesbians everywhere. If they want to get married why not? If an alcoholic wants a drink, give him directions to the bar. Who are we to judge the good from the bad, the evil from the righteous? I am a christian but I dont believe in controlling peoples lives. The catholic church BELIEVES that Jesus never married. I believe differently. I think he did get married.
My questions to the church would be....
1. Jesus was a man right? Yes.
2. He was born of flesh and blood? correct.
3. He was able to be tempted by satan? That is correct.
Then if he never married, why did he have 12 men following him everywhere??!!
Comment! (12) | Recommend! | Categories: Gay [t], Lesbian [t], homosexuality [t], marriage [t], gay marriage [t], same sex [t], [t]
Friday. 3.2.07 10:06 pm
Gay, Straight, or Taken
I am not feeling well. I am actually feeling kind of dizzy from the sinus infection and I am just sooooo sleepy. So I am at home in bed watching episodes of Gay, Straight, or Taken. It is SUCH a funny show. You guys have to watch it. The youtube vids do this show no justice. If you watch it I bet YOU could not tell which was which. I know I cant !!
About the Show
Mondays at 8 pm et/pt
You can't help but notice that cute guy at the gym, in the bar or around the neighborhood. You smile at each other. And all you're thinking is one question...
Is he gay, straight or taken? Well, now you can find out how your intuition measures up by watching this new kind of dating game. It's a dating game with a twist like no other.
One woman meets three men for a series of dates and then must decide who is gay, who is straight and who is taken. She has to select the one straight, single man in the trio in order to win a luxurious dream getaway for her and this available bachelor. If she makes the wrong call, the man she incorrectly chooses gets her prize instead!
Think you can figure out who's who? Play along and find out! As you observe this woman spending time with the guys one-on-one and in a group, you can test your guydar with an online scorecard. Or grab your phone and text us the name of the guy you think is straight and single.
Comment! (3) | Recommend! | Categories: blog [t], blogspot [t], nutang [t], youtube [t], gay [t], straight [t], taken [t], lifetime [t]