Wednesday. 7.5.06 11:44 am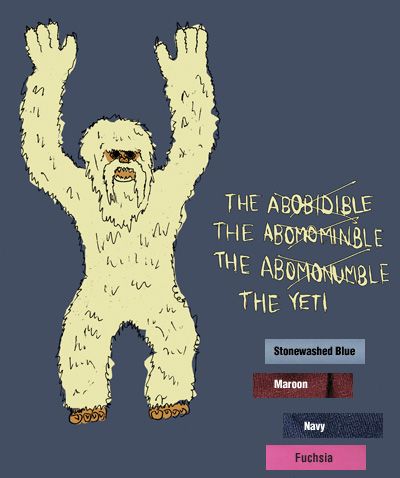 I was gonna buy this dammit. Now it's retired. I talked to Zach and he said that he could work something out with the sheep poster. meh. I'll ask about the yeti shirts. If they're not available...then I'll wait for the new design.
Oh yeah, and I'm planning to go around Port Jeff and hang up the comics to promote the site. Haha. And we'll take pictures.
Sooo... any volunteers?
You know what's depressing? When people leave. So I constantly visit the Turks Lounge even though it's like a waste land. It's barren and no one else is going. The photobucket images that say "This picture is no longer here" or whatever fill the forum. What sucks is that the forum creator never came to say that it's dead. And just now I was looking at old friends' NuTang sites and how they're like...empty.
I guess I really don't like change.
Join the forums at
animalshaveproblemstoo.com
EDIT>>
So myspace is just messed up right now. I'm still "friends" with this music myspace, but it's not showing. And apparently he didn't delete the account. The problem is that I can't find the profile. I asked the person in charge of it (he has his own) but the link he gave me looks different than it was. The weird thing is that everything changed. All of the songs, the amount of friends, no comments, blank. Whatever. It's just been bothering me that myspace still can't work regularly.
i LOVE that comic. Dude do you read any other dayfreepress comics? I love Dr. McNinja and QC.
»
(65.185.10.186) on 2006-07-05 12:37:46
shit, forgot to log in. That was me
»
redintersectsme
on 2006-07-05 12:41:27
empty things are always depressing...
I
LOVE
that t-shirt! I would have bought it if I had... a whole lot more money. lol
Yes, many of his animals' problems are quite hilarious. I love the bee with allergies. "Great, irony." lol
»
invisible
on 2006-07-05 02:20:49
Thats yeti think is so cool!
ugh myspace as been playing tricks with me too. I think they cleaned up all the musice profiles or something to prevent like... people making profiles for bands so they can put up whatever music they want (like i would do) except those types of profiles got deleted! =(
»
monkeymeister
on 2006-07-06 02:36:27
If you are a member, try logging in again or accessing this page here.