Tuesday. 8.31.04 8:35 pm
Hmm, does it make sense to say R.I.P for a dog? This is just really sad. I'm gonna miss her.
Well, Kevin sent a message to me on myspace and I accepted his invite to be friends or whatever, but we're already friends. Anyway, I talk to him on AIM and I check his myspace profile. I look at the pics and one of the captions: "WHY DID U HAVE TO DIE RIPLEY!!!!!!!!" I was thinking: "WOAH! W-w-what?" I IM him about it and he said yeah. He explained that she wouldn't just eat and her legs gave up on her.
I'm seriously going to miss that dog. I mean, she was 13 and ofcourse that's old for a dog, but I don't think it was her time to go. I've known that dog for a really long time, and I haven't been able to see her before she left. I'm just really upset that Ripley died. Ripley was definitely a good dog and had a good heart. I just hope that Cocoa doesn't get lonely or anything now that Ripley's gone.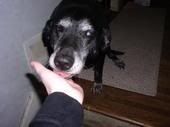 I will always remember you. You are one of the numerous dogs I've known who have departed from this world.
"Dying seems less sad than having lived too little."
-Gloria Steinem
EDIT__________________________________________________________________
I'm reading Ishmael. So far it's enlightening. Seriously. It's good so far. I'll finish it tomorrow morning because it's not that huge.
water
i drank their water actually. ahhah. it tasted kinda gOod. well it depended. in one bottle thingy it tasted weird and in another it was ok. yeah, my mom was like askin me if the water tasted gOod n stuff. that's so sad for that poor dog =( yes, may the dog r.i.p. ahhahaha you have a myspace tOo?! deeeng erry1 has that now! i remember it was like a year ago my fren made me join but i dint think much of it..until this year i started findin ev'rybody! how funny. well ttyl! peeeceeezy!
» your_punkrock_princess on 2004-08-31 10:16:39

poor doggy. =(
» 2%milk on 2004-08-31 10:46:23
Sorry, you do not have permission to comment.
If you are a member, try logging in again or accessing this page here.