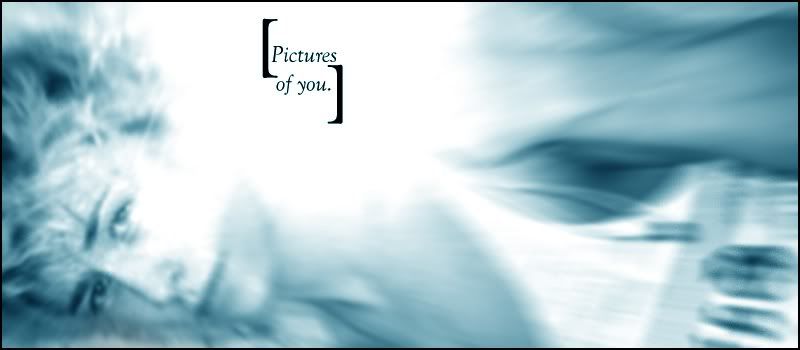 Spring Semester 2010:

* Teaching: Fundamentals of Microbiology - MW 12:00-2:40p
Medical Microbiology - TR 2:00-3:15p
Colloquium in Cell and Molecular Biology - R 3:30-4:30p
Thesis Research - Identification of T Cell Subsets and Immune Response in Colon Cancer Using Immunofluorescence - FOREVER AND EVER

Or rather, entries from the old journal, as it were...

-

An open letter to the College.

(August 27, 2006)

-

Untitled.

(July 16, 2006)

-

Haunted (Part One)

(May 29, 2006)

-

Are we growing up, or just going down?

(May 3, 2006)

-

I had a dream...

(March 19, 2006)

-

...

(March 14, 2006)

-

Enjoy it while it lasts.

(September 12, 2005)

-

Scene: 3:27 AM.

(September 3, 2005)

-

Untitled.

(July 26, 2005)

Psst... if you're looking for the academic writings I used to have here, head to my Reading Room.

Since June 2006...

- A Heartbreaking Work of Staggering Genius by Dave Eggers
- High Fidelity by Nick Hornby
- Travesties by Tom Stoppard
- The Way of the Shaman by Michael Harner
- The Tao of Pooh by Benjamin Hoff
- Nervous Conditions by Tsitsi Dangarembga
- The History Boys by Alan Bennett
- The Dark Child by Camara Laye
- Movie-Made America by Robert Sklar
- Diary by Chuck Palahniuk
- Rant: An Oral Biography of Buster Casey by Chuck Palahniuk
- Galapagos by Kurt Vonnegut
- The Dead Emcee Scrolls by Saul Williams [61.3%]
- Atonement by Ian McEwan
- Junk Science: An Overdue Indictment of Government, Industry, and Faith Groups that Twist Science for Their Own Gain by Dan Agin, Ph.D. [64.4%]
- So Yesterday by Scott Westerfield
- Lucky Wander Boy by D.B. Weiss
- The Things They Carried by Tim O'Brien
- Doctor Who: The Key to Time: A Year-by-Year Record by Peter Haining
- Why Buffy Matters: The Art of Buffy the Vampire Slayer by Rhonda Wilcox
- When You Are Engulfed in Flames by David Sedaris
- The Road by Cormac McCarthy
- 1984 by George Orwell [18.8%]
- Nick and Norah's Infinite Playlist by Rachel Cohn and David Levithan
- Intuition by Allegra Goodman
- V for Vendetta by Alan Moore and David Lloyd (Yes, I realize it's a graphic novel but it still fucking counts!)

Wednesday, December 27, 2006

...and so little motivation to do it. I want nothing more than to just lie in bed for the next, oh, 48 hours, but there are things that I should be doing. ("Should" being the operative word.)

- Work on CV to apply for an internship at a biotech startup, then actually send it out.

- Return overdue library books to not one, but two libraries which happen to be a good 15 miles apart. Normally, this isn't a big deal except that I really don't feel like driving right now. I don't even want to go outside to brave the 40 mph gusts of wind.

- Figure out the limitations on the cross-enrollment policies between the CSU system and the CCC system. If they let me cross-enroll in a graduate-level biology seminar (such a wonderfully exciting title, too: "Molecular Mechanisms of Cellular Activation") at San Jose State, that would be great. And possibly $400 less expensive than enrolling for the seminar through Open University.

- Finish solving

this puzzle

at

thelogicfiend's NuTang

.

Actually, I think I'll work on the last thing right now. Probably not the wisest use of my time, but whatever, whatever, I do what I want.

Comment! (1) | Recommend!

Wednesday, December 27, 2006 @ 10:14 pm

Please tell me the worst is over.

Tuesday, December 26, 2006 @ 5:20 pm

Well, well, well... what an excellent way to begin a new year of life. I had the chills for the last several hours that accompanied an inexplicable stomach ache that wouldn't go away no matter how many times I went to/how much time I spent in the bathroom. If that weren't enough, I felt nauseous and threw up once or twice. Totally hot, I know.

I thought it imprudent to take a pain reliever; immunology tells us that the fever response is necessary to make your body inhospitable to foreign pathogens, viral or bacterial in nature. So I let it burn within me. I'm a little sweaty now, which feels totally gross, but I'm optimistic that the worst is over. Bring the Tylenol on.

Now I'm a little hungry. I haven't eaten since this morning when I ate a tiny piece of bread. I could barely stomach it. Now it doesn't disgust me so much--the concept of eating. Hopefully that'll last through dinner time.

Here's to hoping your day's better than mine!

Comment! (1) | Recommend!

Tap-tap-tap-taptaptaptap. Tap.

Tuesday, December 26, 2006 @ 5:54 am

That's the sound the mouse makes when it's trying to chew through something in your room at 5 in the fucking morning.

SHUT THE FUCK UP, YOU INFERNAL DISEASE-RIDDEN CREATURE FROM HADES!

That sound is DRIVING ME INSANE and every time I try to go back to sleep it's always

tap-taptaptap, tap, tap-tap-taptaptap, taptap, tap-tap!

I think it may be time to invest in a mousetrap. And PETA be damned because I swear to God and all that is holy that I will destroy this creature in a way befitting the vermin, by which I mean VERY inhumanely. (I mean, I

would

poison the fucker, because that shit kills you slowly and painfully at a cellular level, but I don't want any smelly surprises and really, when you're a little sleep deprived, that sort of murder plan just isn't exciting enough to quell your restless soul.)

Comment! (0) | Recommend!

A new year of life, a fresh start on Nutang, and a small morsel of optimism.

Tuesday, December 26, 2006 @ 11:35 pm

I finally deleted all my old entries (almost 250!) from this journal. I archived them and will probably end up posting them elsewhere (protected, of course), but as far as this site is concerned, this blog has no history. Those entries were never written. It's time for a fresh start.

Something to remember around this time of the year: the darkest days are upon us, but it only gets brighter from here on out.

Until then, keep those candles burning brightly!

Comment! (0) | Recommend!

"Happy birthday, Jesus. Sorry your party sucks."

Monday, December 25, 2006 @ 12:44 pm

In about 4 and a half hours, I will become 23 years old.

With every passing year, the stakes grow ever higher, and as with every situation where high stakes are concerned, I find myself wanting ever more to fold under the pressure.

Ain't gonna happen, bitches.

Bring it the fuck on, 2007. I'm gonna kick your ass so hard you'll vomit my stylish fuck-me shoes.

Comment! (0) | Recommend!

Let's pretend that I was blinded by bliss for just a little longer.

Sunday, December 24, 2006 @ 6:54 pm

I am dead tired. All of a sudden, too. I didn't sleep until late last night--making flan and all--but I wasn't tired. I guess I was just excited about the party my family was having. I love it when the entire extended family gets together in one place...even if I act kinda awkward around them. I guess when I went off to college, I got used to being around a completely different set of people. Not-relations. I feel like I can relate (ooh, pun!) to not-relations better than I can to my own family most of the time, although even then I'm a bit awkward-turtle at first.

I woke up this morning pretty early (considering it's a Sunday) to prepare mango creme and red wine creme. The flavors were beautiful and the textures were so smooth. But who was I cooking for? And for what purpose?

Throughout the party, I thought about this some more. At times, it must have seemed to everyone that I was somewhat detached from reality--though they may already think that ordinary at parties since I tend to be pretty much the only person who drinks in appreciable amounts. I only really snapped out of it when I was complimented on my desserts. And that's when it hit me that I wasn't cooking for the sake of enjoying it (even though I do), but rather to impress others.

I am a black sheep in a golden boy's clothing. I do things for praise and approval because I am unsure of myself and my own abilities. I need them to tell me how I feel about things. When I am successful, I am happy because others are happy.

Those are strings, Pinnochio, and even though you think you're a real boy, you need to break free and make your wooden-simulacrum-of-a-body into flesh. If you're going to stand, then stand on your own two legs. If you're going to smile, smile with real teeth. If you're going to suffer and bleed, then bleed your own blood. The point is you can't go around being dependent on others forever. Grow a pair.

Alright, boss. Sounds like you got it all figured out.

Yeah, I do.

Easier said than done, buddy.

Well, at least this is a step in the right direction. Snap!--and a silken strand, barely visible, slowly sliding through the vast emptiness behind him...

Comment! (0) | Recommend!

Sunday, December 24, 2006 @ 6:42 pm

Because not every entry can be a downer. :)

Hope you're having/you've had/you will have a good one.

Comment! (0) | Recommend!