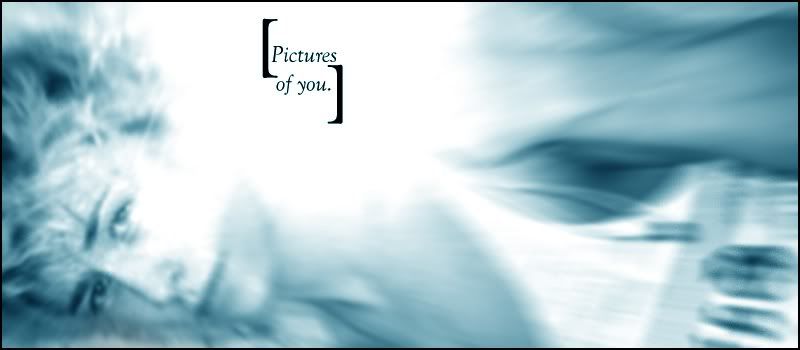 Spring Semester 2010:

* Teaching: Fundamentals of Microbiology - MW 12:00-2:40p
Medical Microbiology - TR 2:00-3:15p
Colloquium in Cell and Molecular Biology - R 3:30-4:30p
Thesis Research - Identification of T Cell Subsets and Immune Response in Colon Cancer Using Immunofluorescence - FOREVER AND EVER

Or rather, entries from the old journal, as it were...

-

An open letter to the College.

(August 27, 2006)

-

Untitled.

(July 16, 2006)

-

Haunted (Part One)

(May 29, 2006)

-

Are we growing up, or just going down?

(May 3, 2006)

-

I had a dream...

(March 19, 2006)

-

...

(March 14, 2006)

-

Enjoy it while it lasts.

(September 12, 2005)

-

Scene: 3:27 AM.

(September 3, 2005)

-

Untitled.

(July 26, 2005)

Psst... if you're looking for the academic writings I used to have here, head to my Reading Room.

Since June 2006...

- A Heartbreaking Work of Staggering Genius by Dave Eggers
- High Fidelity by Nick Hornby
- Travesties by Tom Stoppard
- The Way of the Shaman by Michael Harner
- The Tao of Pooh by Benjamin Hoff
- Nervous Conditions by Tsitsi Dangarembga
- The History Boys by Alan Bennett
- The Dark Child by Camara Laye
- Movie-Made America by Robert Sklar
- Diary by Chuck Palahniuk
- Rant: An Oral Biography of Buster Casey by Chuck Palahniuk
- Galapagos by Kurt Vonnegut
- The Dead Emcee Scrolls by Saul Williams [61.3%]
- Atonement by Ian McEwan
- Junk Science: An Overdue Indictment of Government, Industry, and Faith Groups that Twist Science for Their Own Gain by Dan Agin, Ph.D. [64.4%]
- So Yesterday by Scott Westerfield
- Lucky Wander Boy by D.B. Weiss
- The Things They Carried by Tim O'Brien
- Doctor Who: The Key to Time: A Year-by-Year Record by Peter Haining
- Why Buffy Matters: The Art of Buffy the Vampire Slayer by Rhonda Wilcox
- When You Are Engulfed in Flames by David Sedaris
- The Road by Cormac McCarthy
- 1984 by George Orwell [18.8%]
- Nick and Norah's Infinite Playlist by Rachel Cohn and David Levithan
- Intuition by Allegra Goodman
- V for Vendetta by Alan Moore and David Lloyd (Yes, I realize it's a graphic novel but it still fucking counts!)

"Should high school students who do not pass the exit exam be allowed to wear cap and gown?"

Wednesday, January 3, 2007 @ 7:24 pm

I just heard that on a news teaser on TV.

And the answer should be NO. NO THEY SHOULD NOT. They do not deserve to "graduate" if they do not pass the exit exam. That is not a message we should be sending to teenagers. If they fuck up, they should deal with the consequences like the adults they will legally be. Maybe that would motivate them further to pass on the next try. Nobody should be rewarded for a job done poorly.

Comment! (6) | Recommend!

Gearing up for the return to normalcy.

Wednesday, January 3, 2007 @ 9:16 pm

Classes aren't quite starting up yet (not until next week), but I am preparing myself to get into the swing of things prior to that. Tomorrow, I will bring my sister to school because her school's starting up again. This means that I have to actually wake up at a semi-decent hour, which normally I'd have no qualms doing, but I've been sleeping in for the last few weeks so it might be a little difficult. The upside to this recent bout of sickness is that I often wake up in the middle of the night, so I'm hoping that I wake up serendipitously around 7:00-ish because I am really anti-alarm.

Tomorrow I also have to drop off my overdue library books (crap, more bills to pay) and pay off my speeding ticket at traffic court (fucking LAME). I should probably also look into challenging prereqs for a class I want to take. Oh, yeah. And that pesky CV. Damn you, curriculum vita! Glorified academic resume! You're not so special! You're just a pain in my ass!

Eh.

Good night.

Comment! (2) | Recommend!

Wanna know what the most pathetic thing about New Year's is?

Monday, January 1, 2007 @ 5:33 pm

It's that it is a human construction designed to trick us into thinking that there's a cyclical nature to time itself when in reality it marches in a linear fashion right on until the end of the cosmic eye-blink we call life.

Still. Maybe it's what we need to tell ourselves to cope with whatever bullshit is going down in our lives that's bringing us down. Doesn't make it any less pathetic (actually makes it seem MORE so), but I can see why we need it. We are just a bunch of pathetic creatures after all.

Comment! (6) | Recommend!

Putting the "ew" into "New Year."

Monday, January 1, 2007 @ 9:57 am

In case you're wondering, I found more champagne last night untouched. In a fit of envy and gluttony (and bad judgment), I went on to consume half of it. Bad idea for sickies. I kept waking up during the early morning with an unusually dry mouth. I even had dreams about having a dry mouth. Highly unpleasant.

But anyway. It

is

a New Year and effectively the end of the holiday season, which means that the biotech company I am applying for and internship with goes back to work today. I guess that means I should finish my damn CV, so that's what I'm doing right now. I don't like writing about myself in a professional manner. It would be so much easier if I just said what popped into my head. But you can't do that in the real world; there's protocol and decorum and etiquette and all that other bullshit to worry about. Blahdy blah blah. Fine, I'll play your sick game. Just give me a minute while I try to make myself sound interesting at the same time. (Very difficult.)

In other news, my family's at church right now. Since when does my family go to church? All throughout my childhood I probably attended mass with my family less than 20 times (not counting things like weddings or baptisms). When I was in Catholic school from K-8 and again for high school, I was forced to go to mass which was never my favorite thing to do. Then I went off to college and I didn't have to go to mass ever again. Oh, except when I came back home and all of a sudden my mother's totally into it.

Wha-haa-haaaat?!

I think it started when my grandma died, and then the following year when my aunt (who lived with us) died. My mom probably became more in touch with her own mortality (understandable) and started becoming all... Catholic. Again. Like she was before she came to the States, I guess.

That's all good and well: if she wants to seek spiritual comfort in that place then I'll let her get her yayas out, but that doesn't make me want to go. Not even out of a sense of duty. Call me blasphemous, but I don't believe that an omnipotent, omnipresent, omniscient God would be so vain as to require his creations to constantly sing praises of his name. It just doesn't make sense to me. It's like saying God's incredibly petty, like a mere

man

.

Ugh, whatevs. </rant>

I just hope they get home soon because I don't like eating alone. I'd much rather spend

National Hangover Day

New Year's Day with my family in the kitchen than in a church. Because I'd actually get to talk to them and laugh loudly and no one would look back and pierce me with judging eyes. (It's happened before.)

Back to work!

Comment! (2) | Recommend!

Already something to be bitter about this almost-New Year's...

Sunday, December 31, 2006 @ 11:13 pm

How's this for adding insult to injury?

My parents have basically consumed ALL of the champagne (much of which

I

fucking bought, thank you very much). Apparently, me being sick gave them license to do so. Except NOT. So now not only am I feeling crappy on a day that I'm supposed to celebrate, but there is also no more fucking champagne for me to lift my spirits in the least.

Happy motherandfatherfucking New Year's. Let's hope that this incident will not set the tone for the rest of the year. Traditional adages be damned.

Comment! (0) | Recommend!

And on the list of things to do today...

Saturday, December 30, 2006 @ 1:23 pm

- Speak with presumptuous authority.

- Over-misuse the semi-colon.

- Say "however" a lot.

- Make my shit smell like flowers, walk on air, stop global warming, cure cancer, and be canonized by the Roman Catholic Church.

I'll update when I've gotten all of these things under control.

Comment! (2) | Recommend!

Wow, I have been called dafucowt...?

Saturday, December 30, 2006 @ 10:10 pm

Wait, that doesn't sound like a

real pharmacologically-active compound

, so that isn't witty or creative. Ooops. I guess I'm just not up to snuff on this Nutang thing. Ohhh well.

Excuse me while I make plans to egregiously abuse HTML a la MySpace profiles...

Comment! (1) | Recommend!

A sleepless night, a sun-starved day.

Thursday, December 28, 2006 @ 12:45 pm

Ironically, the sun is shining more brightly than in has in about, oh, a week. But my curtains shield me from the light because it hurts to have it filter in during the daylight hours. (Damn southern exposure.)

I couldn't sleep last night because whatever I have has moved to the upper respiratory system. Good news is that my sore throat is gone--by far my least favorite symptom (excepting the chills, of course)--mostly because I like to swallow things. (Haha, yes, you're very funny. And very immature.) The bad news? Snot. A neverending supply of it. Needless to say, that flap of skin between my upper lip and my nose--where the mustache is when I'm too lazy to shave--is being rubbed raw.

Oh, frabjous day, callou, callay! This is the most fun I've had in... GOD I don't even remember. Since the time I got the flu while doing thesis research last year? Oh, yeah! So fun!

Pfft.

Back to bed.

P.S. This is what part of the alphabet would look like it Q and R were eliminated. (Laura, ¿dónde estás corazón?)

P.P.S. Someone turn the goddamn heat up, please!

Comment! (3) | Recommend!