Wednesday. 12.31.08 1:31 am
Saturday. 12.27.08 12:26 am
Okay, since it's been a day and my entry is almost--if not completely--off the list, I'll put these in a different entry. This is what Stevie made me, in all its glory (and framed in one, though I haven't secured a good background):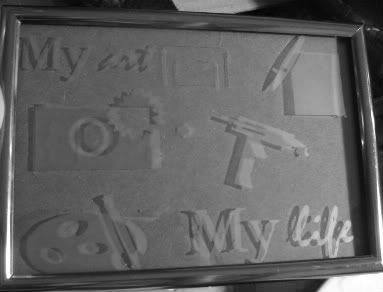 Framed. Pretty awesome, yes? Yup. :D
Still not framed, the first day I got it. Didn't know where to put it so it would be safe...freaked me out. I got crazy about where my stuff was in relation to where the glass was... I draw on my desk. >.>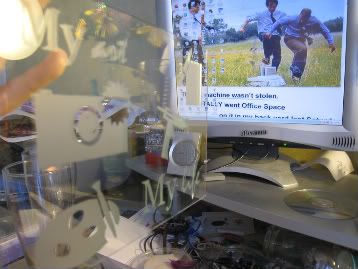 ...:D
Comment! (6) | Recommend!
Thursday. 12.25.08 4:35 pm
What did Katie get for Christmas? Oh, what did she get?
First of all, she got this amazing...what's it called, Stevie? Look at the comments, everyone, because I forget what it's called but it's COOOOOOOL. I'll post pictures later, because it's too hard to describe...you'll see. I'll edit this post.
And then...!
I GOT A PUNCHING BAG. And gloves! Though I still really want some straight up sparring gloves, I got two pairs of [bulky] gloves to go with the bag. So cool. I am *excited*. Crazily so.
And I totally got the software I wanted, and $300 in all, and the last copy at BAM of Nuns Having Fun.
*EXCITED*
Also, I got to hang out with Stevie some, today, which was awesome. Ask him what he got from me. :P
Plus I made him cocoa!
Okay done!
Comment! (5) | Recommend!
Wednesday. 12.24.08 9:28 pm